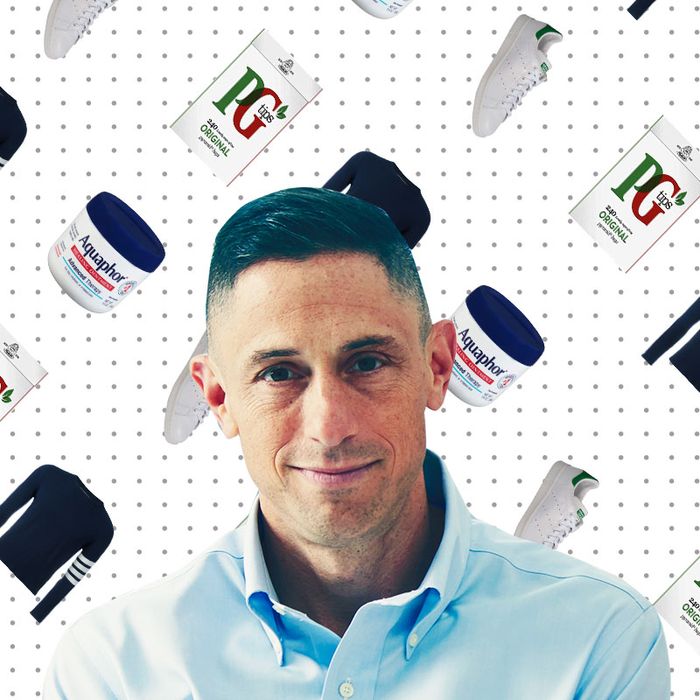 Photo: Photo-Illustration
If you're like us, you've probably wondered what famous people add to their carts. Not the JAR brooch and Louis XV chair, but the hand sanitizer and the electric toothbrush. We asked Jonathan Adler, potter and designer of household objets d'art on the occasion of his collaboration with fancy weed-supply store Higher Standards about the insoles, polo shirts, and hand cream he can't live without.
I'm a potter, first and foremost. Like, if anyone asked me, "What do you do?" I say I'm a potter. As most potters are, I am cursed with extraordinarily dry hands. So the Aquaphor is the most intensive and effective potter's balm I could find. Leave studio, wash hooves, apply Aquaphor.
The sneaker revolution is one of the great things to happen to our planet as far as I'm concerned. I have a closet groaning, groaning, with couture footwear, all ignored in favor of my beloved Stan Smiths and all of their myriad forms ranging from collaborations with Pharrell to classic Stan Smiths in white. It's just the shoe I reach for every day. I have a uniform. It's Stan Smiths and white Uniqlo jeans — those are the only pants I own at all — and then in the winter, a Thom Browne sweater, and in the summer a Lacoste shirt.
I'm afraid that I've entered my orthotic years. The thing about becoming part of the orthotics cohort is that you should just buy a fuck ton of them because one has so many shoes. It's sort of like, the same way when you enter your readers years. You have to buy like fifty-thousand readers so they are just wherever you are. Orthotics is a new category of shopping. I'm a drug-store queen. I'm very high-low, it looks like I just skimp and save in every other area of my life, so I can afford a Thom Browne sweater.
I am an Anglophile. Big-time Anglophile and married to a Brit. If you were to walk into our house, I would hope that you imagine that you'd be walking into a residence of two glamorous, eccentric style trailblazers. But the reality is quite different. It's actually just like walking into any working-class English house where people are bickering over who made that last cup of tea. PG Tips is sort of the most basic English tea and I use a lot of it. It's 11:30 and I'm on my eighth cup of tea of the day. I take it, in England they call it builders. Which means milk and two sugars. But I do builders, hold the sugar. Builders, like a construction worker.