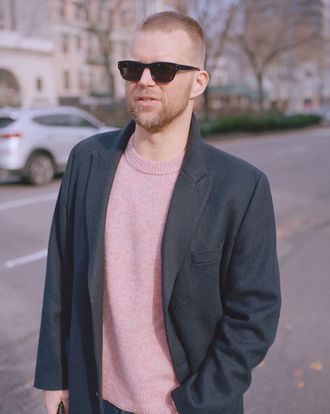 Our columnist out on the town before he retired to his apartment to social distance.
Photo: Eric Chakeen
If you're looking for the most powerful hair dryer or the handiest chef's knife, those things can be easy enough to find. Other objects of desire are a little more taste-based. What's the next status water bottle or hand wash, for instance? If you have a burning question about the next fanny pack or Noah rugby shirt, Chris Black is here to answer it in a regular column.
I live alone, and am looking for things to make the apartment I now spend all of my time in a little cozier. What would you suggest?
Being trapped at home is brutal. Coziness can be achieved, and hopefully, help battle boredom.
First, it has to smell right. Crack a window for some fresh air and burn a stick of lotus incense. Set the tone for a calm day.
If you prefer a candle, the L.A.–based Halycon Hotel makes a woodsy, floral scent they call "Romantic Drama Based on Real Life Issues Candle." Incredible.
You will, of course, need a warm drink. Marco Polo, a best-seller from Mariage Frères (the go-to tea brand of tasteful folk like Bergdorf Goodman's Linda Fargo and The Webster's Laure Hériard Dubreuil), is a black tea with flavors of red berries and fruit.
Get a dimmer for all your lights. Once the sun starts to set and natural light is no longer an option, it's nice to have some calming dim light. You don't want to blast a halogen bulb at dusk.
A good book is not only something that will relieve boredom — curling up with one can make any space feel a little cozier, too. I have heard good things about Such a Fun Age, the debut novel from Kiley Reid. I am going to crack it this week.
Why not put on a GIANT sweater? Something oversized might make you feel like you are being hugged. This classic ragg wool crewneck in natural from L.L. Bean in an XXL could become your best friend during this time in lockdown.
If you have a tub, I know you are going to be in it. Add some Dr. Singha's Mustard Bath and go to bed feeling soft and relaxed. It includes a therapeutic blend of wintergreen, eucalyptus, rosemary, and thyme. From Goop, the price shown is for an 8-ounce jar; from Anthropologie, it's for a 16-ounce jar.
I, like you, love to indulge in a good Barry's session from time to time. Now that classes aren't an option, have you found things (or can help me find things) to replicate a class at home?
Luckily for you (and me!), Barry's is livestreaming workouts via Instagram every single day. You have no excuse! The motto is "Quarantine buff, not quarantine puff!"