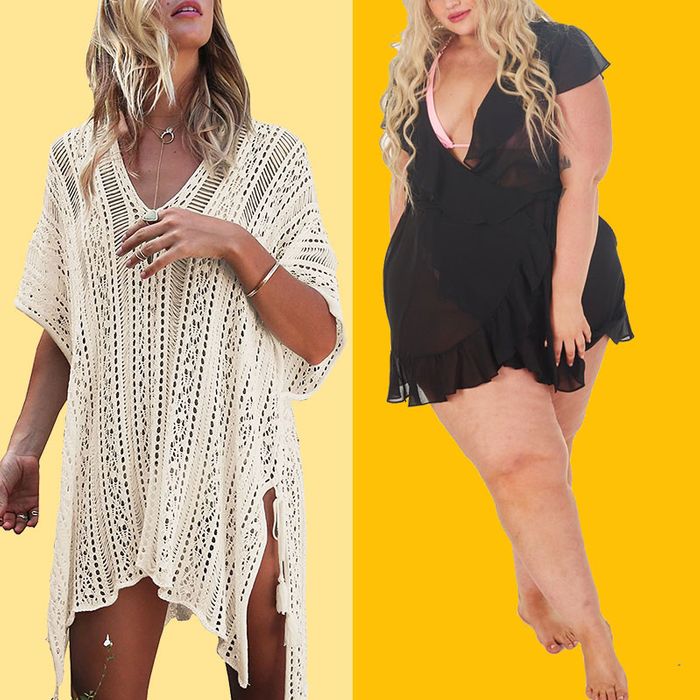 Photo-Illustration: retailers
Since spending the day at the beach seems to be one of the few reasonable, socially distant activities to do this summer, you might as well take advantage of it before the season changes. We've written about lots of beach essentials before — even the best bathing suits to buy — but you're also going to need something to actually wear to the beach. And while any t-shirt and shorts you have lying around could work, wearing jean shorts over a wet bathing suit is never fun. Plus, with all this time spent at home in sweatpants and old tees, it'll probably be a nice change of pace to zhuzh up your swimsuit and lounge around in an actually nice-looking cover-up. So whether you're looking to find something practical, or simply itching to buy something new and fancy, we spoke to 15 stylish women for the best cover-ups to buy right now, including dresses, button-downs, and even a few sarongs.
Dresses
Photo: retailer
Most of our experts thought a dress — or a long, tunic-type shirt — was the most practical for a cover-up because it covers everything with minimal work. Lifestyle and travel blogger Lindsay Silberman says she's "pretty particular when it comes to cover-ups," because she spends a lot of time writing and testing different swim options. But Silberman calls this woven dress "one of my all-time greatest finds." Not only does it come in 22 different colors and patterns, but it's also under $20, so you could buy more than one if you're looking to match your swimsuit with different colors or patterns. It's easy to throw on, and because of the woven material, you can toss it in your bag without worrying it will wrinkle and look messy once it's time to put it on again. Plus, "it's almost always in stock," says Silberman.
Photo: retailer
Aniyah Morinia, social and partnerships editor for Riot Swim, recommends this ruffled cover-up from Topshop because it's what she "would call sexy chic." As she puts it, "As someone with curves, I love that this dress cinches at the waist and accentuates your natural shape rather than completely covering it up." Wearing this makes her feel like a "resort-wear connoisseur" without spending too much money.
For something even more ruffle-y, plus-size model Ariel Pierre Louis suggests looking at Alpine Butterfly, an ultra-feminine size-inclusive swimwear brand. The cover-ups she owns from the brand are now sold out, but this one is similar and just as feminine. Unlike the similar option from Topshop above, this one covers your shoulders, and the sizes extend from extra-small to 6XL. Thanks to the cinched waist and wrap style, it has more definition to it than just a simple slip dress and will suit a wide range of body types.
A few weeks ago, Rachel Mohler Roberts, VP of customer success at Declare, a content platform and membership network for women, posted a photo of herself on Instagram in a sheer, star-printed cover-up and received dozens of compliments and messages. While hers is now sold out, this one looks just like it: "It's such a fun vibe with the print and fabric, plus you can wear a bright or printed bathing suit with it for an even bolder look," she adds. She always leans towards "statement pieces" for the beach, because as she puts it, "Why not?"
For a more elegant resort-wear look, Sapna Palep, co-CEO and owner of Journelle, recommends this semi-sheer dress from Onia. "It's the perfect lightweight cover-up, that does all the work for you," she says, adding, "You look perfectly put together, even if you've just stepped out of the water." Because of the simple, white color, it will match almost every bathing suit, if that's something you're concerned about, and the spaghetti straps can be adjusted to slightly customize your fit.
For inexpensive but high-quality plus-size options, Jess Sims, plus-size fashion writer, suggests checking out Venus. She appreciates that this off-the-shoulder dress has some trendy details, like the ruffle accents, but it will still be relevant for seasons to come. Also as she puts it, "It's a cover-up, but not really," because you can still wear it without a bathing suit. "I love a multi-tasking piece," she adds.
"If I'm riding my bike to the beach, I love a playful white mini dress," says Kathryn Sukey, head of design at Draper James. "The smocked bodice and puff-white sleeve hits all the right flirty notes," she adds. Unlike the Venus dress (aside from being obviously shorter), the sleeves stay on the shoulder, whereas the maxi-dress sleeves intentionally fall off. You can also wear this dress from Hill House sans bathing suit, so it's a nice non-beach option that'll last longer than just one season.
Photo: retailer
Strategist intern Aisha Rickford always goes for "durable, quality closet staples" that can be used for more than one purpose. That's why she recommends this simple, lightweight tunic from L.L. Bean, which she says is "built to last for seasons" and, because it "doubles as a t-shirt dress, it's perfect for the beach and non-beach days alike." Since it's not sheer, like most other options, and rated UPF 50+, it offers additional protection from the sun, too.
Photo: retailer
Yes, these are pants, but they're as easy to throw on as any of the dresses above, which is why we're including them here. And Kendall Glazer, co-founder of Stoney Clover Lane, is "obsessed with overalls" because they're just as versatile as a dress for summer, and she tells us she's been living in these. "I wear them over a bathing suit to the beach or just during the day," she adds. These overalls are 100 percent cotton, so they're extremely lightweight and baggy enough where if you throw them on over a wet bathing suit, they won't stick or feel weird — and the material ensures you'll stay cool.
Caftans
Photo: Anderson Smith/Anderson Smith
"As a plus-size woman, it can be challenging to find cover-ups that fit well and are fashion forward," says Gess Pugh, stylist and writer. So finding Jibri was like hitting the jackpot, because, "It's a Black- and female-owned business that caters to plus-size women, and her clothes are absolutely exquisite." Pugh thinks this caftan is particularly "elegant and quickly elevates any swimsuit." She notes that while it's a relatively elaborate piece, it's actually "super lightweight" and comes in other color combinations, like a neutral ombre if you're interested in something more subdued.
Photo: retailer
Sukey also loves a good caftan: "It's such a timeless cover-up and a great place to play in print trends, too." Since she's personally "loving tie dye this season," she recommends this Michael Stars option. It has a side slit, so you won't feel like you're drowning in fabric, and it also has a removable tie waist to give you a more defined shape.
Kimonos and Robes
"ASOS is always my go-to for affordable and amazing plus-size pieces," says Sims. It goes up to a size 26, and thanks to its flowy style and accentuated waist, "Lots of babes can buy it and feel sexy and confident in it." Sims is mostly drawn to the exaggerated ruffle sleeve because it makes the kimono a little more exciting than just a straight sleeve. It also has a semi-sheer material to show your swimwear while still keeping you covered.
Palep likes this robe from Cosabella. even though it's technically lingerie, because it's "sheer, which means you can cover up while still showing off your swimwear." She's drawn to the eyelet and embroidery design "that elevates your look," as she puts it, but the cotton won't be too warm when wearing it in the sun and it won't wrinkle when tossed in a bag at the beach.
Tops