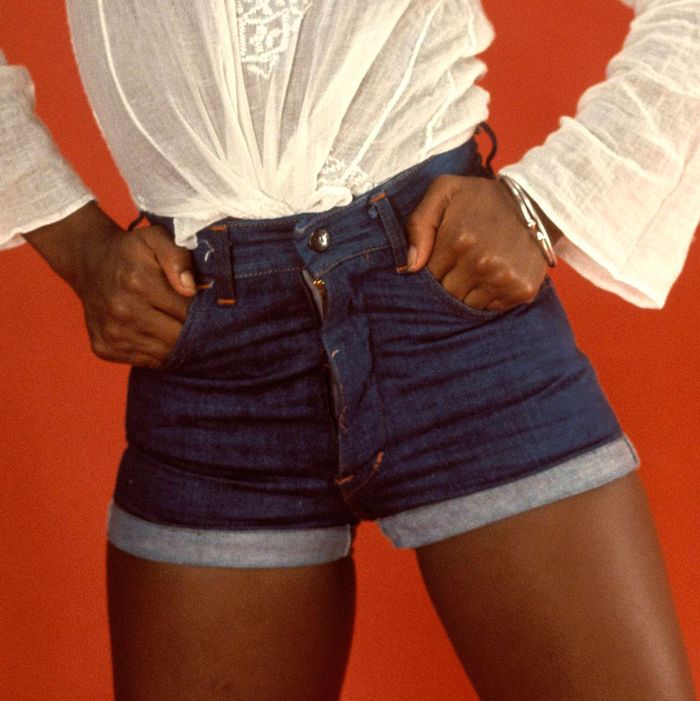 Photo: David Redfern/Redferns
Seeking out a good pair of shorts can feel like a particularly daunting task. If they don't fit properly, you can end up with a cameltoe or, even worse, wedgies. On the flip side, well-fitted shorts can be exceptionally versatile: A beat-up pair of Levi's cutoffs always manages to look cool, while a fancy high-waisted style can look as polished as an A-line or pencil skirt — with less thigh chafing. To find the best options out there, we consulted a panel of stylish women about their favorites, including a striped pair with an elastic waistband and a long-line option with "really, really, really big pockets."
Best denim shorts for women
A summertime staple for Elana Fishman, style editor at "Page Six," is this Madewell style. "My body physically rejects any clothing that isn't high-waisted, so these navel-grazing denim boy shorts are my summertime staple." With their nearly 11-inch rise, they almost hit my belly button — I have a freakishly long torso — and they've got just a touch of stretch, which means you can sit in them without suffocating." She has them in black, which is currently only available in very limited sizing, but we also dig this white pair.
Photo: 18-04-23 rozagough AM1 B6 robstebler W
"For years I tried and failed to make my own denim cutoffs with vintage jeans," says Laura Naparstek, a product marketing manager at Braze. This year, instead of attempting to make her own cutoffs, Naparstek turned to Agolde, purveyor of especially well-distressed jeans and shorts. "I picked these Agolde shorts because they had that great loose, almost triangular shape that I was trying to create myself for so many years," she says. "That shape and the strategically placed holes flatter many different body types, too." Caroline Maguire, fashion director at Shopbop, is also a fan of this style from Agolde, and especially appreciates their 11" high rise cut. "I love a great high-waisted denim short," she says. "The higher the rise, the better."
Levi's can't really be beat in this category. Maria Dueñas-Jacobs, director of brand development at Stitch Fix, likes to get hers from vintage shop What Goes Around Comes Around because they tailor them precisely. But her quest for excellent jorts is ongoing: "Like jeans, I can never get enough of, or stop searching for the next, great cutoff denim shorts," she says.
If you're true vintage denim purist, designer Susan Alexandra points to Etsy, where you can find countless pairs of perfectly broken-in pairs of Levi's shorts and jeans. "I have a much-loved and worn pair of Levi shorts that began to wither and disintegrate this summer. I had them patched up in a folksy way at Felix Tailor shop on the Lower East Side and now they're on their third life," says Alexandra. "I recommend buying them two sizes too big so they emanate insouciance."
Photo: retailer
For a high-rise style that's got some stealth flexibility, and is available in a wide range of sizes, consider this pair of cutoffs from Good American, Khloé Kardashian's denim brand, suggests Katie Sturino, founder of the 12ish Style, a blog covering size-12-to-18 fashion. "They have stretch, but they don't look like they have stretch, you know?" Sturino recommends sizing up with these, "but I love the fact that they cover an inclusive size range," she underscores. "Good American is the first brand that allows plus-size girls to participate in some classic summer cutoff styles; it's the first time I have had 'cool'-looking denim cutoffs."