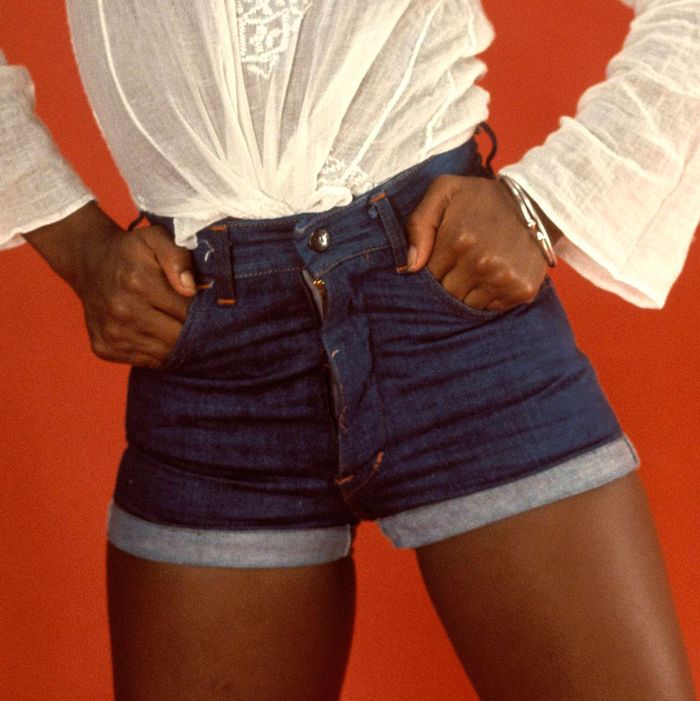 Photo: David Redfern/Redferns
Seeking out a good pair of shorts can feel like a particularly daunting task. If they don't fit properly, you can end up with a cameltoe or, even worse, wedgies. On the flip side, well-fitted shorts can be exceptionally versatile: A beat-up pair of Levi's cutoffs always manages to look cool, while a fancy high-waisted style can look as polished as an A-line or pencil skirt — with less thigh chafing. To find the best options out there, we consulted a panel of stylish women about their favorites, including a striped pair with an elastic waistband and a long-line option with "really, really, really big pockets."
Best denim shorts for women
A summertime staple for Elana Fishman, style editor at "Page Six," is this Madewell style. "My body physically rejects any clothing that isn't high-waisted, so these navel-grazing denim boy shorts are my summertime staple." With their nearly 11-inch rise, they almost hit my belly button — I have a freakishly long torso — and they've got just a touch of stretch, which means you can sit in them without suffocating." She has them in black, which is currently only available in very limited sizing, but we also dig this white pair.
Photo: 18-04-23 rozagough AM1 B6 robstebler W
"For years I tried and failed to make my own denim cutoffs with vintage jeans," says Laura Naparstek, a product marketing manager at Braze. This year, instead of attempting to make her own cutoffs, Naparstek turned to Agolde, purveyor of especially well-distressed jeans and shorts. "I picked these Agolde shorts because they had that great loose, almost triangular shape that I was trying to create myself for so many years," she says. "That shape and the strategically placed holes flatter many different body types, too." Caroline Maguire, fashion director at Shopbop, is also a fan of this style from Agolde, and especially appreciates their 11" high rise cut. "I love a great high-waisted denim short," she says. "The higher the rise, the better."
Levi's can't really be beat in this category. Maria Dueñas-Jacobs, director of brand development at Stitch Fix, likes to get hers from vintage shop What Goes Around Comes Around because they tailor them precisely. But her quest for excellent jorts is ongoing: "Like jeans, I can never get enough of, or stop searching for the next, great cutoff denim shorts," she says.
If you're true vintage denim purist, designer Susan Alexandra points to Etsy, where you can find countless pairs of perfectly broken-in pairs of Levi's shorts and jeans. "I have a much-loved and worn pair of Levi shorts that began to wither and disintegrate this summer. I had them patched up in a folksy way at Felix Tailor shop on the Lower East Side and now they're on their third life," says Alexandra. "I recommend buying them two sizes too big so they emanate insouciance."
Photo: retailer
For a high-rise style that's got some stealth flexibility, and is available in a wide range of sizes, consider this pair of cutoffs from Good American, Khloé Kardashian's denim brand, suggests Katie Sturino, founder of the 12ish Style, a blog covering size-12-to-18 fashion. "They have stretch, but they don't look like they have stretch, you know?" Sturino recommends sizing up with these, "but I love the fact that they cover an inclusive size range," she underscores. "Good American is the first brand that allows plus-size girls to participate in some classic summer cutoff styles; it's the first time I have had 'cool'-looking denim cutoffs."
Photo: 20-04-13 Accessories AM1 B2 todd
"I'm really enjoying longer-cut denim shorts these days," says Rilka Noel, e-commerce planner at Kith. "They're much more versatile and comfy." This pair has a comfortable high-waist, and are made of non-stretch denim that will only look better as it breaks in with wear. Like Naparstek and Maguire, Noel is a fan of Agolde. "They always have the classics," she says.
Best cotton shorts for women
Sometimes you just want some extremely soft shorts with an elastic waist. Molly Elizalde, a co-founder of the new media startup Your Magic, told us about this pair from stripes-purveyor Kule. "As soon as I received these Kule shorts in the mail, I ordered a second pair," says Elizalde, who owns the shorts in orange and white and blue and pink (both unfortunately sold out, though this stately navy and white combo is still available in limited sizes). "They are perfect for every summer activity: running errands, walking the dog, lounging at home." Elizalde usually wears the shorts with sneakers, but dresses them up with "leather sandals and jewelry for dinner with my pod." (I, Hilary, also own a pair of these and can attest to their absolute comfort for all occasions.)
For another stylish and elastic-waisted option, consider these, recommended by Melanie Masarin, founder of Ghia. "These Ganni shorts are fun and playful, just the right length, and the material is light as air," she says. "Perfect for a very hot summer in the city and they work for pretty much any occasion — running errands, working from home, or a socially distant picnic in the park."
"If there's one trend I love this summer for men, it's Patagonia Baggies," says Rachel Coleman, social media lead at Berlin-based travel booking agency GetYourGuide. "Given the state of our world right now, there's no better time to wear short, breezy, and shapeless bottoms that still somehow look stylish on any body type." For something slightly less gorpcore, Coleman told us she's been wearing COS's linen shorts with an elastic waist (she owns this pair in white, which are unfortunately almost sold out.) The shorts have all the ease of a pair of Baggies, but with a slightly more put-together look.
"I do a lot of gardening in the summer, so I need shorts with really, really, really big pockets," says Olivia Rose, founder of the plant design studio Bodega Rose. Her favorite pair with extra-deep pockets come from Boot Boyz Biz (though they're currently sold out), and she also loves these long-line shorts from Bricks & Wood. "Bricks & Wood make great shorts with big pockets — they just dropped all of these new shorts, and they're pretty much all unisex," says Rose.
Best sporty shorts for women
For something sportier, pastry chef Natasha Li Pickowicz told us about her old faithful Adidas spandex shorts. "This city heat has been so unbearable that I've been digging up pairs of black and navy itty-bitty Adidas spandex from my old rowing days," she says. "Am I too old to wear skin-tight shorts on my long solo walks through the outer bouroughs? They're so comfortable I don't even care."
A similarly stretchy option with a slightly longer inseam comes recommended to us by Studs founder Lisa Bubbers. "The key to CO