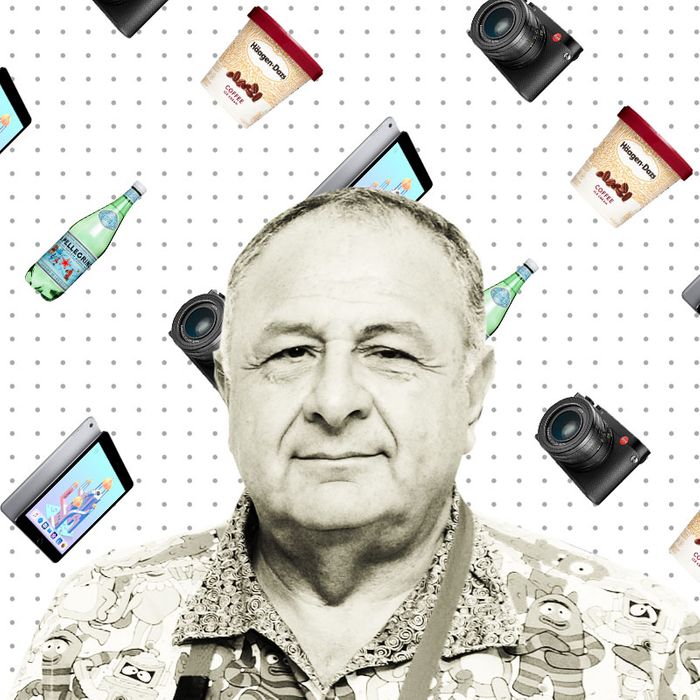 If you're like us, you've probably wondered what famous people add to their carts. Not the JAR brooch and Louis XV chair, but the hand sanitizer and the electric toothbrush. We asked designer, photographer, and collector Jean Pigozzi, whose new book Charles and Saatchi is out now, about the camera, ice cream, and beverage he can't live without.
This is the only ice cream that I eat. If I can't find Häagen-Dazs coffee ice cream, I'll abstain, but if I find it, I eat a lot of it. I'm actually not a coffee drinker, but I think they got the taste really right. I like the consistency, too. It's not too sugary. I think it's a masterpiece.
I'm addicted to UGGs, but I don't wear them outside. I've never been seen in public wearing them, but as soon as it gets cold, I wear them all around the house. They're not the slippers though. They're the outdoor shoes that I wear indoors. I have three pairs of the classic ones that go up to the mid-calf.
I've been wearing these shirts for the last 25 years. I find them incredibly comfortable. They're the only thing I can sleep in. I actually just bought five more yesterday. I'm always scared they're going to discontinue them, so I hoard them. They only get better and better after you wash them hundreds of times. I have about 40 of them.
I'm glued to it. About 90 percent of what I do is on the iPad Mini. I'll read the papers, do my emails; I even have my music on it. Sometimes I'll take photographs, too. Not for my work, but if I'm explaining a chair or a piece of plumbing or something, that's how I'll use it. It also fits in the pocket of some of my suits. I like that it's a bigger screen than the iPhone, and I like the convenience of all my apps, which you don't have on the laptop. They just came out with a new one, so I'm running to the Apple store to get it.