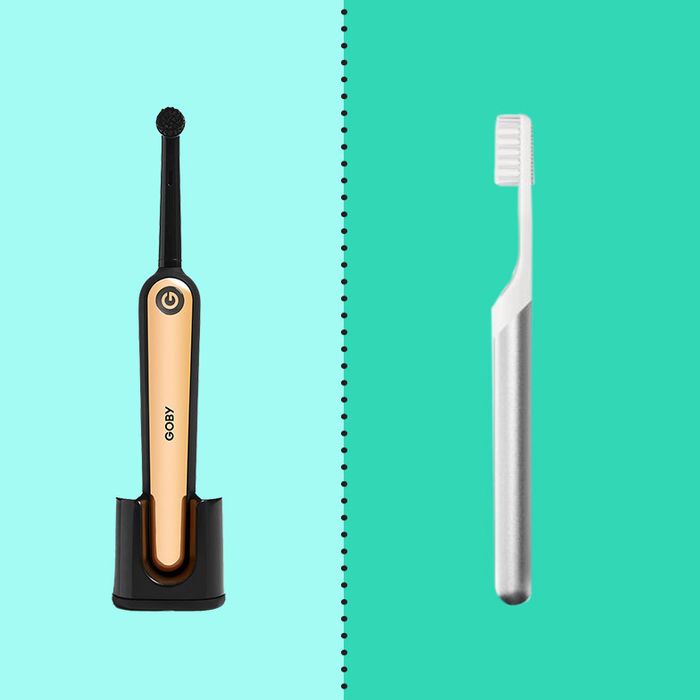 Don't tell my dentist, but I'm electric-toothbrush averse. It's not for lack of trying — I own an Oral-B Pro 500 and a Crest SpinBrush Pro, and have gone through periods of regular use with each. Still, they both ended up in the back of my bathroom closet. This isn't to say that I don't take good care of my teeth (I brush twice, sometimes three times a day, use mouthwash, and I try to floss; I've even gotten into tongue scraping). But for whatever reason, I've yet to find an electric toothbrush that really shook me — which is why I was so intrigued to give the new crop of "start-up," direct-to-consumer models a try.
This new class of electric toothbrushes attempts to stand out through millennial-friendly advertising on Instagram and in subway cars, and a lot of "we-get-it" conveniences, such as subscription services for replacing your brush heads, USB chargers so you can charge your toothbrush from your laptop, and settings for when you want to whiten your teeth, massage your gums, specifically clean your tongue, or be gentle on sensitive teeth. Plus, they look sleeker than most of the classic models like Oral-B and Philips Sonicare (which dentists generally still tend to recommend because they have years of scientific research behind them, though as one dentist who spoke with my colleague Karen Ioirio Adelson pointed out, an independent study shows all kinds of powered toothbrushes outperformed manual ones in reducing plaque.)
But is a "whitening" setting necessary, and does it even work? Do you ever really want to charge your toothbrush with your laptop? To find out, I tested six new electric toothbrushes from Goby, Quip, Boka, Burst, Bruüsh, and Shyn. My methodology included using each for at least two days, morning and night. And although several of the brushes came with toothpaste, I stuck with my preferred variety, Crest Cavity Protection Regular Paste, as a controlled variant. Of course, toothbrush preferences are very personal, but below is what this electric-averse brusher concluded after her foray into the latest start-up models (spoiler alert: a couple just may have turned this skeptic into a believer).
Best new (but old-feeling) electric toothbrush
The product: The Goby has a rounded head reminiscent of earlier generations of electric toothbrushes, and two brushing settings to choose from: normal and gentle. It runs for two minutes, pulsing every 30 seconds to remind you to brush a different quadrant of your teeth, and comes in a range of colors, including pink, black, and white with orange trim.
Sink square footage: The Goby comes with a small black charging stand that's about two inches in diameter, which can also be used to hold the toothbrush between charges. Its cord is kind of like an iPhone's in that it is a USB cord that connects to a traditional plug head that you put in an outlet. The cord is attached to a separate magnetic piece that you stick on the back of the toothbrush when it's time to charge it (if the toothbrush is in its stand without the magnetic piece sticking to it, it won't charge).
How it brushed: Brushing with the Goby feels like brushing with an older-generation electric toothbrush, but improved. It has the heft of older toothbrushes, which I found made it easier to hold. The 30-second reminders were helpful, and when the two-minute cycle was complete, the brush turned off on its own. It was the loudest of the new electric toothbrushes, but also the most straightforward — I'd call it pleasingly old-fashioned.
The verdict: If you're looking for a new electric toothbrush with modern conveniences (timed brushing, subscription brush-head replacements) that's not hugely different from your trusty Oral-B, this is a good choice.
Best travel electric toothbrush
Photo: Retailer
The product: Perhaps the most well-known of the direct-to-consumer electric toothbrushes, the Quip was the one I was most excited to try. I'd heard good things from friends, and liked that the shape was similar to my manual toothbrush. The soft bristles are surrounded by rubber bristles that look like they'd prevent the softer ones from bending to the sides after continued use. Like all of the toothbrushes on this list, the Quip times a two-minute session and pulses every 30 seconds.
Sink square footage: Of all the toothbrushes I tried, the Quip took up the least space. It can either be left out like a manual toothbrush, or adhered to your mirror, tiled wall, or any glossy surface with a suction strip on its holding tube. The holding tube can also fit over the head of the brush, so that you can take it with you on the go. It arrives fully charged, but when it's time to re-up the power, all you have to do is put a new AAA battery in the handle by removing the brush head and motor, sliding the battery in, and then reinserting the motor and head.
How it brushed: Though my teeth felt very clean after two minutes of brushing, I found that the Quip vibrated so intensely that it was a little difficult to hold. My guess is that since the body is so lightweight, there isn't much to absorb the vibration besides your hand. And maybe a different person wouldn't have this issue, but I found its similarity to a manual toothbrush — which initially attracted me — to actually be confusing. Are you meant to scrub back and forth the way you would with a manual toothbrush? Or just sort of hold it over your teeth and gums, the way you would with a heavier electric toothbrush? That said, it is the lightest-weight option of the bunch, and the hybrid holding case and brush-head cover is very convenient.
The verdict: If you're looking for a lightweight electric toothbrush, one to bring on a trip, or even one to just freshen up with after work, this is the model. Just be aware that its light weight does affect how the toothbrush feels in your hand as you brush, and it might not be for everyone.
Best looking (but most ticklish) electric toothbrush
The product: The Boka brush has bristles made with Binchotan-activated charcoal, which is a type of charcoal used in Japanese cooking that can also be used as a water filter. Boka says that the charcoal "naturally reduces odor-causing bacteria." The combination of the charcoal bristles and the clean white base makes this a very sleek-looking toothbrush, which easily sits in its charging base, thanks to its own magnetic-attachment feature.
Sink square footage: This one comes with a circular charging stand that is just slightly larger than the circumference of the toothbrush's base, so it doesn't take up much counter space at all. One charge lasts 25 days, so you can store the charger, which charges via a USB port (similar to the Goby), when you're not using it.
How it brushed: The Boka has three settings, and, according to the company website, vibrates 30,000 times per minute. That's a lot of vibration, and you can feel it. I found all three settings of the Boka to be extremely ticklish on my teeth and gums, so much so that I had to stop brushing before the two minutes were up. I'm not sure if I noticed a visible difference after brushing with the Binchotan charcoal bristles, but post-brush my teeth did feel very clean, even if I didn't make it through the full brushing cycle.
The verdict: The look of the Boka is excellent: clean, sleek, something you would trust to get your teeth sparkly. The magnetic charging function keeps it securely in its base between uses. And it does a good job of cleaning your teeth — if you can make it through two minutes of extreme ticklishness.
Best whitening toothbrush
The product: The Burst has three brushing modes: whitening, sensitive, and massage — which, according to the company, delivers 33,000 sonic vibrations per minute, making it "one of the strongest motors on the market." Like the Boka, it has charcoal-infused bristles, which are meant to whiten your teeth and keep the bristles clean for the life of the toothbrush head, thanks to charcoal's antimicrobial properties.
Sink square footage: This one comes with a USB-powered charging stand, which the toothbrush sits on top of. You could probably just leave it at that, but it also comes with a square plastic piece that you can put over the charger for added stability when charging the toothbrush. The extra piece won't take up more room on your sink since it sits on the base, but it does seem a little clunky, especially when compared to the toothbrushes on this list that don't need charging-stand reinforcement.
How it brushed: Another really ticklish toothbrus