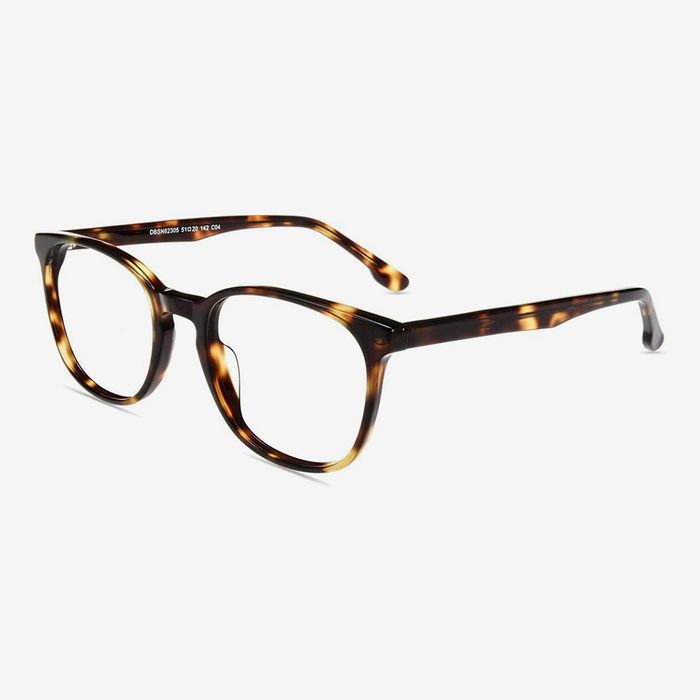 Photo: Courtesy of Amazon
We understand your dilemma. You're concerned about blue light (which can cause eye strain and affect sleep quality), but you don't want to wear glasses that make you look as if you're about to race in the Tour de France. According to Cathy Goldstein, an assistant professor of neurology at the University of Michigan Sleep Disorders Center, blue-light-blocking glasses do the most good at nighttime in blocking blue light from your phone or computer while you scroll, watch, or swipe in bed. And though style may not be as important in the privacy of your boudoir as it is in your office, there's nothing wrong with wanting to look nice 24/7. Here are 13 actually good-looking pairs of blue-light-blocking glasses that you can buy on Amazon, all of them under $30.
Tortoiseshell blue-light-blocking glasses
These handsome dark-brown tortoiseshell glasses would look good on just about anybody of any gender. The rounded lenses with squared-off outer top edges make them suitable for both oval and angular faces.
Like the Nouritty glasses above but lighter in color and frame weight, this pair comes with a case, a cleaning cloth and a one-year warranty for just over 10 bucks. Plus it features a metal bridge and nose pads.
If you're looking to make a bit more of a statement (or have a little more fun), you might like these square-shaped tortoiseshell frames with gold-tone stems. This company also makes blue-light-blocking sunglasses in the same shape.
For an even more stylized look, we like these vintage-cat-eye-inspired glasses, which come in several colors. You have a 90-day warranty and 30 days to return if you end up not loving them.
Wire-rimmed blue-light-blocking glasses
We've written about how much we love wire-rimmed glasses in the past, and our love for the throwback style is still strong. The gold tone of these makes them look more like a nice piece of jewelry than blue-light-blocking glasses, and the nose pads will help keep them from sliding down.