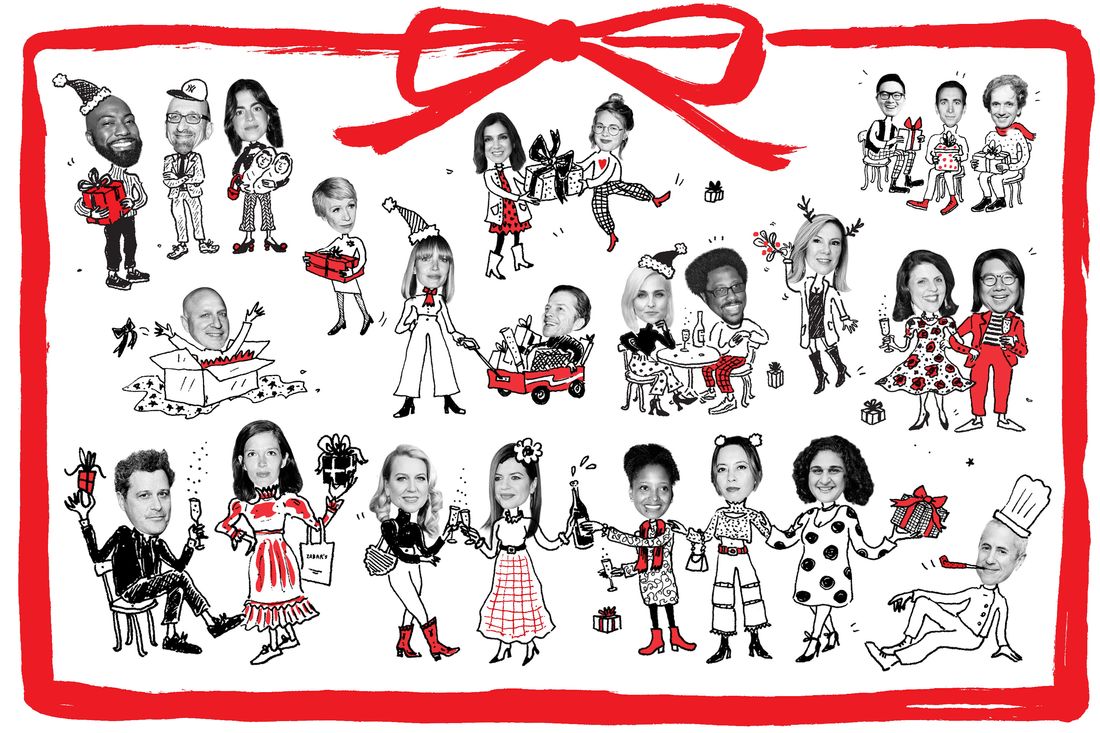 Fasten your cummerbund. Top off your eggnog. We cordially invite you to the first ever Strategist (Virtual) Holiday Party — a white elephant gift exchange with 25 guests from across the New York (and New York) universe. There's Danny Meyer under the holly chatting it up with Barbara Corcoran. What are Brian Lehrer and Casey Wilson whispering about by the fire? And of course John Derian's upstaged everyone with his gift-wrapping. All of our guests have brought a $25-or-under gift — something that surprises, delights, or otherwise changes lives — and you, our 26th guest, get to watch the game unfold right here.
Here's who's coming: From the entertainment world, Katja Blichfeld, Kevin Kwan, W. Kamau Bell, Desus Nice, Barbara Corcoran, Casey Wilson, and Ramona Singer. Our chef and restaurant-owning guests are Tom Colicchio, Danny Meyer, Alison Roman, Samin Nosrat, and Angela Dimayuga. Our literary guests include Radhika Jones, Cheryl Strayed, Tracy K. Smith, and Leandra Medine; and the designers in attendance are Batsheva Hay, Isaac Mizrahi, John Derian, Jesse Kamm, and Yves Béhar. For good measure we also invited an astrologist (Susan Miller), a financial journalist (Andrew Ross Sorkin), a Saturday Night Live writer (Bowen Yang), and our favorite WNYC radio host (Brian Lehrer). (Click on the names above to skip straight to a given player's turn in the game.)
Each of our guests has brought a white elephant gift. Some of them are gag gifts. Most of them are things each party guest uses and loves. Each day on the Strategist, one of them will open a gift, and the next day someone new has the chance to steal it or unwrap another one. Follow the journey of the Queen Elizabeth figurine as it bounces from one famous person to another (or just buy the sparkly Play-Doh Leandra Medine loves). From December 1 to 25, we'll be publishing one "turn" a day, with the latest player's gift pick up top. Come back every day — even on the weekends! — to see who left with a karaoke microphone, who took the composting worms, and who kept getting robbed. (For more on the rules of white elephant gift exchanges, see here.)
Day 25: Yves Béhar is up last
Merry Christmas, everyone. Twenty-five days into December, and it's been quite the party. Chocolate malt balls, olive oil, and a Yayoi Kusama-printed umbrella have flown around the room, while a few guests (not to name any names, but Kevin Kwan and Samin Nosrat) are left wondering what on earth they'll do with the composting worms and cutting board cleaning tonic they chanced upon. There's only one unwrapped gift left under the tree by now, and designer Yves Béhar is No. 25 and up almost last. Faced with a bounty of presents, he decides not to chance it, snatching the Äggcøddler from Katja Blichfeld. The designer, of course, recognizes good design: "I like the material of this ceramic coddler and its Scandinavian design." And: "I love eating soft-boiled farm fresh eggs in the mornings."
That means we're back to Katja. "I love that Casey thought to gift a TV show (hand-to-forehead emoji here)," Katja says, right as she steals the season pass for 90 Day Fiancé: Before the 90 Days that Casey Wilson brought. Plus, the premise of the show reminds her of some of her own travels: "I once traveled to Europe with someone I met in an AOL chat room in the '90s. It didn't go so well and I left him in Amsterdam when he became enamored with rave culture and pitched that we 'just stay there,' abandoning the 8-country itinerary we had planned. My most successful online romance is actually what brought me to NYC in 2004. We were together for five years, had a very amicable breakup and now he's my real estate broker."
We're on a bit of a stealing spree, what with the stakes being high this late in the game. Now that Katja is in possession of the television show, Ramona has to choose something for herself. She, too, passes over the last gift and alights instead on the leather-bound notebook that poet Tracy K. Smith brought to the party, and that John Derian opened. "Is it refillable? It is? Oh that's perfect," she says, clinching it. "You don't understand, I love notebooks still. I always carry a notepad around because I have my list of things to do. When I'm having a conversation with someone, for instance, I like to take notes. Right now, I'm developing my skin-care so I'm writing down things like the shipping prices or whatever. And before the show, when I was in business for myself I would carry around notes and date them and then refer back to them to figure out what happened on what day or what someone said. I use a spiral bound shit notepad now, so this will be perfect for me."
John, what'll it be? "Caffeinated face wipes, please," he says, stealing them from Radhika Jones. "I feeling like I am neglecting my face a little."
"Then I'm taking the Äggcøddler!" says Rahika, securing it for herself for good, since that's the second time it was stolen.
With that, we're back to Yves, who only moments ago stole the Äggcøddler for himself. At this point, he decides to give in to curiosity and see what could possibly be in the last wrapped gift. And he finds …
Two rose-printed plates from John Derian's shop, brought to the party by Radhika Jones.
"I will admit that there's always a part of me that wants to choose a book — and if anyone wants a book recommendation, they can come back to me. But I thought these plates would be nice to choose. I have four of these and bought them on a whim at Hammertown Barn, which is upstate and is one of my favorite places to shop for gifts.
"I happened to start growing roses in our garden, in Brooklyn. I've become enamored of them. They're just really sweet and lovely. And I am big tea drinker and these are great — you can never have too many fun plates, there's always something to put on a plate. These plates don't really go with anything, but they also go with anything. That's what flowers do. That's why they make a nice gift. Who doesn't like roses?"
With that, there's only one move left in the game: player No. 1, Danny Meyer, gets one last shot at picking a gift. Per the rules, he can take any of the presents the other players have opened and swap it with the Play-doh he opened at the start of the party. Danny surveys his choices — the Queen Elizabeth figurine, the ombré juice glasses, the breakfast sandwich maker — and goes for Bowen's Zabar's lox opened, that Batsheva Hay brought to the party, "because I think it will taste way better on a bagel than Play-Doh," Danny says.
And that's a wrap — we had a blast and hope you did too. Merry Christmas and have a happy New Year.
Day 24: Barbara Corcoran's turn
It's Christmas Eve, and the gift exchange is drawing to a close. For the scant few wrapped items left, the ratio of risk to reward is heavily skewed toward risk — something Shark Tank shark and real estate mogul Barbara Corcoran surely understands. Despite that — or perhaps because of it — she tries her luck on a mystery gift. And it is …
The molded sleep mask (with ear plugs) that Andrew Ross Sorkin brought to the game.
"I found this on Amazon after trying for years to find a sleep mask that was actually comfortable, so that I don't wake up simply to fiddle with it," said Sorkin. "I have the basic black, though I've always thought I should get the moon-and-stars one to step out a bit."
Barbara's on the record about using baths and massages to help get to sleep, and a good sleep mask can only help. "I've decided to park this little number on my desk," she says, "in hopes it reminds me to squeeze in a quick catnap in the afternoon."
Day 23: It's Desus Nice's move
Two days ago we learned a lot about Desus Nice, like how the Desus and Mero talk show co-host is one online comment away from belonging to an avid subcommunity of wax warmer scent fanatics. Now it's time for the signed-to-Showtime comedian and Sex and the City superfan to choose a gift from the dwindling pile of presents left in our white elephant. He, too, goes for a mystery item, and it is …
An hourglass, from Susan Miller.
"I chose the hourglass because as an astrologer, I deal each day with the concept of time and the need to use it well," Miller told us. "I feel that time can easily slip through our fingers if we don't set up goals and marker points throughout a year. Time is the only natural resource we are given at birth that we cannot get more of when deleted, so it is precious. When I study the mathematics of the various astrological cycles, I see the areas of reward and challenge, and we need to be mindful of both to plan a richer, happier life. Challenges test our resourcefulness and agility, and in many ways are more important than the easy periods of reward that we enjoy. And it's so nice — a little vintage-looking."
"Wow," Desus says. "I did not put that much thought into my gift."
Day 22: Leandra Medine is up
"Count me in," said Leandra, to our delight, when we invited her to the party. The founder of Man Repeller (or, as Danny Meyer put it after unwrapping the sparkly Play-Doh Leandra brought, "'Man, how stellar?!") is not just a street style celebrity or a fashion writer — she's a purveyor of the unexpected. (See the aforementioned sparkly Play-Doh and any of her outfits for proof.) In keeping with that spirit, she ventures into uncharted territory: "I'm really wanting to steal that sandwich maker," Leandra says, "but in the spirit of entrusting what occurs in the unknown, I choose number 20." That means she gets …
Two children's book: Little Leaders: Bold Women in Black History and I Am Enough, both brought to the gift exchange by W. Kamau Bell.
"People always talk about the golden age of TV or movies, but it's also the golden age of kids' media," said Bell. "The two books I picked are actually useful for adults: you can give them to the kids in your life, but also, you can read them yourself. There's a whole series of books where, as a parent, you're like, I can't read this book again. These are both smart and they have a message. The art is good. The book I Am Enough — as adults, we need to hear that and read that every day when we walk out into this world and think that we're not enough. I was crying at the end, like, 'I am enough.' "
"As a kid, growing up, you'd just get all the Dr. Seuss books and call it a day. But you want books to be relevant to your kids, so that the book will entertain them but also make them woke. Then they never have to think about the word 'woke' because they'll already be woke."
Not bad, as far as coincidences go: like Kamau, Leandra has two daughters, and like Kamau, she also brought two kids' toys as gifts. Great minds.
Day 21: Isaac Mizrahi's turn
If you'll recall, Isaac Mizrahi — the Proust-reading, brioche donut–eating, cabaret-singing fashion designer — brought a book by A.M. Homes to the party. Brian Lehrer opened it several turns ago, and now, on the 21st day of the game, it's Isaac's chance to choose a gift for himself. Unswayed by any of the open and steal-able gifts, he choose a new one and finds …
This Edison bulb wax warmer, brought by Desus Nice, co-host of the Desus and Mero talk show.
"My friend gave me one of these, and you know those Glade plug-ins — this is like a high-falutin snooty version of it. It's like a light bulb but it's high voltage and you put wax on it, and it warms the wax and it give off a scent. The scent I have in my apartment is called something like 'gray sweater.' It's very lush; it feels like a Drake cover.
"They sell the wax at Target and Walmart. It's a huge thing, people buy them all the time and there are communities online where people say what waxes are coming out and if there are limited-edition waxes. It's like sneakers but for older people who watch HGTV. In the reviews for the wax, people get very upset when waxes get discontinued. People are like, 'bring back sea salt and rain,' or whatever they're called. It's like the McRibs for candles. And I get it — every time I go to Target, now I have to buy a new wax."
Isaac is tough to impress (he was as a judge on Project Runway, after all): "Air freshener of any kind is my personal scourge," he says. "But who knows. Maybe someone has finally figured it out."
Day 20: W. Kamau Bell is 20th to go
W. Kamau Bell always has something in the works: This year, the comedian-slash–professional empath debuted the third season of his CNN show United Shades of America and released a Netflix stand-up special; last year, he published his book, The Awkward Thoughts of W. Kamau Bell. So we were delighted that he was able to swing through our party as well. Well positioned at number 20, with most of the gifts opened, Kamau wisely chooses to steal Samin Nosrat's special soy-sauce from Jesse Kamm. "That rascal!" Jesse yells.
Photo: Alanna Hale/©Alanna Hale
"Is it messed up to steal my own gift?" asks Jesse, giftless and in need of a new one. It's not illegal, but since she's already tried the Canyon Instant Coffee she brought to the party, we say branch out. "Then I'll take the special-occasion malt balls from Casey." And with that, the chocolate malt balls are out of the rotation and firmly in Jesse's possession.
"I'm still processing the loss of the malt balls — gone too soon, but never forgotten," Casey says. In her bereaved state, she reaches for a new, wrapped gift from the pile and finds …
Tarot cards, brought by Barbara Corcoran.
"I read tarot cards, and people tell me I'm extremely accurate," Barbara says. "I say whatever the picture brings to my mind. A couple of years ago, I hired a young man at my company, and I happened to have a party the day he started. He was very sweet, innocent — not from New York. I sat down to read his cards and the first thing I flipped was the death card. I thought: You're going to lose your job immediately. And I liked this young man. He was so frightened, and I reassured him no, no, that won't happen. But guess what — soon after, it did. In any case, I'm always very in demand, especially at parties.
"Even the most boring people light up when you tell them their future, so it's a perfect gift, because it gets people out of their comfort zones. These Rider-Waites are my favorites. I've played with a million different decks and I always come back to them. They're easy to read, because the pictures say right on there what they're supposed to be. But they're also very visually interesting. The World card, which is usually just shown as a globe, has a young naked child dipping into a reflecting pool, in which he can see the whole world. It's beautiful."
Casey's into the cards, and has an idea: "I just have one question for Barbara: Can we pitch our own set of tarot cards on Shark Tank?!"
Day 19: Susan Miller's move
"Susan Miller is in this?!" Samin Nosrat practically yells when she realizes that, yes, the astrologist to the stars (and the masses) has come to our holiday party. Susan is the only player who expressed concern over the number she got out of the hat. Not for optimal gift-stealing purposes — rather, she wanted to come on a day with astrological significance, and asked if she could take No. 20 instead of No. 19, so that her turn would run on December 20, because "I pray to be on a day when the moon is not void of course." (When the moon is void of course, mistakes and frustration are likely occurrences.) Alas, we're sticklers for the rules. Susan surveyed the opened and unopened gifts before alighting on the geometry drafting kit, which is described as including a compass. "I'm always lost, so I need one," Susan says. Plus, a compass helps with writing. "According to feng shui, if you face east your writing will be more imaginative and creative. This sounds like it would never work — until it does."
The steal is good news for Batsheva, who wasn't convinced by the geometry kit, but it's bad news for Susan, because the compass isn't a navigational compass — it's a metal compass you use to draw perfect circles. This probably happened because the moon is void of course. While Susan tries to imagine what she'll do with the drafting kit, Batsheva mulls over what gift to take. "I want to steal the Yayoi Kusama umbrella from John Derian," she says. "I hope he doesn't hate me for it."
John doesn't — if you'll recall, he said he loves Brian Lehrer, but the Yayoi Kusama umbrella Brian brought, not so much. So now John gets to go again, and he decides to gamble on a wrapped gift. It is …
A refillable leather notebook, brought to the party by poet Tracy K. Smith.
"I had all these notebooks I would fetishize, and sit down with," says Smith. "But now that I write on my laptop, carrying this thing around is a way of returning to another way to think about language. I teach and do workshops and my students, they submit their work online. But the classroom is an analog space so that we can just sit and talk, and look at pieces of paper, and it's not interrupted by the screen. I like that carrying a notebook is just one more way [of] engaging in that old-fashioned approach.
"I bought this one maybe eight or nine months ago, because I was tired of putting things in my phone and my computer. There are three individually bound journals that you strap in to this leather case, and when one gets complete, I can remove it and file it away. The journal never gets heavy. I have it with me all the time; I write things down in meetings, or I pull it out when I'm on an airplane, and I get an idea for what would one day become a poem."