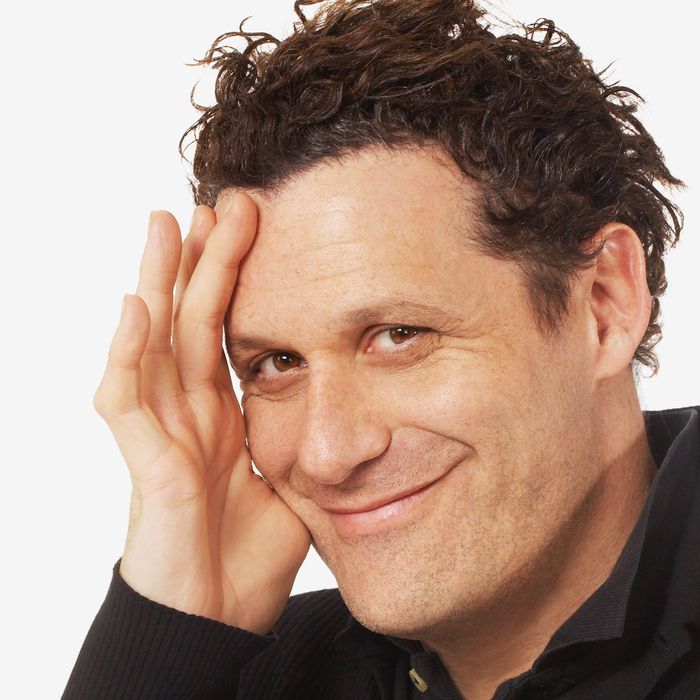 Every month, the Strategist editors do their version of a haul blog, jibber-jabbering about their favorite purchases of the last four weeks. To get that same personality and taste insight (via receipts), we're inviting interesting friends of the Strat to run down their own buys. For this installment of the Guest Strat Haul, designer Isaac Mizrahi on his purchases for the last month.
I needed a bit of freshening up for spring. I have this thing — I don't like linen sheets. I actually used them for a while. Thirty years ago, I had incredible ones. But since then, I've been using these Sferra sheets instead, and I have this insanity about the sheets. I've tried other sheets. I'm not even sure what grade these fall in — are they better or worse than Pratesi or Frette? I don't know — I've used better and worse ones, but these are the ones that I just like. At the apartment I've lived in for the last 30 years, the water has a certain quality, and the sheets come out in a crisp rather than mushy way. Crisp is very important to me. Crisp sheets don't last forever either. When they become mushy, it's literally $10,000 to replace all the sheets and pillowcases and duvet covers because I have three bedrooms. The minute they lose crispness, they gotta go. That is the definition of luxury to me.
I kind of live in the back seat of my car, and I feel boorish because there's no garbage. The designer of the Mercedes S-Class or whatever neglected to think about a wastepaper basket, and it's been all these years that I've been in the back seat feeling ridiculous like some boor, dropping newspapers or magazines or wrappers on the floor of my car. So I got a gift basket from Chelsea Market Baskets to actually just use as a wastepaper basket. It's so gratifying. Because I also live in my car, I got two extra keys made for my apartment at Barney's Hardware. I'm so scared I'll get to Long Island or New York and not have my keys, but now I just keep them in my car, which is the constant. It really is just like a giant purse on wheels.
Oh, my god. Well! If you don't know about them, darling, it's time you did. Lock & Lock make the greatest things. Literally, online shopping is so gratifying. You click something, and the next minute it's at your door, and your problem is solved. I buy mine from QVC, but you can find them at Amazon, too. So if you have leftovers — I can't stand Saran wrap on a bowl — these have locking lids. I have a place in Bridgehampton and New York and a place in Pennsylvania, so I always have to bring food back and forth. These are just great, and I particularly like the glass variety. They make a lot of plastic, but even that is great. You could do the Tupperware or Glad, but with this, I feel much better about putting it in the dishwasher and knowing it will last forever. And then when you bring something to someone's house, it's just a bit more special, you know? It's fabulous.
Everything I like is being discontinued. Mandragore is the best thing in the world. I went to the actual Annick Goutal shop because online is complete chaos — you have to go through Barneys or Bergdorf Goodman or their own site, and it's never clear what they have or don't vis-à-vis cologne or eau de toilette or whatever — with this stuff, you need the parfum! Otherwise the scent just evaporates! It was so gratifying to be at the store on Madison Avenue, where they've actually got the Mandragore. They're discontinuing it, so I got as many bottles as I could (five). Le Chevrefeuille is being discontinued, so I bought a few bottles of that, too. I feel like I'm cursed in that way. Whoever makes what I love always decides to discontinue it. I guess it must mean I have singular taste.
I just started reading Proust three or four months ago, and I'm obsessed with it. I'm kind of doing it under the auspices of my good friend Caroline Weber, who's here and there giving me some tutelage, as she's a scholar on the subject. So now she's publishing this book on the three duchesses who inspired Proust and of course I preordered it.
I have a bunch of stuff from Astier de Villatte and John Derian, and it's faience and very, very, very delicate-looking. You think you'd look at it and it'd break, but it doesn't. I knock that shit around and it's fine. I have a giant set of it, but I just got this beautiful bowl that's this perfect object and I just love it. I play bridge a lot, and if you're serving chips or popcorn, it's great, and you put it in the bowl, and it feels fancier. Especially if it's diet popcorn, you'll feel even better about it. It's like you get the indulgence from the bowl.
I bought a thin white binder from Stevdan to use as my script for a show I'm doing with Mark Morris. This is how I work onstage — I have some kind of notes, and especially when you're on set like where you're not rehearsing your head off and need to have notes, a binder is so necessary. It's a cabaret show where we sing duets, and then he sings some numbers and I sing some numbers. The best part is, I walked into the rehearsal with Mark and I had the binder with the graphic of the actual show slipped into the front cover, so it felt very official and type A.
I needed a new case because my iPad case was falling apart. I use my iPad for one thing, which is to watch movies when I drive back and forth to QVC, and the thing continues to work. It's actually the first-generation iPad, if you can believe it, and when something works, you can't bring yourself to replace it. It might be ten years old at this point. So no iPad case fits it — I have to go online and measure it, and it takes an hour just to order the right case so it stands up in the crazy way right in my lap. Until it actually dies, I have to keep buying cases. I've bought three already.
Um, well, she's amazing. You must go if you haven't. It's the best place in the world. It's very orderly. It's not like a lot of bakeries that are a nightmare and impossible to navigate. Here, you walk in and it's almost like walking into a beautifully organized office — it's all put out in the nicest way, so everything's not only a great baked good but well-served.
I have this George Nelson table clock that's this beautiful brass thing, and it just stopped dead. I think I opened the back with a tiny screwdriver, and one of the tiny motors got a bit corroded. I brought it to Vitra, and you know what, they just replaced it. How nice is that?
This is a Mercury-retrograde cautionary tale. So I had these glasses I'd been using to read for 15 years, and I went to the eye doctor because I needed a checkup, and he actually gave me a stronger prescription. Well, the new prescription is just too strong, and now in order to read, I have to hold the words six to eight inches from my face, which will not do. So I ordered these Ray-Bans with progressive lenses because my doctor also thinks I need to see distances. I like the square Ray-Bans because they look fine on me, but I also have, no kidding, like 30 pairs of the round ones, which I think look really great on me, too.
My cousin had a Seder and I called my assistant and said, "We need to send flowers to Arleen!" She sent some lovely parrot tulips from Miho, and you know what's funny is that my cousin already had regular tulips, so then we had the parrot tulips for the dessert table. It was just serendipitous.
I had this one spot for a drawing and saw this lovely one at this gallery by someone I used to work with called Sam Wilson. It's so beautiful — it's called Life Vest, and is the loveliest pairing of red and blue. It looks almost like a flag, but it's actually the flat print of a life vest. It's simple and pleasing and weirdly soothing when you look at it.
I bought 15 yards of black cotton-blend knit to have six new yoga pants made. I drive my poor assistants nuts because sometimes I've made them in all cotton, and then sometimes I prefer this fabric that's just great because it doesn't pill when you wash it. It confuses them! I get my pants washed so often that the blend is nice. My life is dictated by laundry. Laundry and food storage. We adore those. I think that's a very American thing, isn't it?
The Strategist is designed to surface the most useful, expert recommendations for things to buy across the vast e-commerce landscape. Some of our latest conquests include the best women's jeans, rolling luggage, pillows for side sleepers, ultra-flattering pants, and bath towels. We update links when possible, but note that deals can expire and all prices are subject to change.
Every editorial product is independently selected. If you buy something through our links, New York may earn an affiliate commission.