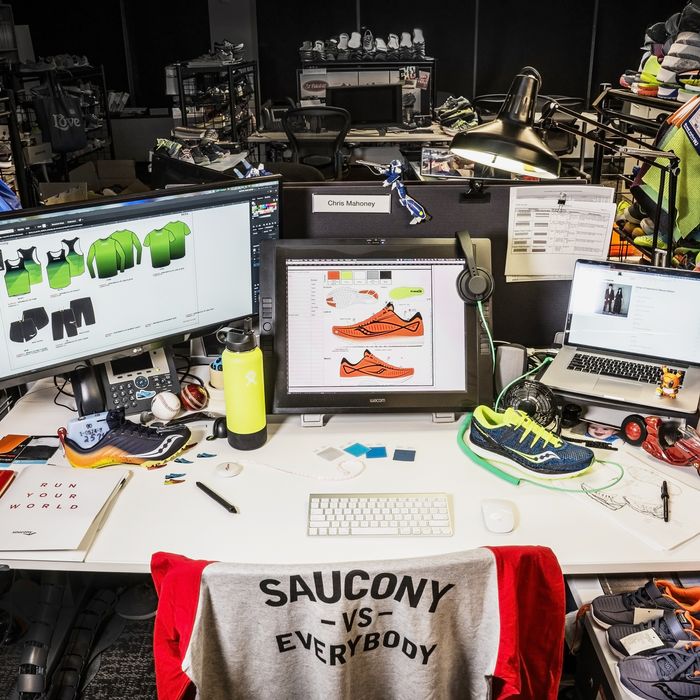 The view from Chris's desk.
How someone organizes their desk can tell you a lot about how they get work done. That's why we're stepping into the offices of enviably creative (and productive) people to look at what's on their desks — pens and notebooks and gadgets, but also décor and tchotchkes. Today, we've asked Chris Mahoney, creative director at the running-shoe company Saucony, to show and tell.
We're probably surrounded by thousands of shoes — whether it's full pairs of shoes, half-pairs of samples, prototypes. They're all in kind of different degrees of completion, and typically you have the most active ones that you're working on at the moment on your desk or within arm's reach. We joke around that they kind of pile up like snowdrifts, and over time, they start kind of climbing, climbing, climbing, and it goes from the ground all the way to the top of your desk, and you kind of can't see what's underneath your desk anymore.
The prototype on the left is one of our track spikes; it's a new concept that'll debut in spring of 2019. And the one on the other side, on the right side of the desk, is our all-new Freedom ISO 2 that's going to launch in June of this year. Those are ones we're putting some finishing touches on and kind of playing around with.
A bunch of people in the office have had these water bottles before, and I wanted to get one. I actually did the 'My Hydro Flask' thing over the holidays and designed my own. I've always been a big fan of that neon-yellow color. We call it citron. Sometimes you spend a lot of time at your desk, and you're in a flow, so it's always good to be able to have some water without having to get all the way up and go and get a cup of water. It's just a handy thing to bring to and from meetings, and make sure you're always hydrated.
That striking citron color is no longer available, but here's the same style of Hydro Flask in an equally colorful teal.
I've had that on my desk for a long time. It's always kind of been in the same spot, and I figure, one of these days, [on a] special occasion, we'll pop it open. Our goal has always been to try and become the No. 1 running brand, and I think that'd be kind of a fun opportunity — or just a win with a new product launch or something like that. I don't know if by the time we open it if it'll be any good anymore, but I'm sure it'll be good to a certain extent.
If you look in the lower left of my desk, along the edge, there's an up arrow–down arrow. It's actually a sit-stand desk. Sometimes you need to stand up and kind of stretch your legs, but it's kind of a pro and a con. You could be on your feet for too long by standing up all day, so you need to sit back down. [That's why] I kind of use that a little bit. It's just a way to change the scenery, if you will.
But in general, given what we're doing, we're always thinking about the active lifestyle, whether it's our own employees going out for lunchtime runs or trying to promote healthy lifestyles, just for yourself. Not too far away is a gym, which allows me to get up for a lunchtime workout, morning workout, or after-hours. I'd say we try to surround ourselves with it. Not to force it, but to make sure it's part of what we do.
The screen on the left is an ultrawide monitor, so it's a little bit longer. A lot of times, we're putting out full-size images, and you want to be able to have as much real estate as you can. Honestly, I would take even more screens if I could get them. Even bigger ones because it seems like there's never enough real estate to put your emails off to the side or music or whatever work you have, and just be able to see it all at once. That would definitely be awesome, to build out a video wall and have an even bigger space.
I usually have my iPad Pro on a kickstand almost right underneath [my monitor, in front of the phone]. I don't really use my phone a whole lot, other than doing this interview right now. I do use my iPad Pro [and Apple Pencil] a lot. It's one of the few hardware devices and software devices that I really like sketching on. Sometimes you have these balloon-tipped pens, and you can never really get accurate with them, but I find the Apple Pencil to be pretty good. But I still really enjoy hand-sketching, and I like the pen-and-paper aspect of it.
It's a standard felt-tipped pen. What you see wrapped around, it's a piece of Velcro. I would use these little two-sided Velcro loops for cable management, and I think it was an extra one on my desk, and I wrapped it around the pen, and it kind of stays on the pen cap. So nothing really special about the pen, just a little felt-tipped pen. I sketch every once in a while; I kind of keep it off to the side so that if something comes to me, I can doodle down on there.
The middle screen is actually a tablet, a Wacom. It's a writing surface, and right now, it's propped upright. But I can pull that toward me, angle it down, and start using the stylus to draw. I'd say 30 percent of the time, I'm using it, and 70 percent of the time, I'm using a normal screen. I'm usually in and out of a lot of different programs, so sometimes I just need to point and click more than I need to draw anything, but it's nice to use.
We use Pantone as our primary color standard. Those are some swatches that I was working on for a color set. But we also have Pantone fans, which are a smaller version of those swatches, and there are 1,700-plus colors that we can get to pick from. So from a design standpoint, we use those as a color reference, and we do a material map and color map. That's actually what's on the Wacom. We color it up, write the Pantone information on there, and a lot of times, we don't see it until it all comes together.
They're this brand out of Copenhagen: AIAIAI. And they're really nice. I don't think they're noise-canceling, but they do a pretty good job of that. It's something that I found through an Indiegogo project. They were doing a wireless-headband module — and it's a modular headphone system, so you can take off the ear pads and replace it with different ones and different kinds of sounds. So I supported this Indiegogo campaign they had about a Bluetooth headband, but I end up using the wired one all the time instead.
It's a cricket ball. One of my former co-workers was from India, and he went home and brought it with him. There are some other balls around, too. I like to have them nearby and toss them around or flick them around in my hand, almost like my version of a fidget spinner.
That's a little USB fan I got off of Amazon. You never know in a corporate climate. The weather can be hot or cold inside the office. It's a chance to make sure I can stay cool if the heat's still on, or if you just worked out or something like that and you're just trying to cool down. It's just a little cheap USB fan, but it works awesome. I picked a few up for some other people, too, just to have, to create your own little AC.
My brother used to grow up watching a lot of cartoons and animation, and that's how I got my interest in design. Whether it was Transformers or any of the other cartoons that kids grew up watching, that was the underpinning of where I got my itch to create. The motorcycle, the red one, is from Akira. I remember watching that when I was a kid, and I was like, "That is the coolest motorcycle ever." And years later, I found this hobby toy. I was an intern at Saucony between my junior and senior year of college, and when I graduated college, I got a full-time position here, and I think I've had that bike ever since — so it's going to be 16 years this summer.
The Strategist is designed to surface the most useful, expert recommendations for things to buy across the vast e-commerce landscape. Some of our latest conquests include the best women's jeans, rolling luggage, pillows for side sleepers, ultra-flattering pants, and bath towels. We update links when possible, but note that deals can expire and all prices are subject to change.
Every editorial product is independently selected. If you buy something through our links, New York may earn an affiliate commission.