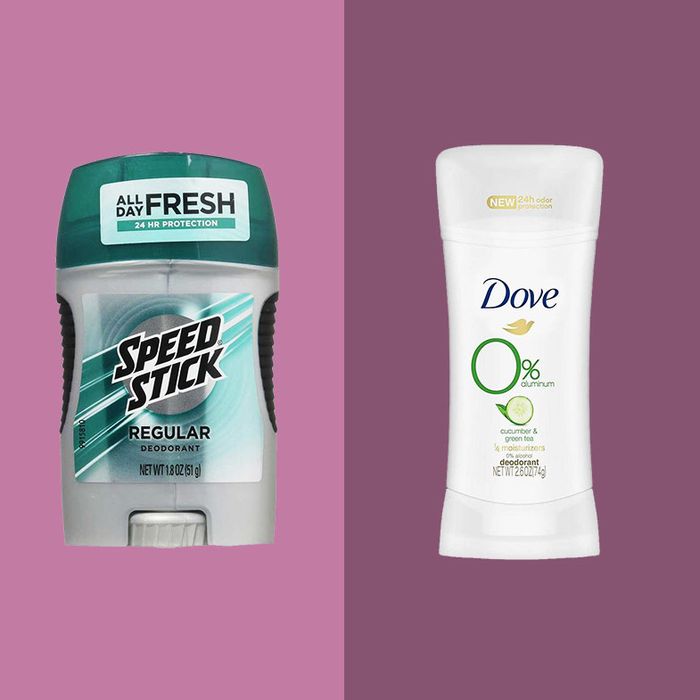 Photo: Courtesy Retailers
If you follow our monthly Strategist Haul, you're familiar with the idiosyncrasies of our editors' and writers' shopping habits. While we think of those as the highlights, there are plenty of other, less glamorous things we buy — and love — on the regular too. So whether you've wondered about the work bags we tote around or the underwear we're most loyal to, this is the Stuff We Buy Ourselves. In this edition, in honor of Drugstore Week, we're rounding up the deodorants our editors and writers use to stay fresh smelling — for those of us who use it.
Alexis Swerdloff, Strategist editor
I'm a proud member (alongside Aubrey Plaza, Judy Greer, and former Strategist editor Simone Kitchens) of the Real Purity Club and will yammer on to anyone who will listen about how it has changed my life. I just don't sweat anymore! It's that simple. And it's all-natural, to boot — apparently it's "the drying effects of the aloe and vegetable glycerin it contains" that keeps me sweat free. My husband, too, is a convert, as are two of my best friends. Couldn't recommend higher. Only downside is the fairly steep price.
Chloe Anello, junior writer
I've used Dove antiperspirants for as long as I can remember, but a couple months ago I decided to try aluminum-free deodorant. I bounced around through different brands until I found out Dove had their own aluminum-free version of my favorite cucumber and green tea scent. I've had it for about two weeks now and I actually really like it. It has that same fresh scent the antiperspirant does, so most importantly, I don't feel like I smell during the day.
Karen Iorio Adelson, senior writer
I like the idea of natural deodorant, but I doubt it'd do anything to help my very sweaty and smelly self. Instead, I use regular antiperspirants with sweat-blocking aluminium (which I still manage to sweat through, so I can't imagine what I'd be like without it). I recently switched from stick deodorant to spray because I found that even when I applied the stick deodorant to clean skin, the stick itself would end up smelling like my pits. I also like that there's no white residue from the spray. This scent is pretty strong — not necessarily in a bad way, but I might try the coconut or "beauty finish" variety when this one runs out.
Dominique Pariso, writer
As a sweaty person, I don't have time for aluminum-free, essential oil-infused, crystal magic deodorant. No disrespect to those who can go the au naturel route, but I need something that's going to work and keep me dry. I made the switch to using men's deodorant years ago because I have an on-again, off-again relationship with my razor and needed something that would work with my armpit hair when I have it. I also prefer the muskier, fresher scents of men's deodorant (I have no interest in smelling like cucumber water or baby powder). I've tried a bunch, but my current favorite is Dove Men+Care. It doesn't leave as much residue on my shirts as Old Spice and isn't as messy to apply as Gillette.
Hilary Reid, writer
So, I have an update about the Deodorant Stones of America (a.k.a. DSA) mineral spray-on I recommended a couple years ago: a few months after the article, it just stopped working. Very disappointing! Since then, I've returned to Weleda Wild Rose deodorant, and am mostly satisfied. The scent is light and it works for the whole day (though if you're going out after work, maybe reapply before leaving the office). My only complaint is that it's extremely easy to inhale while applying and I might be slowly poisoning myself by breathing in a little every morning. Then again, it doesn't have any synthetics, so it's probably fine.
Anthony Rotunno, senior editor
I have been wearing Speed Stick deodorant — not antiperspirant (the brand offers both) — for about 15 years, ever since an unfortunate incident with Certain Dri in college when I started to sweat profusely from my back and other body parts after I used the extra-strength antiperspirant for a stretch. (A little visible underarm sweat is suddenly not so bad when the alternative is a visibly damp back, belly, or butt.) Following that traumatic experience, I wanted something simple, dependable, and aluminum-free — in other words, a deodorant from a brand that's been around since the early '60s. (While Speed Stick doesn't contain aluminum, I should note it is not all-natural.) That it has an inoffensive smell, and is generally cheap and easy to find, makes me love it even more.