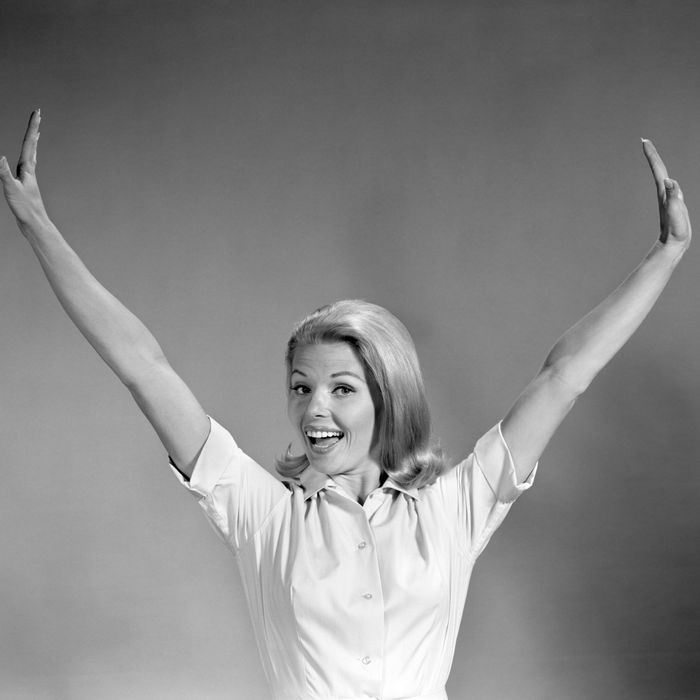 Photo: H. Armstrong Roberts/ClassicStock/Getty Images
Here at the Strategist, we like to think of ourselves as crazy (in the good way) about the stuff we buy, but as much as we'd like to, we can't try everything. Which is why we have People's Choice in which we find the best-reviewed products and single out the most convincing ones. (You can learn more about our rating system and how we pick each item here.)
And while we've written about lots of deodorants and antiperspirants — including natural deodorant, deodorant for men, and the deodorant celebrities use — here we've rounded up the best deodorants for women, as praised by the most enthusiastic reviewers on Amazon.
While the terms deodorant and antiperspirant seem interchangeable, there's actually a big difference. Antiperspirants contain aluminum, which actually stops you from sweating, whereas deodorants just mask the smell that typically comes with sweat. But even though all deodorants are aluminum-free, not all of them are made from natural or organic ingredients, so we made sure to note which ones are natural, as well as vegan and baking soda–free.
Best-rated deodorant
This natural deodorant is a favorite among Strategist staffers and Amazon reviewers alike. Writer Tembe Denton-Hurst briefly tested Toms and Schmidts before settling on this Native deodorant because the baking soda– and aluminum-free formula doesn't cause any irritation to her sensitive underarms. An Amazon reviewer also tested different natural deodorants, but felt like they made her "sweat more and smell worse." After trying this deodorant, she writes, "Holy moly, this stuff works so well! It works all day long, even here in Florida during the summer." And though it's a "women's" deodorant, one customer actually gave this to her 8-year-old son and found he longer smelled "like a used hockey jersey." After using it herself, she wrote, "This product is a godsend. It's like teeny tiny fairies are helping my armpits stay fresh and smell good." And she's not the only one who calls this product a "godsend." Another customer notes that it'll take about a week for it to work if you're weaning off an antiperspirant, "so you may not feel as dry as you want to be at first." But once you get past that "initial uncomfy week," you'll have fresh-smelling underarms. "I even threw out my antiperspirants that I've been using for years to stop my overactive sweat glands," he adds. One more customer knows that technically "it won't prevent all sweating" because it's not an antiperspirant, but she thinks that it keeps her "very dry throughout the day." Like many deodorants, though, "You may have to reapply during the hotter summer months or if you're exercising," she notes, but that's really nothing new.
Best-rated (less expensive) antiperspirant
Lots of reviewers rave about this deodorant's fresh and subtle scent. "Powder scents are my least favorite and I don't like floral or strong scents that clash with all of the other products I use. This is perfect," writes one reviewer. "It doesn't build up negatively on the underarm area of the clothing I've worn and I don't smell a 'cover' scent when I sweat. So nice that it's one of the more frugal brands on the market, too." Women who admittedly sweat a lot also give it glowing reviews. "I have issues with excessive sweating due to menopause and hot flashes. I get very good coverage and protection," says one reviewer. It's so good that one husband has been converted to using this women's deodorant: "I first found Suave antiperspirant when I accidentally used my wife's deodorant. I smelled like baby powder, but without any hint of BO. I began sneaking swipes of her deodorant while she was in the bedroom closet getting ready in the mornings and then one day she confronted me with a small baggy containing 2 slightly brown armpit hairs. I tried to deny they were mine as I thought she found them somewhere else. I eventually confessed when she revealed the exact location of my hairs. We are in counseling now, and I have been encouraged to order my own through Amazon."
Best baking soda-free deodorant
Many reviewers opened up about how awful their sweat and underarm smell was until they discovered this product. "Let me start by saying I have worse body odor than most women. I have literally been struggling with this all my life," one customer writes. "I have literally tried almost every natural and aluminum-based deodorant. I don't sweat a lot, but smell horrible anyway. I am so thankful for finding this product. I can't wait to try other scents." Lots even felt it worked well after exercise and extreme heat. "It works to control my sweat odor all day long — even after strenuous exercise like a long training ride on my bicycle or a tough 7-mile run," writes one reviewer, who adds, "Also, I feel like I'm not as sweaty and slimy under my arms." Over 1,700 reviewers talk about the natural formula of this deodorant, making it a big selling point. "I have decided to switch to as many organic, cruelty free, gluten-free, etc. products as possible. I made the decision to switch to organic deodorant," writes one who was initially skeptical. "I was so surprised at this when I first tried it. I honestly thought I was going to be walking around smelling like a BO hippie. That's not the case. It does not stain your clothes. It feels great on your skin and smells so good. I have told everyone I know to switch to organic deodorant and use this one."
Best natural deodorant
Natural-deodorant converts who are allergic to typical deodorant ingredients like baking soda tend toward this option. "I went organic and natural nine years ago and started to use the typical natural formulas. My immune system decided that it didn't like those anymore, with the worst rashes that I had ever had in my life," writes one reviewer. "So I had to find ones that didn't have the baking soda; cue the stinky smell because none of those could control the odor or wetness and this caused rashes too. Then I was internet researching magnesium and came across deodorant with magnesium and decided why not give this one a try." They note, "I have been using it for 3 weeks and so far so good. No rash and no smell." Many reviewers also mention that they don't worry about reapplication with this brand, like one who says: "I am not into the hassle of carrying deodorant with me in order to reapply. I decided to try this Magsol brand. I hadn't seen a magnesium based deodorant before and I am glad I did. It works great, does not aggravate your skin, and I smell good at the end of the day."
Best fragrance-free deodorant
The fragrance-free formula was a huge selling point among Amazon reviewers. "Was really skeptical if this deodorant would be able to work as well as regular store-bought kinds," writes one reviewer. "It does and better. I have no underarm irritation now, happily for me. Plus it keeps me from having any bad smell. The deodorant is scentless, so I smell like nothing, which is great." A few complain that it's a bit thick and goes on too white, but they found ways around it, like this reviewer, who explains, "It is a bit creamy and white, but I just rub it in with my fingers. No smell. No wetness. No irritation. No aluminum. Love it."
Best vegan deodorant
Kelly Ripa is a fan of this natural deodorant because she says not only is it one of the most natural deodorant options out there, but, according to her, it "actually works." And reviewers seem to agree with Kelly, with many pointing out Each & Every is fully vegan, whereas most other natural deodorants contain beeswax. "I truly found (finally) a good vegan deodorant that works," writes one customer who loves the smell and thinks it "does protect you," but it's "not overpowering and does last for hours." Another customer with a tendency to "give away or throw out clothes after one season because the smell 'bakes in'" says this deodorant is the first that has actually worked for her. "I simply had a fantastic experience with comfortable application and a pleasant smell that controlled my own natural body smell. I love that I can get through my day with confidence that my own body scent is not overwhelming me or anybody else," she explains. And one more had "100 percent success with this deodorant," adding that she had no skin reactions or body odor popping through midway through the day. And the best part for her is that it's a "cruelty-free, vegan brand."
Best organic deodorant
"This isn't just a good natural deodorant. This is quite simply the best deodorant on the planet. This product is a game-changer," raves one reviewer. "Super Natural Goods has clearly cracked the code. After using Underarmed for a week you'll realize how poorly all the conventional deodorants perform. The only adjustment I might note is that it does not apply as smoothly as some conventional deodorants, but once you get used to that, there's no going back." Other reviewers agree that the texture leaves something to be desired. But per the advice of another reviewer, "Make sure to hold the deodorant under your armpit for a couple seconds to soften the stick, then slowly apply under your armpits" to get a better texture. Plus, as a natural-deodorant veteran explains, "Like any natural deodorant, it isn't 100 perecent guaranteed that you won't have any odor. However, at the end of the day I can barely smell any odor, which is nice."
Best nonstick deodorant for women