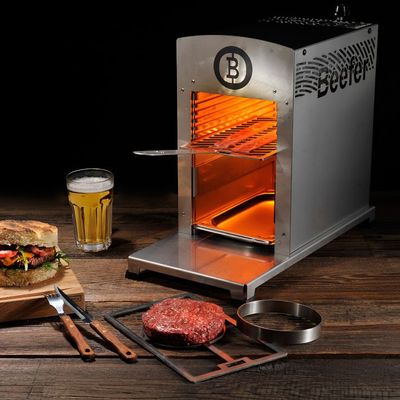 In 2018, I collaborated with superstar German DJ Robin Schulz. We had a No. 1 song internationally and did a few tours together throughout Europe. Since then, I've kept up with Robin on social media because I love his music — but also because he seems to be on the cutting edge of unique ways to grill meats. I've been grilling and smoking meats for about five years now — it's become a favorite hobby when I'm not touring — and count Char-Griller's Akorn grill and a Traeger smoker among my favorite equipment. A couple months ago, Robin posted an Instagram story that showed a stainless-steel device with a simple logo on it: Beefer. I'm a big design guy, so the clean look of the grill intrigued me immediately. But when he pulled an equally impressive-looking steak out of it, I had to know more.
After a bit of research, I learned Beefer was short for The Beefer, a German-made, ceramic-plated propane grill-slash-oven that can reach temperatures up to 1,500 degrees Fahrenheit. It's a pretty simple set up: Like with other propane grills, you hook a fuel hose up to the tank and use an ignition switch to light it. While it can be used for anything from meat to fish to vegetables to pizzas, watching Robin's and a few more videos of The Beefer in action made clear its true appeal: The grill gets so hot that it can char a steak in a way I'd never been able to achieve with any of my other setups. I immediately bought one.
The Beefer isn't cheap, but it is a special tool that I've come to rely on even more since the world fell into a pandemic. Normally, when I don't have time to make them myself, I love to go out and order perfectly cooked steaks and other meats — but right now, of course, that's not really an option. (Even with restaurants opening, there are plenty of reasons not to rush back into a dining room.) I haven't left my house in any meaningful way in about five months, but with The Beefer, I have been able to grill at temperatures usually reserved for restaurant kitchens. Before I got it, I'd order steaks for takeout or delivery, but they'd always arrive cold. Reheating them would then really change the texture and taste of their original medium rare or rare cook. Now, I can cook my own steaks to my precise liking — and do so way faster. An inch-and-a-half-thick cut cooked at 1,500 degrees Fahrenheit, for instance, is usually medium rare in about three to four minutes. Fresh out of The Beefer, I usually let it rest for another ten minutes and it's basically ready to eat.
Another nice thing about The Beefer is its size. It's lightweight, which makes it more portable than a lot of other professional grilling equipment, so I can easily move it from my house deck to my studio porch (I recently finished building a backyard recording studio, where I've been recording my forthcoming album, Seed of Joy). Cleaning it is also quite simple: Because the design doesn't pride itself in intricacy, I usually just keep it on after I'm done cooking with it and let the excess gunk burn off from the heat. After that, I wait for it to cool down and wipe the whole thing down with a damp rag.
The Strategist is designed to surface the most useful, expert recommendations for things to buy across the vast e-commerce landscape. Some of our latest conquests include the best acne treatments, rolling luggage, pillows for side sleepers, natural anxiety remedies, and bath towels. We update links when possible, but note that deals can expire and all prices are subject to change.