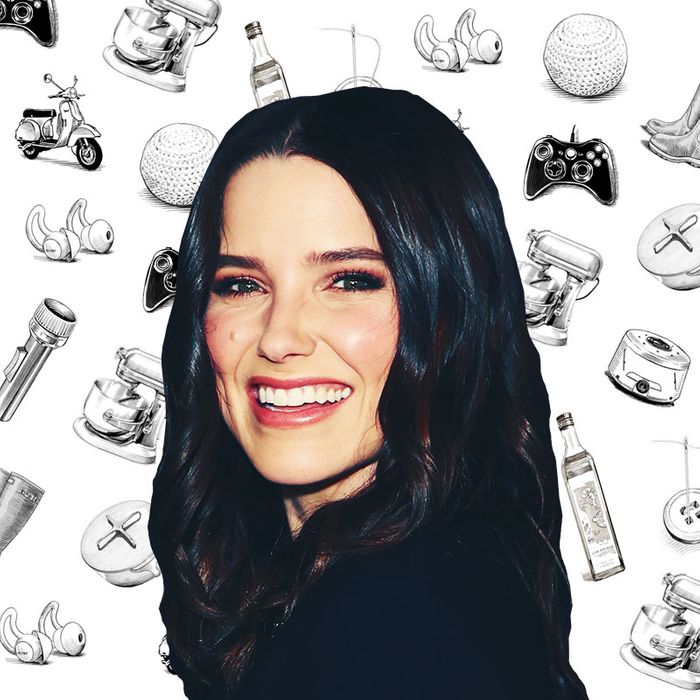 Photo: Bryan Steffy/Getty Images for Spotify
If you're like us, you've probably wondered what famous people add to their carts. Not the JAR brooch and Louis XV chair, but the hand sanitizer and the electric toothbrush. We asked actress and Work in Progress podcast host Sophia Bush — who is partnering with Spotify for its "Spotify Supper" party at this month's annual CES tech show in Las Vegas — about the pellet grill, food storage, and journal she can't live without.
There's this very cool store in L.A. called OK that's kind of a one-stop shop for the coolest version of the thing that you're looking for. I was in there getting a present for someone, and I saw this eye mask. The woman who works there said, "Oh my God, I'm telling you it's best eye mask in the world." She was right. A sleep mask is a necessity for me: I'm very light sensitive, so I either get an amazing sleep or I don't based on the eye mask that I have. This one is so incredible because it contours tight around your nose. No light gets in. You open your eyes with it on and look around and it's pitch dark. Your sleep won't be ruined by your brain realizing that it's light out. I use this in my house, on the plane when I travel, everywhere.
Cheryl, and this book, are profound. The cover attracted me to it at first: I'm a nerd for a simple font and hate cluttered book covers. Reading the book, the forward will tell you that calling it self-help, or advice of any kind, is actually really missing the point. It is a revelatory journey through the deepest parts of human experience and vulnerability, and goes through all the sides of ourselves that we never let people see. Cheryl manages to be motivating and raw and devastating all at once. To me, she tells the truest truth that I've read in a very, very long time. There are so many poignant parts of the book: the way that she explains loss through the lens of her mother's death, the way that she tells a story about these young women whose lives are so devastating that she could barely stand to be their school counselor. She talks about the moment when she said she would just be honest and stop telling people that someone was coming to help them, because no one is coming to help — except yourself. You have to want to get out more than you want to stay. That part moves me every time I read it. The first time I read the book — which has to be eight to 10 years ago by now — I knew that I would read it annually, and I do.
It's embarrassing how much I love food. I was visiting my chef-friend, Sean Brock, and his wife in Nashville, and he let me peek around in his pantry because I love to see how chefs organize their pantries. He had these insane containers that he heard about from a chef in Copenhagen, and I was like, "Bro, send me the link." Now, my entire pantry is filled with these containers. I have three label makers, and I really love using them, so I labeled each container. Everything is just super organized and easy to grab. I really love that they're all the same size, so everything stacks really neatly. You'll never lose anything in the pantry again. It's also really important to think about ways to reduce waste and plastic. I love having containers and grocery bags that I keep forever, and these definitely have been useful in my efforts to eliminate single-use containers. I even started giving these containers to my friends who like to cook as gifts. I want all my friends to experience the joy of a clean, organized pantry.