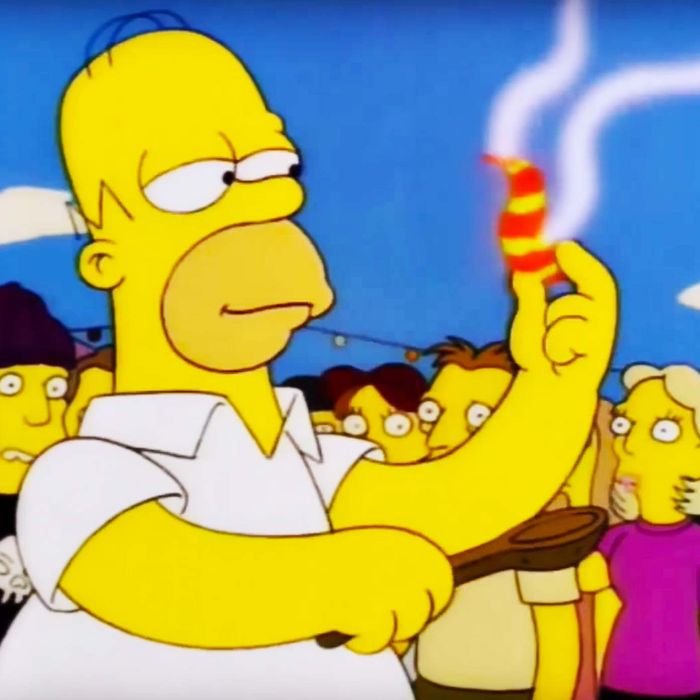 I left a tongue-scorched man.
Photo: Courtesy: Fox
Sweating brow, watery eyes, and burning tongue aside, I love hot sauce. There's nothing quite so effective at transforming boring (or less than expertly cooked) eggs, chicken, or takeout into something delicious. To discover new condiments to add to my arsenal, I recently attended the Sixth Annual NYC Hot Sauce Expo to sample the newest hot sauces on the market. After trying dozens of spicy condiments (some rather timid, some blazing), I came away with a few favorites. Here, the top ten hot sauces I tasted, ranked from mild to wild.
This was one of the few sauces I tried at the NYC Hot Sauce Expo that really wasn't hot at all, in the scheme of things. But as the brand positions it as a garlic aïoli, not a hot sauce, that was little surprise. You would be doing it right to dump this tangy, garlicky, and ever so lightly peppery sauce all over salads, sandwiches, pizza, and more. I used a spoon and it was tasty, so imagine a bite of pizza with pepperoni, black olives, peppers, and this stuff.
If you're like me, sometimes you want a superhot sauce that would wake up the dead, but other times you want a milder sauce you can dump on in generous portions. That would be this one. This unique sauce is sweet and tart, and mild enough that you could slurp up a tablespoon of it straight with only minor regret. It's a great balance to a food that's already got some spice, like a peppered meat or, hey, peppers.
This hot sauce proves that the expression "where there's smoke, there's fire" isn't always true. I got a bit of a smoldering burn maybe, but really it has a lot of smokiness and tang; it's not a painful product. Which is good because the wide-mouth bottle pours on fast. The company, based out of Chattanooga, has only been around for three years, but they are already making a mark with balanced, approachable sauces.
While you could be forgiven for thinking that this hot-sauce company got its name from the howl you'll release after trying its spicy sauces, in fact it's named based on region. Howler monkeys are native to the same region of Panama that inspired this "Aji Chombo"–style hot sauce, a sauce that upends the traditional flavor profile. Most sauces start mildly with the burn creeping in; this one will singe the tongue and taste buds for a moment, with the heat quickly receding and a bright tangy flavor replacing it.
Whitehouse Station Sauce Company is a father-and-son operation, and I got the chance to talk to the son of said duo at some length. He's a professional chef by trade, and his dad was a salesman. Their skills came together to launch this company, but it's the quality of the sauces that make it work. Their Jalapeño Sauce is an all-natural (i.e., no xanthan gum or other preservatives) and well-balanced sauce that packs moderate heat without overpowering other flavors, or your mouth for that matter. While spicier than lots of salsa-verde sauces I've tried, it's very much tolerable.
Photo: Yellow Images/©2016 Yellow Images https://yellowimages.com
I tried a few hot sauces from this New Jersey–based company, but this is the one that left an impression, and it didn't leave much pain, either. The concentration of spice from the jalapeño peppers is nicely balanced by the sweetness and tang of the pineapples, so you can pour it on pretty thick without blasting your taste buds. I tried it on a tortilla chip, but I imagine it would be delicious on fish, chicken, or pork.