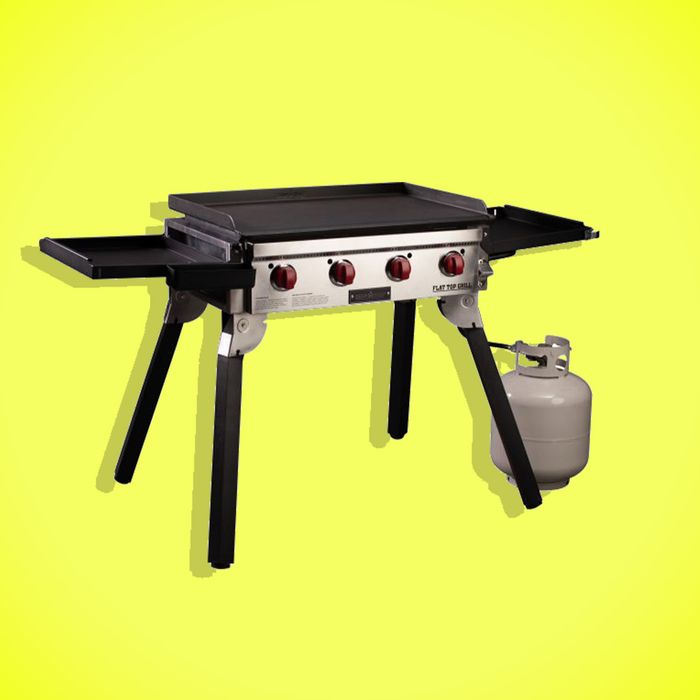 Photo-Illustration: Camp Chef
I love grilling, but not everything you cook outdoors should be cooked on a grill. If you think about it, the last great burger you had likely came off a griddle's large swath of hot steel. Five Guys? Griddled. Shake Shake? Griddled. In-N-Out? Also griddled. The same goes for the foods we all love from diners and delis, where short-order cooks churn out evenly browned and fluffy pancakes, perfect bacon, and fried eggs with deliciously crispy edges. There's skill involved, for sure. But there's also a griddle.
Over more than two decades of grilling (and 15 years of writing about grilling), I've assembled an all-star team of outdoor cooking gear, including a classic Weber kettle, a big, spendy Napoleon gas grill, and a Traeger wood-burning pellet smoker. But none have enabled me to reach my burger nirvana at home. I'm looking for patties with crispy edges, covered in an even mantle of mahogany.
Until now I've managed to get along by bringing a cast-iron griddle or carbon-steel skillet outside and heating it over the grill grate, but those offer limited space. This year, however, I added the Camp Chef Portable Flat Top Grill 600 to my arsenal. Its 604 square inches can handle nearly 30 burgers. (If you're not feeding an entire Little League team, the four independent burners under the griddle allow you to heat a smaller cooking area.)
.
Hooked up to a propane tank, those burners each crank out 12,000 BTUs, which is not a lot compared to a typical gas grill, but it gets plenty hot enough to put the perfect sear on burgers — or steaks, chicken, and veggies. It sits at just above countertop height and has sturdy legs. Both of those details help provide the leverage you need to properly smash your patty down to the perfect thickness. Because the patties fry in their own fat, which stays on the griddle surface instead of falling through the grates, the edges get all crispy and every bit of surface is covered in an even mantle of mahogany. When the weather's nice on Saturday mornings, I use my griddle to crank out pancakes, bacon, eggs, and home fries outside. Then I'll clean it off, knowing I'll return for cheesesteaks or grilled cheese later in the day.
The Strategist is designed to surface the most useful, expert recommendations for things to buy across the vast e-commerce landscape. Some of our latest conquests include the best acne treatments, rolling luggage, pillows for side sleepers, natural anxiety remedies, and bath towels. We update links when possible, but note that deals can expire and all prices are subject to change.