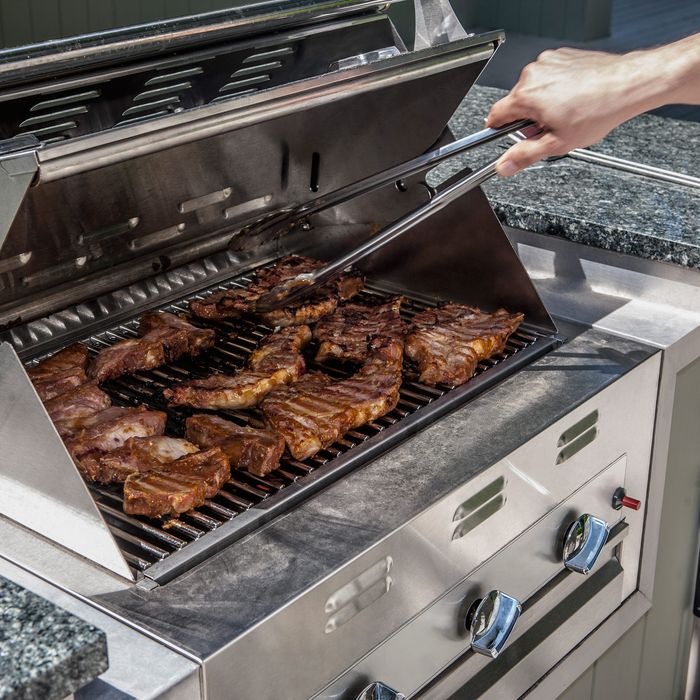 Photo: Mirror-Images/Getty Images/iStockphoto
Here at the Strategist, we like to think of ourselves as crazy (in the good way) about the stuff we buy, but as much as we'd like to, we can't try everything. Which is why we have People's Choice, in which we find the best-reviewed products and single out the most convincing ones. (You can learn more about our rating system and how we pick each item here.)
While we've written before about pellet grills, barbecue grills, and indoor electric grills— here, we've rounded up the best propane grills, as praised by the most enthusiastic reviewers on Amazon.
Best-rated propane grill
With over 5,000 reviews, this portable "Road Trip" Coleman is one of the most popular propane grill models on Amazon. Shoppers who don't want to lug around something bulky love its compact size, like one who says, "This little grill is perfect for our uses. We don't need a huge, cumbersome grill and this one stores away in a small space, yet has a surprisingly big grilling surface. It was a snap to assemble and easy to use." The size makes it ideal for traveling, according to many, like one reviewer who says, "road trips (as per its name), tailgating, and RVing are where it shines."
Others are convinced that this grill excels at just about every metric. "This is the best grill that I have ever owned. Other than being so compact, it's also easy to clean. Also, the lowest price I have found for this item on Amazon, truly a great item," says one shopper.
Best-rated (less expensive) propane grill
Here's a mini tabletop propane stove, which reviewers describe as a lifesaver for camping trips or emergency situations when the power goes out. "This stove is a game changer for camping," says one avid camper. "There are no bad things I can say about it, and if it ever broke, we would replace it with the same stove immediately. It heats up SO quickly and saves so much time." Others noted the "compact, lightweight, and easy-to-set-up" frame that produces a strong flame. Some reviewers complained that the heat was almost too high, though the majority of users are happy with the way it works, since it's not an everyday type grill.
And now for some micro-picks for every type of propane grill you might be looking for.
Best tabletop propane grill
If you're okay paying a little more for a tabletop grill than the Coleman, reviewers agree that this Blackstone 22-inch option is the best for the price. Most reviewers note that it works best when you season it with an oil or some type of grease, but once you do, "it becomes nearly like teflon, even scrambled eggs don't stick!" Shoppers like to describe how this grill "infuses everything we cook on with the most incredible flavor" once seasoned and is just an all-around excellent tool for tailgates and on-the-go cooking. One happy shopper sums it up as a "simple, rugged, easy to use, easy to clean up" unit that's "everything you could want out of a propane griddle" while being "plenty big to keep the food coming for a good size crew."
Best mini tabletop propane grill
Shoppers love to marvel at how much this little Cuisinart gas grill can produce for its size. One reviewer who uses its for "camping, out at the lake, and all over" says it has more surface area than expected: "I use it at home to cook a quick steak, burgers, or sausage. It heats up in 5 minutes or less and cooks evenly." It was a favorite of reviewers who wanted "something small that wouldn't take up much space, but would allow me to cook outside and wouldn't be a pain to clean."
Best propane griddle
Reviewers don't have any shortage of compliments to pay this Blackstone grill and griddle station. Shoppers appreciate the range of items you can cook on it, from "steak dinner for two" to "breakfast for seven," and many talk about this purchase being one of the best choices they've ever made. Per one reviewer, "I have an awesome son and a beautiful wife but they pale in comparison to my griddle." Others says it's the perfect size: "Not so big that it feels there's wasted space, not so small that you get cranky when you can't fit enough food on it."
One woman who bought this grill for her boyfriend seems jealous that it gets so much attention. She says, "I know if my boyfriend ever cheats on me, this will be the first thing I vandalize. He loves it THAT much."
Best portable propane grill with stand
Shoppers love packing this portable Cuisinart grill for beach or camping trips because of its easy storage and setup, plus its surprising size. One reviewer who was "expecting a teeny portable gas grill" says it's actually "big enough to grill for two to six depending on what you're grilling" — ribeyes, 3/4-inch steak burgers, or breakfast. Reviewers also like to marvel at how easy it is to use and carry, like one who says she and her husband (both in their sixties) love it: "Everything we do has to be easy and uncomplicated. Easy to carry; not too heavy. Easy to set up; legs just extend. Gas is easy to buy, connect and disconnect. Now, if we could get it to mix the salad…"
Best cabinet-style propane grill
Grillers tend to agree that "Weber grills are expensive, but worth it," and this one is a hit among reviewers who want a great-value, high-quality grill. Per one reviewer, "It heats up quickly and cooks food beautifully. The design is clever — The grill is nicely compact when the side tables are folded away, but the tables are easy to fold out and very stable." At least one reviewer warns, "It's not designed to cook more than eight burgers at a time," though the majority of reviewers buy it because they want a more moderately sized grill. One dad who loves this model claims it's perfect for a two-to-four-person family. "It has a larger grill surface area than I expected and assembly took approximately 1.5 hours from start to finish."
Best cart-style propane grill