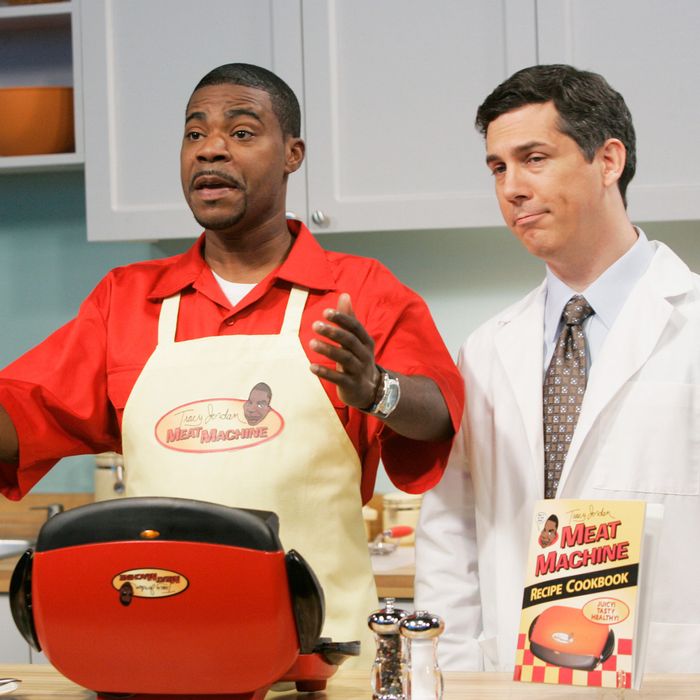 Photo: Virginia Sherwood/NBC via Getty Images
Here at the Strategist, we like to think of ourselves as crazy (in the good way) about the stuff we buy, but as much as we'd like to, we can't try everything. Which is why we have People's Choice, in which we find the best-reviewed products and single out the most convincing reviews. (You can learn more about our rating system and how we pick each item here.)
And while we've written about the best grill accessories, the best smokers, and even the best charcoal, here we're rounding up the best indoor electric grills you can find on Amazon, according to tons of extremely positive reviews.
Best-rated indoor electric grill
Multiple reviewers mentioned buying this Cuisinart electric grill (which is also our best-rated panini press) to replace their aging George Foreman grills, and that they liked this one better. One reviewer liked that the grill plates on the Cuisinart weigh less, explaining, "I bought this to replace a George Foreman Grill. The main difference is the plates, which are considerably lighter in weight and much easier to pick up and clean." Other reviewers commented on the grill's versatility, listing all the things they've cooked on it so far: "I really like that the plates are double sided with a grill and griddle. Being able to open the unit all the way up is also really nice. I've used this to grill veggies, grilled cheese sandwiches, make pancakes, hash browns, eggs, warm tortillas, grill burritos, and sear fish." Reviewers also noted that they use this grill so consistently it occupies a permanent spot on their kitchen counters. One of them said, "I have used this miracle device multiple times a week, for over two years — and it still looks and works like new."
Best-rated (less expensive) indoor electric grill
Over and over again, reviewers of this grill praised the George Foreman's upgrade of removable plates, saying things like "This is the George Foreman grill I have always wanted!" and "The only way to make a George Foreman better was to have removable plates, and they did it." In fact, over 700 positive reviews mention the removable plates. Other terms used to describe it include "easy to clean." One reviewer explained, "The removable and dishwasher safe plates are a godsend." Another said, "I can't use enough superlatives. I drop them in hot soapy water and go eat my dinner return and swish, swish! they are sparkling clean and so so easy to remove and replace." Finally, at just $23, this grill is a very good deal. "I found this grill for under $30 and it was a bargain."
And now for some micro-picks for every type of callus remover you might be looking for.
Best smokeless indoor electric grill
For reviewers who live in apartments or have small kitchens, this smokeless grill has been called "a dream" and "awesome." For the most part, reviewers wrote about being shocked that it actually is smokeless, saying things like "I cooked burgers on it and it didn't stick at all. And it doesn't produce any smoke at all which is kind of insane" and "We used this to cook burgers and there was barely any smoke when usually the whole house is full of smoke. We even did a Yakiniku style dinner at home. This was perfect for that as we put it in the center of the dinner table and grabbed the meat we wanted to cook and put it on the grill. Usually when doing something like this even at a Yakiniku restaurant you'll smell like cooked smoke meat but with this the smell only went to your nose and not your clothes."
Best nonstick indoor electric grill
A lot of reviewers said they use this nonstick grill to make Korean barbecue at home with friends and family. Many were so happy with the results they included photos of their table spread. "This grill makes it super cheap and easy to do Korean BBQ at home! We buy vegetables (enoki mushrooms, onion, and leafy lettuce) and thinly sliced meat (pork belly, beef, etc). After grilling, we dip the meat in a sesame oil and salt sauce and wrap it in lettuce," said one happy customer. Other reviews focused on how easy it is to use and clean thanks to the nonstick grilling surface. "I was a little worried about the Korean sauce sticking to the grill when it cooks. But cleaning was easy." This reviewer claims his family has saved money since buying and using this grill: "Our family loves going to Korean BBQ a lot and we've stopped going out to restaurants since buying this grill. We buy very good meat from the store and still save a lot of money."
Best small indoor electric grill
Happy customers said that this Zojirushi grill heats up fast, makes food taste amazing, and is easy to clean. But of all its benefits the small size was mentioned most consistently. "It's sized just right for a small apartment. Doesn't take that much space and heats up very fast," said one reviewer, who likes that it's also easy to store thanks to its small proportions. Another reviewer agreed, saying, "Cleanup is easy and it is small enough to store easily." They also mentioned that it's not too small to cook a bunch of food at once. Another reviewer said that it's the perfect size for two. "Just what I needed for a small indoor kitchen! Very practical for 2 people."