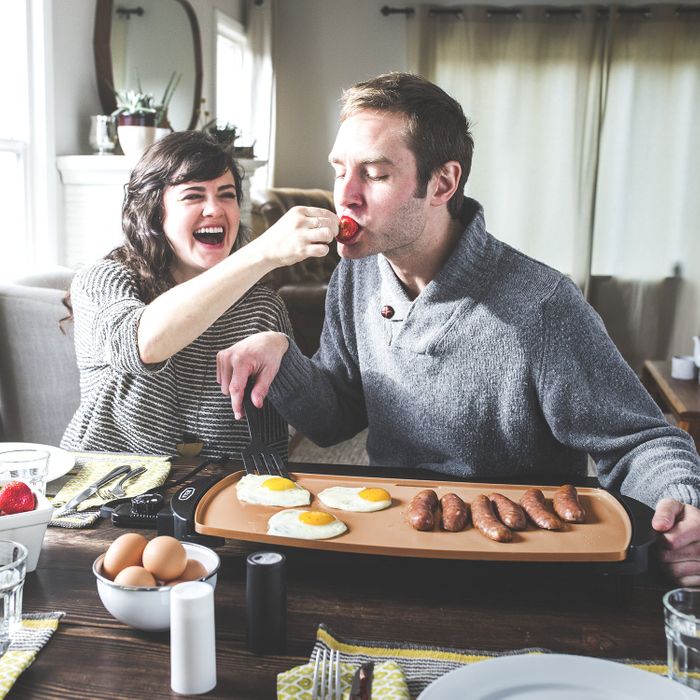 Here at the Strategist, we like to think of ourselves as crazy (in the good way) about the stuff we buy, but as much as we'd like to, we can't try everything. Which is why we have People's Choice, in which we find the best-reviewed products and single out the most convincing reviews. (You can learn more about our rating system and how we pick each item here.)
And while we've written about the best grill accessories, the best indoor electric grills, and the best smokers, here we're rounding up the best indoor electric griddles you can find on Amazon, according to tons of extremely positive reviews.
Best-rated electric griddle
With an extra-large cooking surface, this electric griddle has nearly 2,000 five-star reviews. "This one is just perfect and for the price point you can't beat it," one reviewer writes. "For starters, the surface area is one of the largest there is. When you combine that with the flawless non-stick surface, almost even heating and removable handles for flat storage, it is simply the best at what it does." Another customer explains, "We've never owned a griddle before, but I decided to buy one for my husband who makes us eggs and bacon or pancakes at least twice a week … We're a family of six, and he always had so many pans going on the stove at once that I thought this might be a good idea. I LOVE that it can come apart and go into the dishwasher. I also love that it fits into my cabinet once it's apart." That ease of cleaning and stowing away are regular points of praise with reviewers, as another adds, "I have gone through a couple of griddles in the last year or two. This has been my far my favorite. Cleanup has been the easiest. When you're done cooking push the 'bits' off with your spatula (Teflon-safe, of course), then when it cools down wipe it with a paper towel and it is as good as new."
Best-rated (less expensive) electric griddle
This miniature electric griddle is a favorite among those who are looking for a tiny appliance, like apartment or dorm-dwellers, and many reviewers noted how quick and easy it was to make meals for one. "Neat little device for when you want to cook a little something quickly without making a mess on the stove. I mostly use it to cook one or two eggs at a time," explains one solo chef. "Cooks from both sides and gets the job done usually in less than five minutes while I multitask on other things." Another reviewer adds, "I made a perfect grilled cheese at 3 a.m. Plugged it in, gave it less that a minute, checked to see if it was warm yet, and already had perfectly brown and crusty grilled cheese. 'Literally' don't go make a phone call or finish one more level of the game, it's so small it heats up fast …" The ingenuity of reviewers with small kitchens continues, with one explaining, "I am living in a small dorm studio with a very small kitchen. This device fits perfectly and is very pleasant. Not only does it make the best eggs ever, I can use it to heat bread and pizza slices that come out crunchy, fresh and delicious. I am sure I can use it to grill burgers and chopped meat as well. There is no sticking of food whatsoever."
And now for some micro-picks for every type of electric griddle you might be looking for.
Best nonstick electric griddle with warming tray
Lots of reviewers with large families rave about this nonstick griddle. "This is a great tabletop griddle that makes quick work of many things. We tried pancakes, sandwiches, quesadillas, eggs, and more. It heats up quickly, has a large surface that held plenty for our family of four, and cleans up easily," writes one satisfied reviewer. Another finds family togetherness with the griddle, saying, "I loved this griddle so much that I bought one for both our sons. It is versatile, easy to clean, never sticks, and cooks everything perfectly. I can crack open eggs right on the griddle without oil, and flip them over for the best eggs over easy ever. I can put frozen French fries right out of the bag on without oil and flip once and they are crispy on the outside-perfect. Bacon doesn't curl up. Hamburgers — perfect."
A lot of reviewers use this griddle to to turn their kitchens into a makeshift fast-food joint with the help of the built-in warming tray, like this one, who raves, "Blessings be upon you, BLACK+DECKER, for allowing me to pump out pancakes and grilled cheese like a McDonald's sous-chef." Another content reviewer writes that the warming tray "keeps the meats warm while cooking eggs and pancakes (yes at the same time!) … I can easily fit 8 medium-size pancakes at a time."
Best extra-large electric griddle
This griddle gets consistently positive reviews for its ability to cook up large portions, especially among those who need to feed a crowd and don't want to clean up a big mess. "Do you ever look at your 6-10 inch skillet, look at your mostly full sink and think to yourself, 'Ugh'? THEN LOOK NO FURTHER," says one pleased customer. "Just whip this bad boy out, flop it on the counter and get to cooking … When I cook breakfast for myself, my wife, and my three kids, I cook sausage/bacon on the left, 5-6 eggs on the right, and then when it is done I use the spatula to pull the grease into the tray and wipe up the leftover streaks with a paper towel. That's it." Another reviewer adds, "There's plenty of room for anything I need to cook, the food turns out great, and nothing has ever gotten stuck. I had the smaller version of this for years and when I finally wore it out, upgraded to this one. The trench in front of the tray is a big improvement over the little drain hole my older model had."
Best mini electric griddle
The compact size is the most sought-after aspect of this griddle, and satisfied reviewers repeatedly bring up how easy it is to store, like one who writes, "Love, love, love this size griddle. Use regularly — for bacon, hamburgers, grilled cheese, Reubens, pancakes, eggs, etc. If you are single, or a couple or just have a small family, this is the perfect size! Doesn't take up all that room in the cabinet and holds four hamburgers or three big pancakes perfectly." Another reviewer agrees, saying, "I love this tiny griddle, let's be clear about that. I am single and living in an apartment — size is the driving constraint. I have little storage, no real counter space and a small sink. There is no way a normal griddle would fit in my life. This itty-bitty griddle is easy to store, a breeze to clean, and I can use it in my minimal kitchen." Plus, the size tends to make the heating element more impressive, as this reviewer explains: "I had a regular size griddle but it never would get hot enough and because it was so large I hardly ever used it. But this is perfect size for two people. Plan on using it a lot and it doesn't take up a lot of space."
Best ceramic griddle
"I have a small kitchen so storage is a big deal to me. So when I saw the removable handles, that caught my eye. Then, the ceramic clinched it," writes one satisfied reviewer, continuing, "I switched to ceramic pans several years ago they are simply better than anything else out there. Way better than stainless or Teflon." A different reviewer notes the removable legs, writing, "I wanted this to cook my locally notorious made-from-scratch blueberry pancakes. It has a great non-stick coating. The legs are easily removable, so you can put the griddle in the dishwasher." Many reviewers appreciate the ability to fully immerse the griddle in water when cleaning. "After cleaning everything, which was so simple with the handles removed, the whole griddle (not the power cord) can be submerged in water, so I just hand-washed it (and the drip pan) with warm soapy water," says one reviewer who likes cooking a lot of bacon.
Best copper-coated electric griddle
"In my life I have owned over 10 electric skillets from different manufacturers. This Bella copper skillet is definitely the best I have ever had," writes one griddle connoisseur, who adds, "The finish looks as new today as it d