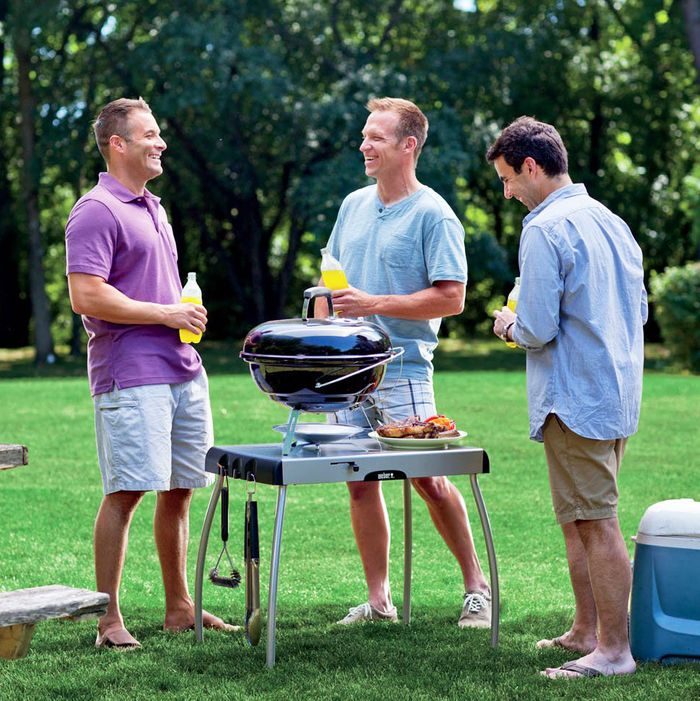 Here at the Strategist, we like to think of ourselves as crazy (in the good way) about the stuff we buy, but as much as we'd like to, we can't try everything. Which is why we have People's Choice, in which we find the best-reviewed products and single out the most convincing ones. (You can learn more about our rating system and how we pick each item here.)
And while we've covered a best-in-class smoker and every kind of barbecue contraption and grillingg accessory imaginable, here we've delved into the best charcoal grills, as praised by the most enthusiastic reviewers on Amazon.
Best-rated (and least expensive) charcoal grill
Weber's most-reviewed model on Amazon — "a classic for a reason," according to one happy customer — also happens to be its most affordable. Or, as another reviewer puts it, "At a cost of around $35 for a grill that will pretty much last a lifetime, there's not much negative to say. [It's] easy to assemble, [and the] materials and coating are top notch." A part-time propane user is even more effusive about this grill's cost-effective capabilities, admitting, "I have a $1,700 stainless gas grill/smoker [and the] $29.99 Smokey Joe is 10 times better than that garbage." Another reviewer describes the Weber kettle as "an icon, sort of like how a KitchenAir stand mixer is an icon. Both are stout, sturdy and straightforward pieces that last and last." And despite its small footprint, it can still grill just about anything. "Small enough to be easily portable but still be able to grill a whole chicken or a rack of ribs," one reviewer raves, adding, "I have done both with excellent results."
And now, some micro-picks for every type of charcoal grill you might be looking for.
Best charcoal grill with ash catcher
Many of the more than 1,200 reviewers who splurged on a Premium Weber grill describe it as easy to clean, in large part because of the included ash catcher, with one reviewer citing it as a must-have feature: "As for choosing which charcoal grill to get, I chose this model over the less expensive model because of the ash catcher, and I'm glad I did." Another customer explains, "Back in the day, the ash catchers on charcoal grills were messy, and difficult to empty without getting covered in soot. Not so with the new design, which does a better job of containing the ashes and makes clean up a breeze." With this Weber grill, one reviewer was even able to convince the die-hard gas devotees in her family that charcoal ain't so bad after all. "The best compliment was dad and others asking me how I grilled these thick burgers so well without burning them to dust," she writes, concluding, "It's all in the vents! And I think investing in an awesome grill helped, too."
Best charcoal grill with side table
"I researched charcoal grills for a month and kept coming back to the Webers," writes one reviewer, who goes on to explain why this model stood out. "They are in every top 5 or top 10 charcoal grill lists all over the internet because of their iconic patented dome design. It holds heat extremely well and having the side table is a must." And there's lots of reviewers who bought this grill specifically for the side table, like one who writes, "I really just need a table for a plate and a drink, and the Performer Silver provides that perfectly at a fair price. The grill is stable as a rock." It's also "super simple to put together," according to a third reviewer, who says it took "45 minutes of beer drinking and tinkering" to complete what they call "Hank Hill's worst nightmare." They add, "The benefit of going with this version is that you get the lid holder on the side, the updated ash can, and the gourmet grill grate system with the hole in the middle so you can pop in a sear grate."
Best gas-ignited charcoal grill
While a gas-powered charcoal grill may sound like an oxymoron, many reviewers say Weber's Performer Premium is a best-of-both-worlds situation. "There are two camps when it comes to BBQ, charcoal or gas," explains one person. "We all agree gas is hands down easier, but IMO charcoal just tastes better. This grill gives me the advantages of both." The convenience of its "quick and easy" fuel system, as one reviewer describes it, also comes up repeatedly. "After 50 years I'm done using starter fluid," says a five-star fan. Another reviewer, who's "shooting for at least 20 years of service out of this one," appreciates that there's "no lighter fluid or blocks to worry about burning off before you cook and no mess from the paper when using a chimney starter." They also praise its cooking performance, saying it's "exactly what you'd expect from a Weber grill — fantastic!"
Best portable charcoal grill
Reviewers who live in apartment complexes or lack backyards seem to prefer Weber's Go-Anywhere grill for its "smaller footprint" and striking a "balance with form and function," as one describes it. One "urban family" says "this is the best purchase we made last year," describing it as the perfect size for "languid afternoons in the park" and "rest areas for lunch while on tedious drives." Another reviewer is happy with the Go-Anywhere's performance at home. They started off by searing four chicken thighs, a duck breast, and a flatiron steak, and found it has "plenty of grill space, even heat, and best of all, easy cleanup…. Eight thumbs up for myself and my guests. Bravísimo!"
Best compact charcoal grill
A "heavy, cast iron barrel and cooking grates," as one reviewer describes it, is why dozens of reviewers describe it as "sturdy." "This grill is brilliantly designed and built like a tank," explains another satisfied reviewer. "It takes most of the mess out of charbroiling, heats rapidly, and stays hot for a long time due to the heavy steel construction." Anyone worried about this compact grill's capacity should heed the words of the reviewer who says, "Don't let the size fool you; it grills a good amount of food. [I] was able to grill three giant-sized stuffed pork chops and a whole cut-up chicken at the same time with no problem. If you're looking for a smaller grill to save space with great smoking ability this is the one."
Best charcoal grill for camping