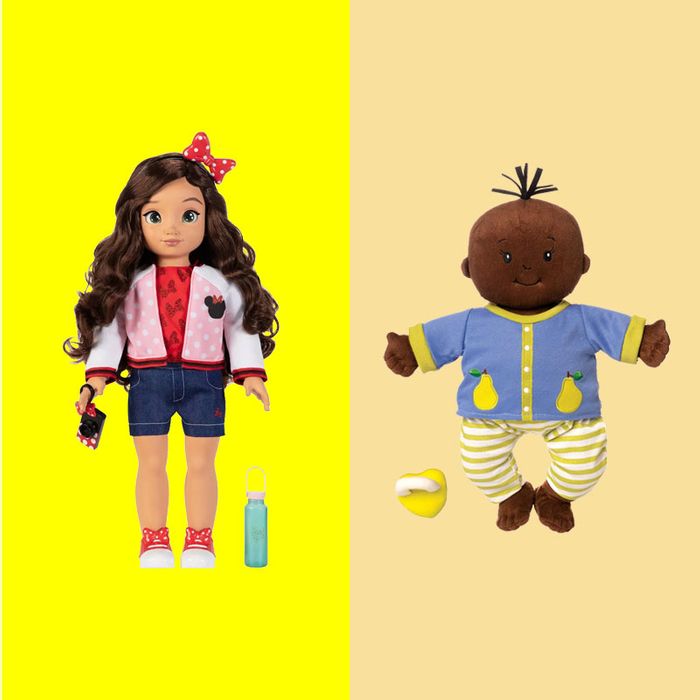 Photo-Illustration: The Strategist
Seemingly immune to becoming obsolete, dolls are a classic toy that kids naturally gravitate to. And while they are simply fun to play with for kids, Amanda Vierheller, the co-founder and COO of Playgarden, says playing with dolls and dollhouses can have real-world benefits thanks to the imaginary scenarios they help create. Dolls encourage kids "to think more about how others would approach things," she says, leading them to develop empathy and understanding and making "important connections and impressions on how they treat people in future real-world situations." Whether they have a whole collection of Barbies or a single realistic doll that eats, drinks, and falls asleep, kids can use dolls to explore creativity, open-ended play, and to act out what they see in the world around them. So to find the very best ones, we spoke to Vierheller and eight other experts and parents to find out which dolls they — and their own kids — recommend.
According to Dr. Alexandra Figueras-Daniel, an assistant research professor at the National Institute for Early Education Research, this plush Baby Stella doll is ideal for young toddlers because it provides opportunities "to use fine motor skills in fun ways" thanks to its removable clothes and magnetic pacifier that clicks onto the doll's mouth. Figueras-Daniel adds that these dolls are available in a variety of skin colors, making it easier to pair your child with a doll that reflects what they look like.
According to Vierheller, an anatomically realistic doll can help children "communicate and ask questions about genitalia in a way that feels safe and accessible," and Miniland dolls are designed to correctly represent children's bodies. In the same vein as the Baby Stella doll above, Miniland is an ultrainclusive brand, offering dolls of different races and with a variety of hair textures, as well as dolls that represent babies with Down syndrome. This allows kids to see themselves in their dolls, and certified parent coach Christy Keating, J.D, says this kind of representation is crucial. "Children like to see themselves in the toys that they play with, and research shows it has a positive impact on their healthy development and self-esteem," she says. "Moreover, providing diverse toys to all children sends the message that everyone should be included and celebrated, not just white, thin, able-bodied people." The sweet-faced silicone dolls arrive wearing just underwear but you can buy outfits separately to give them a more robust wardrobe.
James Zahn, a senior editor at The Toy Insider, says these Monster High dolls are "flying off shelves thanks to a hit live-action movie on Paramount+ and a new animated series on Nickelodeon." The Monster High franchise originally launched in 2010 as a YouTube web series that followed ghoulish high-schoolers; the new movie and show are part of a 2022 relaunch that includes the original monsters and some new friends, like Deuce Gorgon. Perfect for tween and young teen fans of the original creepy crew of monsters, the dolls are sold individually so kids can collect their favorite characters. This Deuce Gorgon doll can be manipulated to stand in different poses, comes with a stylish snake belt bag, a container of hair gel, and a snake frosting-topped cupcake to finish off his slithering style. Deuce's pet mouse, Perseus, is included too. Other popular options include Frankie Stein, Draculaura, and Cleo De Nile.
Playing with dolls isn't off the table once kids hit the tween stage. "While most toys typically have age recommendations on the box, they are just that — recommendations," says school counselor and educator Sandi Logan-McKibben, Ph.D., who told us that "in general, dolls are an excellent medium of communication for children and adolescents alike." And for Disney-loving older kids who have a budding future as Disney-loving adults, this 18-inch Disney tourist doll is a good way to tap into their interests. It will also satisfy the fashion doll trends that allow kids to dress and style their dolls, says Kristin Morency Goldman, senior advisor of strategic communications at The Toy Association. Kids in the tween age range of 8 to 12 years old "may be into collectible dolls, fashion dolls, or makeover dolls, depending on what inspires them to be creative and have fun," Morency tells us. There are five different Disney ILY dolls to choose from, including an Ariel-inspired doll, a Rapunzel fashion doll, and a Cinderella doll, all dressed in Disney-themed outfits. You can purchase additional Disney princess outfits to shake up their style.
According to Vierheller, interactive dolls that require a level of nurturing as a part of the play pattern help young children develop empathy and social skills. "These toys demonstrate real-world problems children face every day," Vierheller explains. Baby Alive, a classic brand of dolls known for their ability to, uh, fill their diapers (which is just water or the food-powder mixture that the doll "eats" and "drinks"), allows children to jump into the nurturer role while they feed, change, and entertain their baby. This helps to build empathy "because children can relate to the needs of babies — feeling hungry, tired, getting clean, and needing comfort," Vierheller says. Complete with two packs of food, a blender, a spoon, a set of diapers, and other mealtime accessories, kids will have everything they need to play parent.
All of the experts we talked to agreed that representation is a critical part of selecting the right doll for any child — and according to Goldman, research shows that parents and caregivers value diverse representation too. "A recent OnePoll survey conducted on behalf of The Toy Association of 2,000 U.S. parents of kids ages 0 to 18 found that 73 percent of parents appreciate that today's toys are more progressive and diverse than when they were kids," Goldman told us. Healthy Roots makes brown-skinned dolls with hair textures that are representative of kids of color. Goldman recommends this 18-inch Zoe doll in particular as a good representation of Black girls. The doll's textured, kinky-coily hair is both washable and made to be styled, so kids can recreate the puffs, bantu knots, and braids they may wear in their own hair.
While Kristin Miller, director of education for Celebree School, agrees that a doll that looks like the child who will play with it is beneficial, she says more abstract dolls also deserve a place in the playroom. "Open-ended expressions of people like these wooden dolls provide opportunities for children to creatively play and tap into the imagination, language skills, and problem-solving opportunities," she says. These smooth wooden dolls can be used to role-play or create dramatic scenes — or in any other way that kids like to play with them.
For younger kids who aren't ready to tote around a full-size American Girl doll, the Bitty Baby is a nice alternative. Vox Media client partnerships director Donovan Longo says her 17-month-old daughter is a newbie to the doll world but is in love with her Bitty Baby. "She has doctor accessories and we try to play check-up with the stethoscope, thermometer, and syringe before our own doctor visits," Longo tells us. The Bitty Baby dolls are available in different combinations of skin tone, hair color, and eye color, making it easier to find a doll that resembles your child. The center of the doll is plush and cuddle-worthy, while the limbs and head are made of weightier vinyl. Longo also notes that her daughter loves that the doll has an American Girl logo on its chest in the same spot where her daughter has a large birthmark. "My daughter absolutely loves it, she shows me the decal on her doll and her birthmark on her chest most mornings with pride," Longo says.
With their oversize eyes and exaggerated sense of fashion, L.O.L Dolls originally launched in 2016 and are still a favorite among kids. Toy expert Chris Byrne (a.k.a. the Toy Guy) told us in 2021 that their sustained popularity can be attributed to the collecting trend that appeals to school-aged kids and tweens. "What's significant about collectibles is that they are different enough so that kids can express their own individuality, but at the same time, they are all part of the L.O.L. Surprise world," he says. "Yes, they're connecting around a doll, but the wonderful thing is they're connecting," he said. The latest addition to the series is the Fierce Collection, which includes four different, intimidatingly stylish dolls to collect. Playing on the surprise element that L.O.L is known for, these collectible dolls are ideal for tweens and older school-aged kids who value dressing their dolls in a way that is a reflection of their personal style.
Known for reinventing herself dozens times, Barbie is another enduring favorite, according to Zahn. And the best may still be yet to come, as "the Barbie live-action movie starring Margot Robbie and Ryan Gosling should open up a flood of renewed interest," Zahn says. This Cutie Reveal version of the doll combines the imaginative play that Barbie is known for and the unboxing trend that has become popular over the last several years. Barbie comes with a unicorn plush costume, including a fluffy head, a comb, and a pet.
According to Vierheller, playing with dolls allows children to test-drive a variety of behaviors, whether they may be considered right or wrong. "Many times, children like to use dolls to act out both the correct way and the incorrect way of doing things to experience cause and effect in a safe and healthy way." she says. "Kids sometimes want to try the things they know are wrong and feel empowered to do so through the anonymity of pretending with dolls without the real-world consequences." Kathy Palughi, mom of a 6-year-old daughter, told us her daughter really enjoys playing with dolls for that very reason and often reenacts events that have happened in her reality. "Let's say at the moment she was flipping out over something, she'll replay the scene and change it to where she might have been able to diffuse the situation. It helps her cope with certain events," Palughi says. Her daughter's current favorite doll is the semi-magical Mirabel doll from the Disney movie Encanto because "she has curly hair and tan skin like her." Similar to poseable Barbies and American Girl Dolls, kids can lean on their imagination and role-playing to bring the doll to life. Dressed like the semi-magical character from the film (down to the round glasses and pom-pom dress), kids will be able to recreate their favorite scenes in a realistic way.
The Strategist is designed to surface the most useful, expert recommendations for things to buy across the vast e-commerce landscape. Some of our latest conquests include the best acne treatments, rolling luggage, pillows for side sleepers, natural anxiety remedies, and bath towels. We update links when possible, but note that deals can expire and all prices are subject to change.