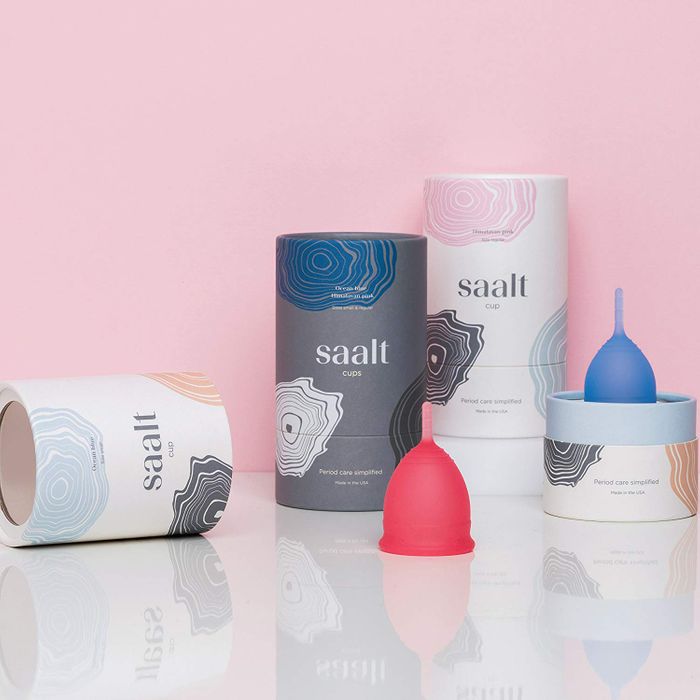 Photo: Courtesy of the retailer
Here at the Strategist, we like to think of ourselves as crazy (in the good way) about the stuff we buy, but as much as we'd like to, we can't try everything. Which is why we have People's Choice, in which we find the best-reviewed products and single out the most convincing ones. (You can learn more about our rating system and how we pick each item here.)
And while we've written before about feminine care products — including expert-recommended menstrual cups, the best probiotic tampons, and even the best incontinence underwear — here we've rounded up the best menstrual cups as praised by the most enthusiastic reviewers on Amazon.
Best-rated menstrual cup
Of the nearly nine thousand positive reviewers, a huge amount said they wished they had tried a DivaCup sooner. Comments included, "This is so much better than tampons," and "This is one of the best inventions ever. I want to scream to the world, 'ASK ME ABOUT MY CUP!'" Many reviewers said the Diva Cup has made them forget they are on their periods completely. "Honestly, my period just isn't as big of a deal with this product," said one, who continued, "I actually forget I am on my period! Seriously." Another extremely satisfied customer said, "You know those offensively unrealistic tampon commercials? Where the woman is prancing around in a field of flowers wearing white shorts? Well, that's how I feel about the Diva Cup! It's comfortable. It's reusable, and that makes it economical! And green. And it makes me feel better than thinking of a massive pile of menstruation-soaked cotton in a landfill somewhere." Another reviewer who was extremely pleased that her white underwear stayed white said, "I went through my day living my life with no hint or indication that I was bleeding from below, that is until I emptied my cup. And my snow white panties? NOT A DROP ON THEM."
Best-rated (less expensive) menstrual cup
At less than half the price of the Diva Cup, the Blossom Cup got a lot of love for its low cost. Though ex-Diva Cup wearer said that she actually prefers the Blossom. "For almost half the price that I bought my Diva Cup, this is just as good," she wrote, adding, "One small design feature of the Blossom cup I prefer is that the little stem at the bottom is closed, whereas the stem on the Diva cup was a little tube that would often get clogged and difficult to clean out." Another happy customer said, "The Blossom Cup is hands down is the greatest thing to happen to periods since chocolate!" And a third reviewer who recommended building a monument to the Blossom Cup said that she canceled her order of period-proof underwear once she heard about this cup: "I canceled the Thinx and ordered the Blossom (at half the price, I should mention)." Like many menstrual cups the Blossom comes in two sizes, but as one reviewer said, "The Blossom is so affordable it shouldn't be a hardship for you to try both to figure out what works best for you."
And now, some micro-picks for every type of menstrual cup you might be looking for.
Best small menstrual cup
"My entire attitude about having periods has changed, I'm actually bummed my period is over, and I have to wait another 3 weeks to use my cup," said one very pleased reviewer, adding, "I will never buy tampons or pads again." This sentiment continued across the almost six thousand positive reviews, but another common theme was the comparison between the small Lena Cup and the small Diva Cup. One reviewer said "I originally tried the Diva cup, but I find that the Lena cup is more comfortable since it is smaller overall. The silicone for the Lena is also not as stiff as the Diva cup, so actually feels like its not there." Another woman who had little success with the Diva Cup said this. "In my 12 years of menstruating, I have never had a more seamless, unobtrusive period experience as I have these past two months with the Lena cup. I was very hesitant to try it since I had mixed success with the Diva Cup in the past. I know some girls love their Diva Cup, but I found the latex to be too hard, adding to my cramps, and even the small was too large for me, causing the stem to stick out too far and irritate my labia." And this satisfied customer said that she can barely feel the Lena when she is wearing it. "I seriously forget I'm wearing the Lena, and this coming from someone who could hardly stand the preteen sized tampons. This allows your body to do its own thing, how it was designed to work."
Best menstrual cup for a heavy flow
In their reviews, most women began by declaring their love for the Lunette cup saying things like, "This thing was a frickin' GAME CHANGER." This is especially true among women with a heavy flow and a short vagina, who deem the Lunette is best, like one who explained, "I chose the Lunette because It has the largest capacity with the shortest cup height (minus the 'stem'). I found a great comparison chart that had all of the various brands and sizes with mililiter capacity, diameter, cup height, and total height." Another reviewer who was tired of going through so many tampons said, "I've always had a very heavy flow and when I used tampons, I would go through about 25 tampons per cycle, most of which were super size and they ALWAYS leaked. With the Lunette size 2 I didn't have a single leak the entire week and it was amazing. I also barely filled the cup to the first line even on my heaviest days. It really is true when they say you don't bleed nearly as much as you think you do."
Best large menstrual cup
One feature that sets the Pixie Cup apart from other menstrual cups is its flat stem, as well as its height, which according to the positive reviews we read is helpful for women with higher cervixes. One such reviewer said "I had been a Moon Cup user for many years, both sizes, and kept having intermittent issues with leaking." She continued, "I think getting a cup that filled the length of my vagina was key; I don't have heavy flow but I do (apparently) have a long vaginal canal." After reading through tons of the Pixie's positive reviews, we kept seeing the same fit issues that were ultimately solved by switching to the Pixie Cup. A self-described high cervix haver who mentioned trying the Diva Cup, the Blossom, and a Lena said "I bought a Diva Cup, and wow, life changer, but Diva and I have a problem. My cervix is high and the cup would get sucked in too far then I couldn't remove it easily. The additional height of the Pixie XL has been helpful. I have done multiple workouts, cycling, HIIT, squats with weight, deadlifts, Krav Maga and I cant even feel the cup and no leaks."
Best two-pack menstrual cup
Reviewers liked the convenience of keeping one cup at home and another at their office or in their purse. And many of them mentioned liking the fact that this set of two cups saved them a good amount of money. One reviewer included this tip in her review: "If you're hesitant about the sanitation aspect, always pack two so that if you need to change in a place where you feel uncomfortable rinsing it in the sink, you can just put the used one in a bag and slip the second one in then clean them both whenever you get home!"
Another reviewer said they picked the Dutchess Cup because, "It was the best deal being a pack of two. I can keep one at home and one in my purse/computer bag for the just-in-case moments. I'm imagining how much money I'll be saving over the next few months since I was going through a box of tampons each month." And this happy customer said "I purchased the Dutchess 2-pack a second time to have extras and ended up giving one (new, of course) to a friend who inquired about it. I explained the ins and outs of using the cup and after one cycle using it, she's thrilled and says she's never going back to disposables!"
Most comfortable menstrual cup
Of course comfort depends on each women's unique anatomy, but when we read the reviews of the Saalt menstrual cup, we kept seeing comments about how much better it feels to use. In fact we saw a lot of comments about not being able t