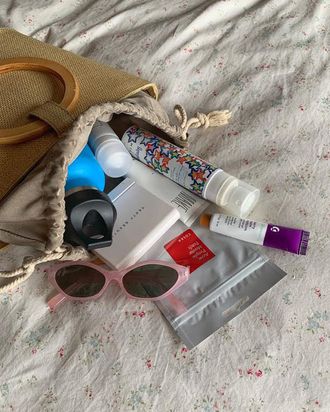 Exactly one year ago, I wrote an article about the beauty products I keep in my purse at all times. Since then, a few significant things have changed: I bought a bigger bag, started forcing more water down my throat every day, and began (unfortunately) getting more frequent eczema flare-ups. Plus, since I test products like crazy, I've also found a lot of new things that I love and can't go a day without using multiple times, like Fenty's Blotting Powder (I used to carry around M.A.C's, but it's just not as mattifying), or my Marine Salve from MAKE (subbed in for my L'Occtaine, which isn't as effective at moisturizing eczema scalies). In other words: The contents of my bag look a little different now. So below, an updated list of the things you'd see if I dumped it upside down and spilled everything out.
First, the bag itself. I own a bevy of teeny tiny little purses (from Ima Goa and Opening Ceremony, like the one seen above) that are very cute, but can barely fit my phone. So I've recently been looking for a more practical, grown up bag that I can take with me to work and out at night. I spotted this Trademark bag months ago and have been fantasizing about it ever since — I love the neutral colors, cage lining, and the fact that it's big enough to fit office essentials like a notebook and a water bottle but small enough to conveniently take with me to a dive bar. I finally ordered it last week, when it went on sale, and am eagerly anticipating its arrival at my doorstep. (Note: The smaller version I have has sold out, but the larger, laptop-friendly version is still available.)
As we all know, the key to good skin is hydration (and serums; and moisturizers; and masks). Lately I'm trying my best to up my water intake, so keeping a bottle on me at all times is very important. The attached straw on this Hydroflask makes it extremely easy to chug water, which means I drink much more throughout the day.
The pink pair of sunglasses I have on my person daily, winter and summer, are vintage (I bought them at Painted Bird in L.A.), but this pair of on sale Adam Selman Heartbreaker sunglasses look quite similar. In fact, they might be cuter than mine.
I'm my opinion, this Fenty powder (which comes with a portable brush) is a handbag essential. I get super-shiny around my forehead throughout the day, and this trusty compact allows for insanely easy, on-the-go touch-ups. The powder itself is super-fine, so it never looks cakey on, and it gives zero flashback in photos. The little (included) brush is great, and super travel-friendly, as well — it works wonders when it comes to blending concealers and blushes in the back of an Uber.
The new Balm Dotcom from Glossier is by far my favorite of their tinted lip balms — I think it looks the prettiest on the lips and tastes the best (like blackberries!). It's a deep berry shade that gives your lips a really nice I-just-drank-red-wine look that works just as well at night as it does at work. In a pinch, I also use this as a makeshift blush — I smudge it on my cheeks with my fingers, and it gives them a really nice flush.