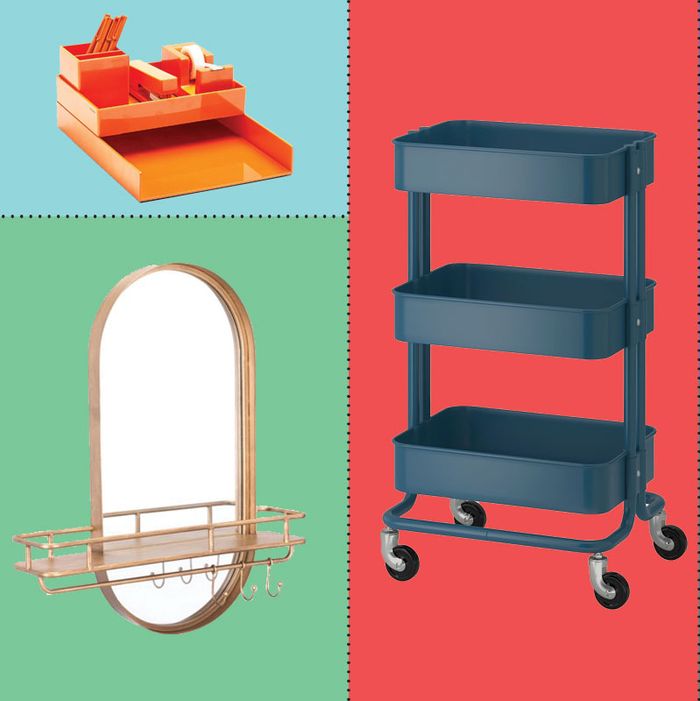 Photo: Courtesy of the Retailers
Besides serving as an outlet for new college students to express their personality, a well-designed dorm room affects students' well-being and academic success. "The dorm room is important," says professional organizer Andrew Mellen. "It's the physical shell in which you're trying to be a superior student." When working with freshmen, Mellen reminds them that their first year is an opportunity to build good habits and break old patterns that aren't productive. Part of that process involves consciously choosing organization and storage pieces that work in a small space and align with your style of studying, socializing, and relaxing.
The good news, according to Mellen, is that there are no rules in dorm-room organizing, and it's all about what works best for you. That also means weeding through a lot of pieces that are lacking in functionality or durability. To find the best options, we asked five professional organizers and interior designers to share their favorite products for an organized and efficient dorm room.
"Keeping your desk organized is key. When there is a place for everything on your desk to belong, you eliminate the stress of misplacing things, plus there is always a clear area for you to work," says Susane Colasanti, founder of Organized Home NYC. "Poppin desk accessories bring a sleek, streamlined style to your desk, which will encourage you to keep school supplies, books, and papers in specific places where you can always find them easily." All the pieces in this color-coordinated set stack on top of each other, taking up minimal square footage on your desk. It also comes in hues like blush and dark gray.
Just like the decorators and designers we spoke to about dorm-room chairs, Mellen suggests storage pieces that serve multiple functions. He recommends this filing cabinet with a cushion that can double as a seat — and roll under the desk when not in use.
A slightly more affordable option from Poppin.
For many students, college is the first time they'll independently manage their schedules without gentle — or not so gentle — nudges from parents and high-school teachers. A planner can help with this, but Colasanti also likes a big wall calendar for tracking assignments, extracurricular activities, and social events. "Try one with a simple design you can make your own," she says, like this dry-erase calendar in a trendy rose-gold frame.
If you're wondering how you're going to fit all your clothes in a narrow dorm-room closet — or half of one if you share the closet with a roommate — Colasanti recommends a hanging rod to double your storage space. She says this one from Umbra "is great for dorm closets because it adjusts in both width and height."
To make the most of what closet space you do have, Jeni Aron, founder of Clutter Cowgirl, encourages buying uniform, slimline hangers. "Affordable hangers like these create a consistent and clean look in a closet and take up less room than bulky plastic hangers," she says.
For storing several pairs of jeans or other pants, Sophie Wilkinson, head of design and construction at co-living company Common, prefers these multitiered felt hangers.
Experts suggest utilizing closet doors for storing shoes or other small items. "Over-the-door pocket hangers are great because they don't require any hammering or holes in the wall and they are very simple to move," says Aron. She recommends this style, as "the clear pockets make it easy to see what is stored." As an added bonus, Cynthia Kienzle, founder of the Clutter Whisperer NYC, points out that a hanging shoe organizer "forces you to put your shoes away and keeps shoes off the dusty closet floor."
If your bed if your home base for reading, studying, or streaming movies on your laptop, you'll want to have quick access to anything you may need. Colasanti says a bedside caddy "is an excellent way to keep everything you need visible and accessible right at the side of your bed." She likes that Dormify's version "has a panel that slides under your mattress for secure placement, and the clear acrylic design allows you to see everything you've placed inside."
We also like this soft-canvas, four-pocket caddy with spaces perfectly sized to fit a phone, water bottle, books, and more.