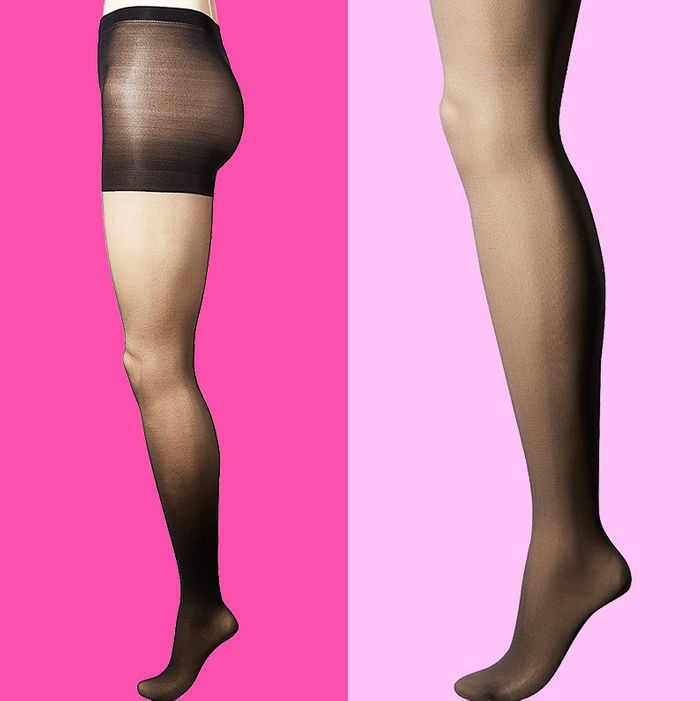 A couple of months ago, I had a small, freakish accident: I was walking in midtown and wiped out so totally on the sidewalk that I fell flat on my face, bruising my cheek, chin, hip, and knees. It was fairly shocking. But what was maybe even more shocking was that despite my knees being scratched up, the sheer black tights I was wearing didn't rip — not a single run. My first thought after the fall was, Do I have a concussion? (thankfully no) and my second was, Who makes these tights? 
Unfortunately, they were label-free, so I'll never know. Generally, I buy my tights at Century 21, where DKNY and Hue are stocked aplenty, but in a pinch, I'll pick up some L'Eggs at Duane Reade or whatever random brands are on offer at Rite Aid. Were these infallible tights from the drugstore, I wondered? Drugstore tights have an air of emergency to them: You likely buy them because the pair you're wearing got a bad run or you remembered that all the pairs you have at home have runs and you don't have time to re-up anywhere else. But could it be that some are so sturdy, so dependable, that you can fly across a city street in them without so much as a rip? I had to know. So in honor of Drugstore Week, I set out to test tights brands commonly sold at city drugstores. Even if I didn't figure out which stayed so impressively intact during my fall, I figured, this way, the next time I (or you) pick some up on the go, it'll be certain they'll last more than a few hours.
The test
I ordered five pairs of tights and pantyhose that you can find in drugstores — L'eggs Sheer Energy and L'eggs Silken Mist, which are carried at CVS (and most drugstores); No Nonsense Sheer-Opaque Tights and No Nonsense Super Opaque Tights, which you can find at Walgreens/Duane Reade; and Silky Secret Kushyfoot Tights, which you can buy at Rite Aid. I wore each pair for at least a day and then conducted a "Velcro Test," in which I rubbed the scratchy part of Velcro against the tights to see if they would snag or run. Then I put them through the washing machine and dryer on permanent press to see how they would withstand a laundry cycle.
Best drugstore tights overall
The sheerness of these tights puts them more in the pantyhose/stockings camp than the tights camp — they're slightly more sheer than the DKNY tights I typically wear, but not sheer enough to be obviously categorized as "pantyhose," despite their name. If you're looking for a pair of versatile black stockings that will go as well with short hemlines as they will with long ones and won't get a run in five minutes, this is the pair. For one thing, they look incredibly elegant on the leg. Despite being fairly sheer, they didn't snag at all after three wears, and did not get those fibrous black lines that black pantyhose often get pre-run. The level of sheerness is what makes them particularly versatile — you could wear them with a miniskirt in the winter without freezing or looking like you forgot to put on tights, and you could wear them with a longer skirt, say, knee-length or below, without looking like a puritan. The control top was secure enough to keep them from falling down and stopped high enough on the leg that I never feared it would stick out from underneath even shorter skirts. The only drawback to these was that the waist comes up extremely high — as in, covering-my-bottom-four-ribs high — which, for someone who is five-eight, was slightly annoying and makes me wonder if they would come up even uncomfortably higher on a shorter woman.
Velcro test: OK, I wouldn't go out of your way to get these stockings near Velcro, because it will damage them — but the damage was actually not as bad as I was expecting. The Velcro pulled at the fibers but miraculously didn't leave a hole, despite the fact that the sheer material feels delicate to the touch.
Post-wash: I thought the Velcro-tested spot might turn into a full-on run after washing and drying the tights since the material is pretty delicate, but I was pleasantly surprised to find that wasn't the case. Overall, the tights looked almost exactly the same as they did before the wash.
Best sheer-opaque drugstore tights
If you're looking for a slightly more opaque pair of tights, this was the very best option I found. They came up to just above my belly button (a perfect spot for tights with a slightly thicker material), and the control top section ended where a pair of boyshort underwear might, which made them practical for wearing with shorter skirts (the last thing you want when wearing a miniskirt is for the control top to peek out from the hem). The sheer-opaque shade of black reminded me of my favorite DKNY tights, although the spandex didn't feel quite as nice. The spandex wasn't difficult to pull on, and they didn't feel like they would run or tear, even after several wears.
Velcro test: Pretty good! Running the velcro over the tights once didn't do anything, but after snagging it a few times, some of the fibers began to puff up. Not ideal, but also not the kind of thing that usually turns into a run — so I'd say these stood up to the test pretty well.
Post-wash: The post-wash look and feel of the tights landed them securely in the "best sheer-opaque" category. It was almost as if the heat of the wash had broken down the spandex a bit, making the tights feel smoother and stretchier.
Best opaque tights