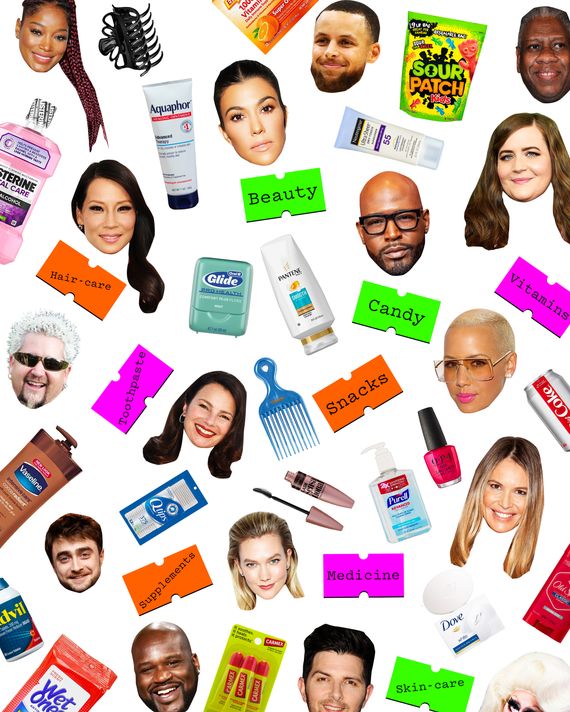 Photo: New York Magazine/Portraits from Getty Images/Products courtesy of the retailers
When we started reporting on the stuff that famous people can't live without, we wanted to know about the hand sanitizer and deodorant that they add to their carts. And boy, did we learn about a thing or two — or thousands. For Drugstore Week, we combed through all the products that celebrities told us they can't live without to surface the drugstore buys that populate their medicine cabinets and bathroom shelves. So whether you're looking for the cold remedy that a poet (Cleo Wade), a fashion designer (Jenni Kayne), a Kardashian (Kourtney), and three other celebs swear by, or a mouthwash that one celebrated academic (Walter Isaacson) says will kick you into a new "quantum orbit," or the sweet-and-sour candy that Golden State Warriors player Steph Curry treats himself to, read on for our entire list of 149 drugstore products that 109 famous people always stock up on. To make it easier to shop, we've organized products by the aisles you'd find them in, including the face-care aisle, the cosmetics aisle, the hair-care aisle, the body-care aisle, the oral-hygiene aisle, the cleaning aisle, the health and wellness aisle, the vitamins and supplements aisle, and the snack aisle.
From the face-care aisle
"As a pale person of Irish descent, I have to be aware of sun protection at all times," says actor Matt Walsh, who told us he slathers on this moisturizer with SPF multiple times a day.
Performance artist and model Amanda Lepore claims to have the "most expensive body on earth." This SPF 55 sunscreen is what she uses to keep her skin "like a baby's, or a 14-year-old girl's."
"I do feel it sort of eliminates some lines that you don't want," cookbook author Corky Pollan says of this anti-aging cream that she uses before bed.
Good Morning America co-host Michael Strahan, Architectural Digest's Keith Pollock, and actor Noah Schnapp all count on this balm to keep their lips moisturized, and Pollock also uses it to calm his nerves. "Because the Burt's is a yellow tube, it's sort of disguised in your palm. It's a good trick," he told us. "If you're ever speaking at a wedding or something, put something in your hand. So this is essentially a lip moisturizer and a fidget spinner in one."
Actress Sutton Foster also loves Burt's Bees, but told us that grapefruit is the flavor she uses on a daily basis.