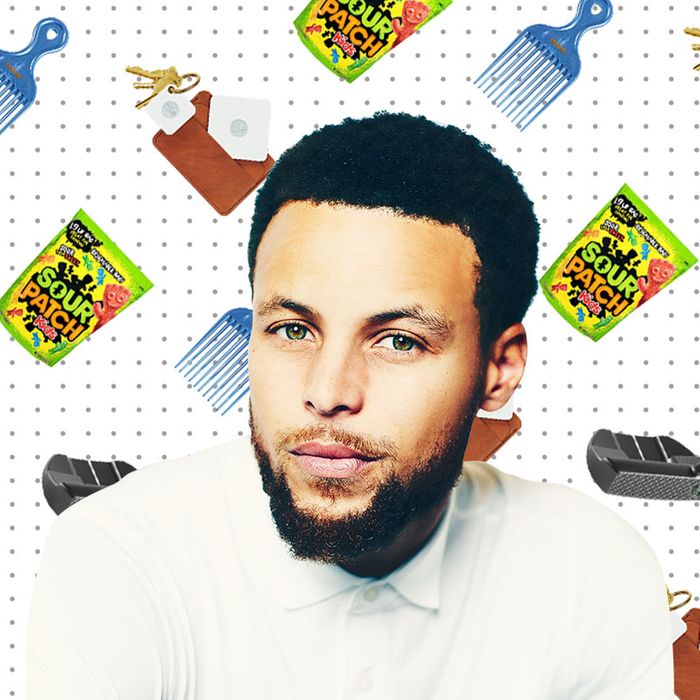 Photo: Aubrie Pick/Getty Images
If you're like us, you've probably wondered what famous people add to their carts. Not the JAR brooch and Louis XV chair, but the hand sanitizer and the electric toothbrush. We asked Stephen Curry of the Golden State Warriors — who's partnered with Palm — about the sour candy, body wash, and Netflix shows he can't live without.
I've had a sweet tooth since I was a kid. I've always loved these. Either regular or Sour Patch watermelon. I probably have a handful a day, if not more. When I used to go to my godmother's house, she would have a bowl of Skittles or Sour Patch Kids in arm's reach. She definitely enabled my habit. I know about Lamar Odom's and Derrick Rose's candy addiction — and I'm right there on that list with them. It's all about moderation for me. I know sometimes I can overdo it, but I am very aware of my sweet tooth and can keep it in control when I need to.
The hair pick is something I have to have at all times. The one I have right here with me is Conair. I don't really know what I am doing with my hair, but when I grow it out I can do a mini fro, if I have a nice pick with me. It's gotta be strong because I have some pretty nappy hair. But it's crazy that I used to not be able to grow my hair or beard out and now I'm like a wild child with this long hair. Starting this season, I'm keeping it long, and I'll see how long it goes.
The Bible I have was gifted to me by my high school, Charlotte Christian School, as a senior. I'm not sure what brand it is but it's a navy-blue bible with my name engraved on it. I love it because they prepared us to enter the world with what they taught us. The Charlotte Christian logo reminds me of my upbringing and what's important to me. I always keep it in my backpack for road trips and I try to open it as much as I can.