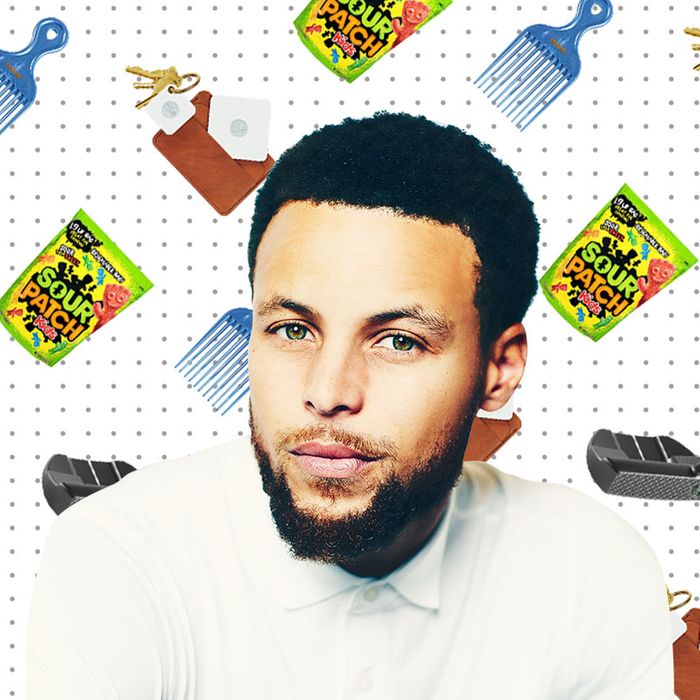 Photo: Aubrie Pick/Getty Images
If you're like us, you've probably wondered what famous people add to their carts. Not the JAR brooch and Louis XV chair, but the hand sanitizer and the electric toothbrush. We asked Stephen Curry of the Golden State Warriors — who's partnered with Palm — about the sour candy, body wash, and Netflix shows he can't live without.
I've had a sweet tooth since I was a kid. I've always loved these. Either regular or Sour Patch watermelon. I probably have a handful a day, if not more. When I used to go to my godmother's house, she would have a bowl of Skittles or Sour Patch Kids in arm's reach. She definitely enabled my habit. I know about Lamar Odom's and Derrick Rose's candy addiction — and I'm right there on that list with them. It's all about moderation for me. I know sometimes I can overdo it, but I am very aware of my sweet tooth and can keep it in control when I need to.
The hair pick is something I have to have at all times. The one I have right here with me is Conair. I don't really know what I am doing with my hair, but when I grow it out I can do a mini fro, if I have a nice pick with me. It's gotta be strong because I have some pretty nappy hair. But it's crazy that I used to not be able to grow my hair or beard out and now I'm like a wild child with this long hair. Starting this season, I'm keeping it long, and I'll see how long it goes.
The Bible I have was gifted to me by my high school, Charlotte Christian School, as a senior. I'm not sure what brand it is but it's a navy-blue bible with my name engraved on it. I love it because they prepared us to enter the world with what they taught us. The Charlotte Christian logo reminds me of my upbringing and what's important to me. I always keep it in my backpack for road trips and I try to open it as much as I can.
Tile is the thing that saves my life. I started using it 3 years ago when my wife gave it to me as a Christmas gift. I have one in my wallet and one on my keys. I lose my phone, wallet, and keys all the time, and it's saved me so much time over the years. Just having that thing chime wherever it is in the house and finding it right away has made my life a lot more efficient. I wasted so much time looking for stuff.
Me and my wife are always looking for a new show. We usually go for the thrillers, but I also love some smart comedy like Chappelle's new Netflix special. We kind of go in waves. We will go a week where we binge-watch, then maybe 2 weeks where we don't even turn on the TV, and then pick it back up again. That's life with 3 kids and 2 full-time jobs, but we do love a good binge-worthy show. A weird series we watch is Schitt's Creek. It's one of my favorite shows, but no one in my circle really knows about it.
Hawthorne was an amazing experience from the jump. Just trying to make my online profile helped me understand what's important to me from a hygiene perspective through their lifestyle questionnaire. The last thing you want to think about is having to go to the store every few weeks to replenish your supply, so the fact that they just mail your custom order is really convenient. This stuff gives me an everyday smell. I don't know how to describe it or put it in adjectives. I don't like to overpower a room with my smell, but I want people to know I was in there, you know?
I set up a playlist at the start of each season based off of what's current, what my mood is, how I'm feeling, and I adjust it from time to time. I am pretty superstitious though, so I like to listen to the same playlist, in the same order, from the time I get in the car or bus on my way to the games. It gives me a nice flow until the game starts. I'm not opposed to switching it up, but for the most part I am superstitious and don't like changing it.