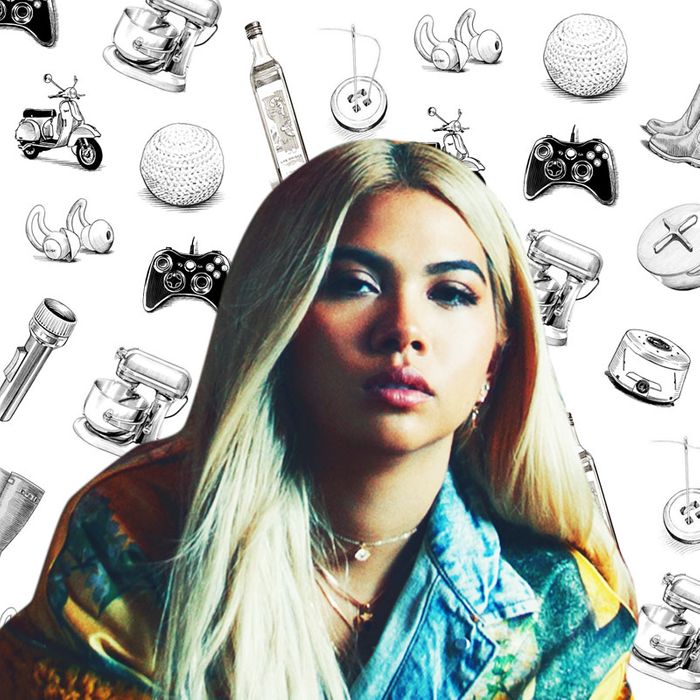 If you're like us, you've probably wondered what famous people add to their carts. Not the JAR brooch and Louis XV chair, but the hand sanitizer and the electric toothbrush. We asked pop singer-songwriter Hayley Kiyoko — who just released a new single, "She," and recently partnered with Olay Body for the Billboard Women in Music event — about the lip balm, notebooks, and mini toothbrushes she can't live without.
Most of my favorite products come from word of mouth. I saw someone using one of these mini brushes awhile ago and I was like, "Whoa, I need that." They're great. I go through probably four brushes a week. If I'm really busy, it's a lot more. I just keep them in the car because if I'm running to a meeting or to catch up with a friend and just had a smoothie that left seeds in my teeth or something like that, I definitely will want a quick little refresher. I also use them before I go on stage. No one wants to go sing when you've just been eating Mexican food or Indian food backstage. You need to be fresh for the ladies in the audience, even if you're 50 feet away.
I love wearing white, but I really should avoid wearing white — I'm very messy, especially when I eat. So a Tide to Go pen is really the best thing for someone like me. It works so well. I'm a very impatient person. The stain just needs to go away quickly, so I can move on with my life. The pen does exactly that. You just shake it up, dot it where you spilled, and watch it work. It's immediate.
I use this every day — mostly on my lips, to keep them from getting super chapped. But it's also a great all-purpose ointment if I scrape my finger or if I have a cut. It soothes the area and, I guess, protects it? I also love that the packaging is bright red, so I don't lose it. I'm constantly losing my lip balms. I can't tell you how many lip balms I've purchased and asked, "Where did that go?" They're like all the socks that suddenly disappear in the dryer. But not this! I can find it easily — and it works better than any of the ones I've lost.
I have a couple that I use for different things, like songwriting, sketching, and daily journaling. What's great about them is that Shinola can