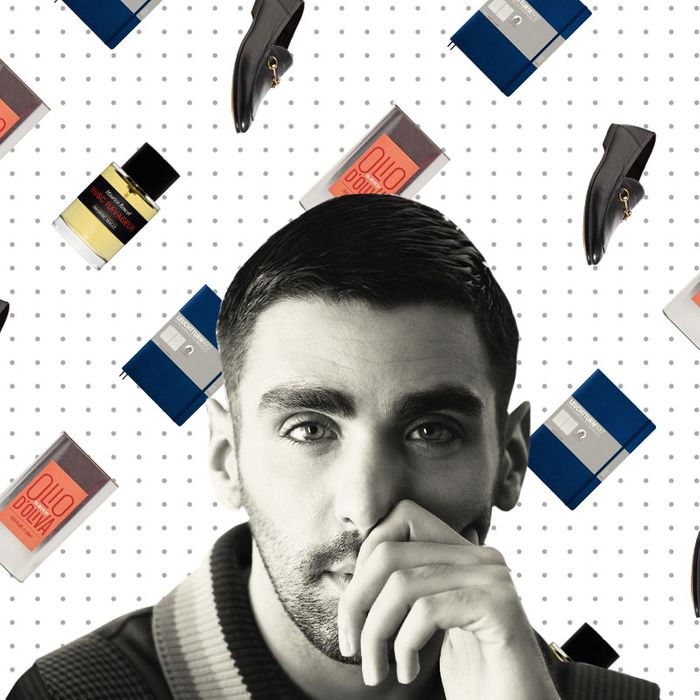 If you're like us, you've probably wondered what famous people add to their carts. Not the JAR brooch and Louis XV chair, but the hand sanitizer and the electric toothbrush. We asked Phillip Picardi, the editor-in-chief of Out magazine, about the fragrance, face serum, and hair product he can't live without.
I have a lot of favorites from Frédéric Malle, but Musc Ravageur is what I've been wearing since I was 18, basically. You know how Beyoncé has her freakum dress? This is my freakum fragrance. If I want to feel like my milkshake brings all the boys to the yard, I spray this on or use the body oil in key areas, and I'm ready for intimate moments. Every time I wear it, my boyfriend generally knows that good times are ahead. I like L'eau d'Hiver, too, which is like your favorite cashmere sweater on a fall day. It has a hint of almond and spice.
I will always read in hard copy and not on a screen because I love the way it feels to hold a book, but when I'm commuting or cooking or cleaning at home and feel like getting a book in, I will listen to an audiobook. Right now I'm finishing up the new DeRay book, and next I'm starting Kitchen Confidential. I wasn't terribly familiar with Bourdain's work, but I was talking to Antoni at an event, and he was saying how much Bourdain meant to him, which made me want to get into it.
I've been using this since I can remember. Everyone on Instagram asks me about my skin routine, and the truth is that even with everything I've tried, this has been the one constant in my life. It's been in my life longer than I've been with any man. The founder Rose-Marie Swift works with natural ingredients, and I know that for this formula, when she was manufacturing it, she convinced the family making it to run coconut oil instead of water through the machine — that's how pure it is. It gives you a really dewy finish, but it has a sheer mica in it, which is the highlighting ingredient. It's so undetectable, though. It just looks like beautiful dewy skin — it never looks like makeup. I put it on the high points of the cheekbones, on top of my nose, under my eyebrows, in the center of each eyelid, and then on my temples.
Look, Pleats Please is the business. I know it's expensive, but it's the easiest thing. You don't have to dry-clean it. You can fold it into a ball, and it'll look like you just bought it. I love traveling with Pleats Please clothes because it's all super chic and looks nothing like what anyone else has on. It also never smells or starts to wrinkle. I can wear the overalls while traveling and go from a red-eye to the office and look totally ready for work.