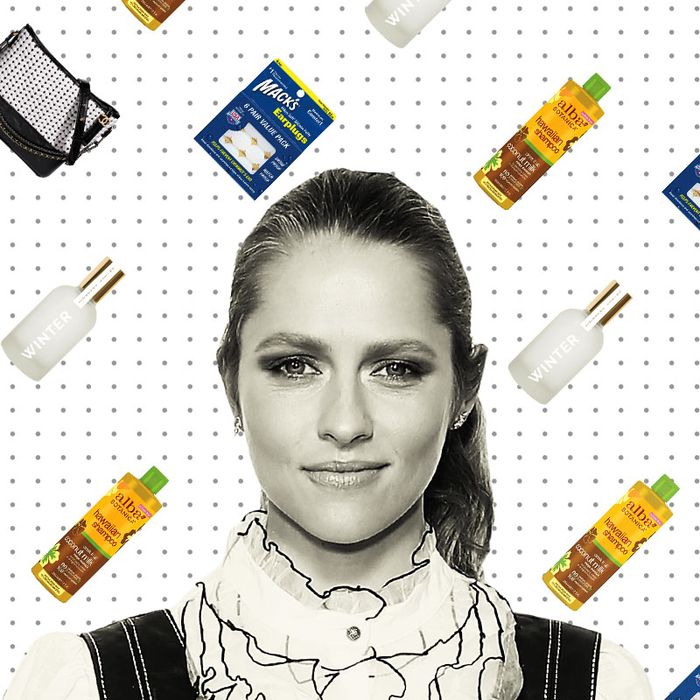 If you're like us, you've probably wondered what famous people add to their carts. Not the JAR brooch and Louis XV chair, but the hand sanitizer and the electric toothbrush. We asked actress Teresa Palmer, who stars in A Discovery of Witches on Sundance Now, about the ear plugs, travel bag, and conditioner she can't live without.
I'm practically famous for this one. Anyone who knows me knows that I cannot sleep without the comfort of this specific brand of earplugs. I've had these Postmated to my house in a "my-toddler-hid-my-earplugs" late-night frenzy. There is nothing like complete silence after a long day of wrangling little boys (and now a little girl, due in April). These are the first thing I pack when I travel and they have brought me years of bliss.
I have wild, crazy, "Does she live in a jungle?" kind of hair. It's wavy at the back but straight at the front and it can get terribly knotted. I remember one time using two entire bottles of conditioner to untangle a lock — it took me five hours to finally get through it — that's my hair. I was over the moon to discover the ethical, good-for-the-planet, gives-to-charity, not-tested-on-animals hair-care brand Alba. The smell is amazing, it's affordable and easy to find, and the conditioner is so potent that I don't need to use half a bottle per wash. My hair is left feeling soft, completely replenished, and like I've slept with it cling-wrapped in coconut oil (which I've also done before). It is truly a deep treatment for your hair.
I have never found a brand of sunglasses that have as eclectic a range as Sunday Somewhere. I fall in love with every design. I adore the colors, where they come from (Sydney), and the way they manage to look good on everyone. I always get asked what brand of sunnies I'm wearing when I rock them. They must make me appear cooler than I am.
This is a super luxurious and meaningful investment if you choose to go there, which I highly recommend you do. These sweaters are so soft, beautifully oversized, cozy, and unique, with knitted patterns often down the arms. It's cashmere that happens to look cool and effortless.