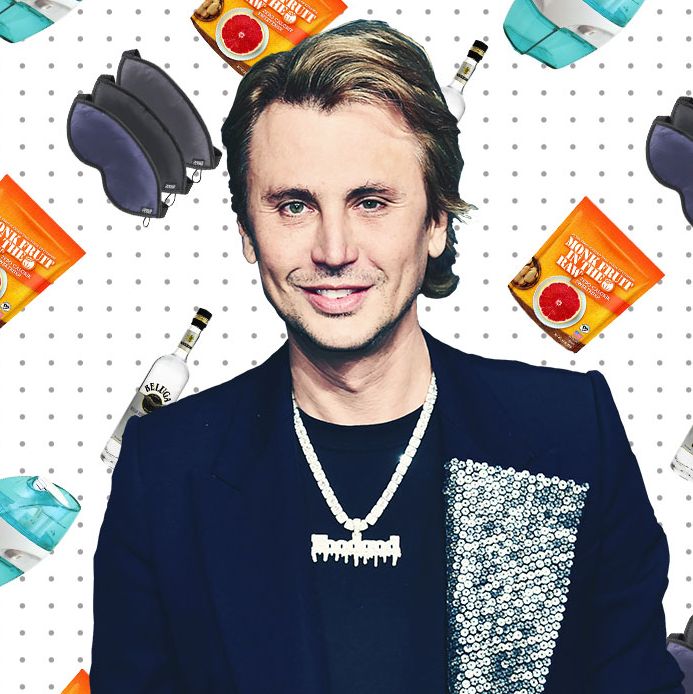 If you're like us, you've probably wondered what famous people add to their carts. Not the JAR brooch and Louis XV chair, but the hand sanitizer and the electric toothbrush. We asked Foodgod — formerly known as Jonathan Cheban (until he, yes, legally changed his name) — about the nose cleaner, truffle butter, and horsehair mattress he can't live without.
This changed my life completely. It's like someone doing your hair, without having to have someone do your hair — like somebody with a brush drying it out at 100 miles per hour. I love it so much that I have one with different plugs for Europe, because if I didn't have that, it would be impossible for me. Now when I have to use a regular brush, I can't even deal with it.
I can't sleep without an eye mask these days. I found these and bought 50 of them because they're so soft and silky. I don't want any type of light when I'm trying to sleep, and sometimes I want to fall asleep with the TV on, and listen to the TV but not see it. Ideally I'll listen to Law & Order, I could watch 20 of those in a row, easy. Very relaxing. My sleep routine is a whole thing.
I don't drink much, but when I do, I only drink flavored sake — I love the kind at Nobu — or vodka. The Beluga vodka is my favorite because it comes with a wax seal and a little brush and a hammer, and it has this little metal impaled fish. Also, it has the same name as a caviar. So I love the whole packaging. It's very light and smooth and is the No. 1 vodka in Russia. I feel like the best vodka should come from Russia.
This will change your life. I saw it on an infomercial and ordered it and it's literally the best thing I've ever found in my life for when I have a cold or allergies. It comes with these saline cartridges, and you mix them with water; there's a piece for each of your nostrils, and basically one b