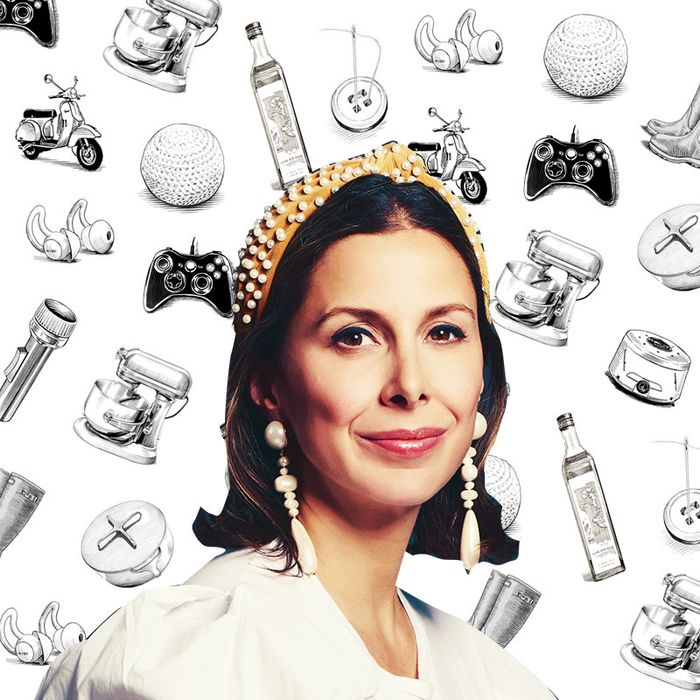 Photo: Courtesy of Lele Sadoughi
If you're like us, you've probably wondered what famous people add to their carts. Not the JAR brooch and Louis XV chair, but the hand sanitizer and the electric toothbrush. We asked accessories designer Lele Sadoughi — who just launched a new line of handbags and travel cases for headbands — about the hot sauce, shampoo, and cleaning supplies she can't live without.
Most restaurants only carry Tabasco hot sauce, but I find it has too much vinegar, so I carry Cholula with me. I prefer the taste. I pull it out at restaurants and put it on secretly, when no one is looking. I put it on most things I eat: pasta with marinara sauce, eggs, tacos, burgers, pizza, soup, everything. (I grew up in Texas.) I carry a smaller one; my husband and kids are not into it, so I don't need to share. We just launched handbags, and I designed our Dallas bag to be small enough for only your phone and wallet — but it has just enough room for me to slide my hot sauce in there, too. Phone, wallet, hot sauce: That's really all I need, ever.
These are the best — I tell everybody to get them. They look like little oval Band-Aids, and you put them on like a Band-Aid behind the pierced hole. Then when you put your post in, it stays taut and doesn't droop down. As you get older, your holes become more like slits, but with these, you can still wear heavy earrings without the whole drooping bit. When I tell you they work, I mean it. I wear them with all post earrings. I want to put them on my website to help out all the ladies who buy my earrings. It's in the works.
Some people love to cook because it's a creative outlet, but I feel like I'm being creative all day long, so cooking is not my thing. I really don't like following recipes, I like to just mix in my own things. I love to make chili because I can mix stuff in a pot and it just kind of comes out. It doesn't take much and I can throw in more cumin or whatever I'm feeling at the moment to change it. Baking is not that at all. However, my kids love cookies, and they love when I make them cookies. They think it's more fun and special to have the ones I make. So I make them. But as much as I hate baking, I hate cleaning more. These silicone mats are awesome for that reason: They save your pans because you just put them on top. You don't have to spray stuff on them or worry about anything sticking to them. You can also reuse them, so you don't have to waste foil or wax paper.