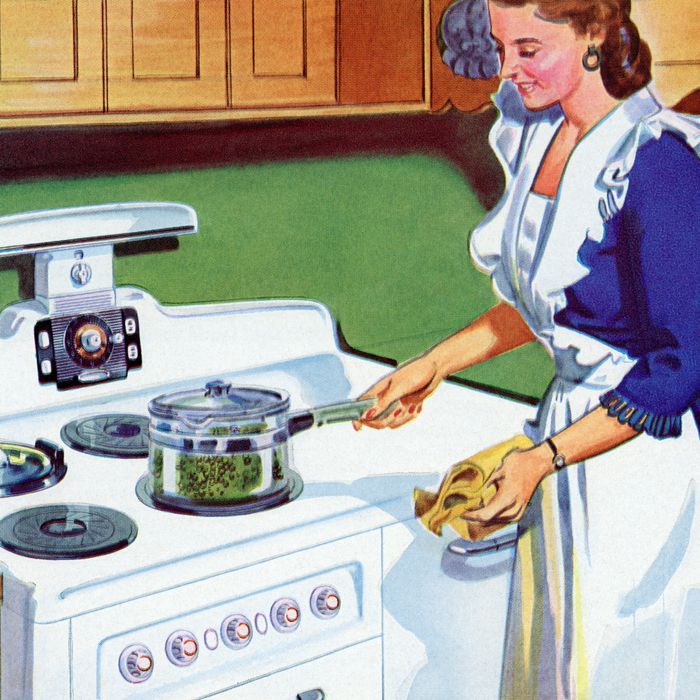 Photo: GraphicaArtis/Getty Images
Here at the Strategist, we like to think of ourselves as crazy (in the good way) about the stuff we buy, but as much as we'd like to, we can't try everything. Which is why we have People's Choice, in which we find the best-reviewed products and single out the most convincing ones. (You can learn more about our rating system and how we pick each item here.)
And while we've written about lots of cookware — including the best Dutch ovens, a Le Creuset Dutch-oven dupe, and the best saucepans  — here, we've rounded up the best stockpots, as praised by the most enthusiastic reviewers on Amazon. To even the playing field a bit, we focused on 12-quart stockpots, but many of these stockpots are available in other sizes as well.
Best-rated stockpot
"This is an outstanding stockpot on all counts," one reviewer writes. "The lid fits perfectly and tightly; the handles are cool and extremely ergonomically friendly; the cooking is superbly even; the pouring lip is neat and effective; it cleans with exceptional ease, and though it wasn't the dealmaker, this really is beautiful cookware." And many praise this pot for how evenly it distributes heat. "Tri-ply construction all the way up the sides means no scorching and great heat distribution," one writes. Another reviewer put this stockpot to the test by making yogurt: "My old pots all end up with milk burned/sticking to the bottom — this pot conducts the heat so well that there is no sticking or scorching at all." More than 10 percent also mention the handle as a selling point. "They are set away from the pot a bit farther than other pots I've seen, so your fingers are away from the heat source and may help avoid hot sloshing soup on your hands," one writes, while another says, "Lid is wonderful with a high, cool to the touch handle." And almost one-fifth of reviews compare this to All-Clad pots, with one even saying this Cuisinart stockpot offers "All-Clad quality at a lower price."
Best-rated less-expensive stockpot
Reviewers love this pan for a number of reasons, chief among them that it's nonstick, "the kind of surface I wish all my fry pans had," one writes. Not only is the inside nonstick, but, one user points out, "the outside of the pots are nonstick, too — so cleanup is soooo easy." Reviewers also appreciate that the nonstick coating lasts. One user had theirs for three years and writes, "It still looks brand new with no chipping or flaking of the non-stick coating." Reviewers are also impressed with the lid, specifically the built-in vent; as one reviewer says, "No more having to keep the lid partially off to prevent bubbling over." Bubbling over shouldn't be a problem anyway, as many customers boast about how much this can hold. "After several large chopped up vegetables, 4 boxes of chicken stock, and later noodles, there was still room for more," one soup-loving reviewer writes.
And now for some micro-picks for every stockpot you might be looking for.
Best stockpot with glass cover
"I cook a lot," one reviewer writes. "Like I am the sista' who cooks 40 pounds of potato salad and 12 pounds of collard greens for family events. If you are a home cook who burns like I do, get some Cuisinart cookware. The rest just cannot compete." And lots of home cooks with a tendency to burn their food turn to this Cuisinart stockpot. "The thick bottom distributes heat extremely well helping me not to burn things on my gas cooktop," one explains. Reviewers also like that it is made from stainless steel and that the lid is glass, which means that "I can see what it happening inside without having to let the steam out." (And that also makes it easier to make sure food isn't getting burned.)
Best stockpot for all stoves
Not only do two users say this pot "heats quickly and cooks evenly," many reviewers mention that it works on a variety of stoves as well. "Perfect stock pot for my new induction cooktop," one writes, while another says, "We used them on a gas stove and nothing burned in the bottom of the pot and cleanup was very easy." One even notes, "I have used this on three types of burner … An outside gas one, a ceramic cooktop, and a portable induction burner. It works fine on all of them." Not only does this work on a variety of surfaces but for a variety of uses as well. The same user says they've used it for stock, canning, and for cooking sous-vide and writes, "It has held up to all these uses, and being dropped on my tile floor a few times, very well."
Best stockpot with steamer inserts
"Can't say much more good things about All-Clad," one reviewer says, echoing the nearly 40 percent of reviewers who are impressed with the quality of this brand. But almost a quarter of reviewers say that this specific pot stands out for its steaming abilities. It comes with a perforated insert for draining and a stainless-steel steamer basket, which are big enough for almost any recipe. "They are so well made and come up huge when it comes to making lobsters, steaming clams, making large amounts of pasta, or making large stew," one reviewer writes. Another reviewer uses the inserts to remove stock components. "What a pleasure to use the 'pasta' insert to place all the stock components into and to be able to lift it all out cleanly and discard, then just refrigerate the stock and peel off the fat the next day," they write, while another says they "can fit 4 racks of ribs, plus water and spices, without concern of overflowing." They add, "The baskets make everything a lot easier to cook things without having to dump out your hot water when you're checking your food."