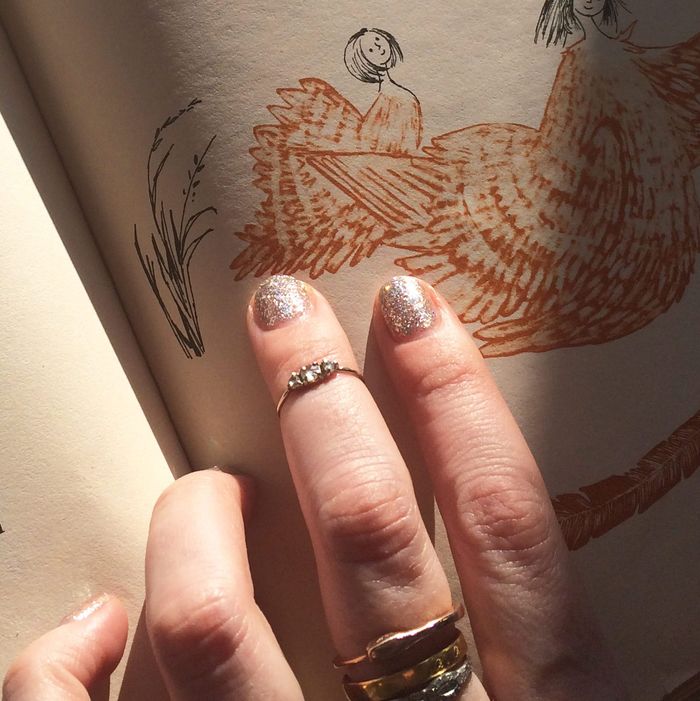 The author holds a page with her glittery nails.
Photo: Leigh Plessner
I grew up on Long Island, so I love the meditative communality of sitting in a nail-salon chair, back kneaded by mechanical fingers, women's voices buzzing. Once, when I was small, I watched a woman eat a bagel (scooped out I'm sure) with tuna fish while her feet were being rid of calluses that looked like long mayonnaise-colored sheets as they fell from the razor (this was pre-prohibition days), her Louis Vuitton bag tucked at her side, her diamond rings flashing.
These days, I reserve nail-salon time for pedicures, in black — specifically, in Licorice by Essie, which replaced my high-school love, Chanel Vamp. (Though a technician once taught me that salons water down their polishes so they're not as long-lasting; I don't know if that's true, but I bring my own bottle now, when I remember.) Manicures I save for home — or sometimes in my car on the way to work, while stopped at traffic lights — and for those, it's always a glitter nail polish. My love of glitter nail polishes was ignited one winter in Williamsburg, long ago. It was a tradition for me and Rony (the founder of Catbird, where she and I are co–creative directors) to get a manicure before our holiday parties, and on one such occasion, we went to a salon where the woman next to us had a very elaborate glitter-manicure recipe that lit up both of our eyes (as a '90s teen already inclined toward sparkle, I was ripe for the picking). Now, I happily slap glitter polishes on my nails with the glee of my toddler when I let her at my lotions unwatched. 
My favorite glitter polishes do not suffer for wear. You can layer one coat on top of the other, they dry quickly, they photograph well — especially if your phone lens is always smeared with lip balm, like mine — and look beautiful with rings. Elizabeth Tudor was said to have died with a one-inch-thick layer of egg makeup on her face (don't quote me); glitter nail polish certainly has the same possibilities for sedimentation, and legend. I love wearing it the most in the low light of winter and the soft light of spring. In the summer, I prefer bare fingernails, to allow the hot sand and the loping ocean to buff and bleach them like seashells (no matter the season, I'm always aiming for that inside-of-a-seashell or dollar-store-tinsel look). I have not yet figured out the fall.
The glitter nail polishes I rely on all have clear bases (always), but each has subtle differences. I have a theory that the best ones are seasonal, and disappear as quick as snow from the city streets, so if you happen upon one that you love, buy a few bottles. Read on for all the glitter polishes I use, a few I would like to take for a spin, and some related nail-care accoutrement that works very well for this glitter-polish enthusiast.
Glitter nail polishes I use
I've since forgotten that glitter-manicure recipe my fellow glitter enthusiast shared with me that winter night in Williamsburg, save for that it included my favorite OPI polish, Desperately Seeking Sequins, that has been discontinued (but occasionally pops up on eBay — I love eBay). From that OPI shade, I've moved on to this, which is silver with some rainbow tendencies. It would be obscene in summer, but in the winter, it's unexpected and makes the most of that low light, like white tablecloths and mirrors once did in the days of candlelight.
I love gold jewelry, but prefer silver and platinum tones for my glitter polish. This one is Versailles meets the dollar store, and reminds me of sleigh bells, Emily Dickinson, Joseph Cornell at Woolworths.
Recently, while poking around for more glitter nail polishes, I came across a cache of online tutorials that told me I am, gasp, doing it all wrong! These tutorials suggest the proper way to paint a glitter nail is with precision, and many, many even layers for a full coat that shines like a metallic car in the sun. I demur. I like mine painted on loose, glimmery, painterly even! I've been wearing this lovely, rich green-blue and gold polish this winter, and it goes very well with my earrings. And you know what they say: Always make sure your earrings and your glitter polish go well with each other.
Glitter nail polishes I want to use
In the spring, I used to use the very gloppy end of a bottle that my friend Tracey Lee mixed custom for a Rodarte show. The base was a bit apricot-y, and the glitter looked like sherbet. That bottle is, alas, no more, but this one looks like another promising spring contender. I like that the glitter is all different sizes — a key element, I find, for that fairy-dust feeling. The polish actually comes in a set with a solid pearlescent pink color, so for $15 you're getting a twofer (but the glittery shade, of course, is the reason it is here).
Another Nails, Inc., twofer that I would buy just for the glittery shade. I think it could be awfully nice to have some stars on my fingertips that light my way as I click-clack on my keyboard, or cut fruits for my best girl. If I don't like it (or, if I do), I know a certain 2-and-a-half-year-old who most surely will.
And some helpful accoutrement when using glitter polish
Removing glitter polish can be annoying — though I hope I have made my case for just slapping on more, more, more. If not, this stuff came recommended by an on-set manicurist, who told me it is the best for glitter polishes. It dries in an instant, and helps prevent my nails — which aren't terribly hearty — from getting demolished by the rigorous glitter-polish removal process. Though I rarely remove my glitter polish intentionally; rather, I let time do its thing, and it wears away with ease and the beauty of (sparkly) decay.
I have a theory that the more cuticles are cut, the more cutting they require. When I do get a manicure, I always ask that they only cut my cuticles where they're really bad. To try to prevent them from getting really bad, I use this stuff. It smells good, and it feels fancy. It's thick and gloopy, so I put it on when I'm on a long car ride, or at my desk answering lots of emails, writing copy, and pedaling.
The Strategist is designed to surface the most useful, expert recommendations for things to buy across the vast e-commerce landscape. Some of our latest conquests include the best acne treatments, rolling luggage, pillows for side sleepers, natural anxiety remedies, and bath towels. We update links when possible, but note that deals can expire and all prices are subject to change.