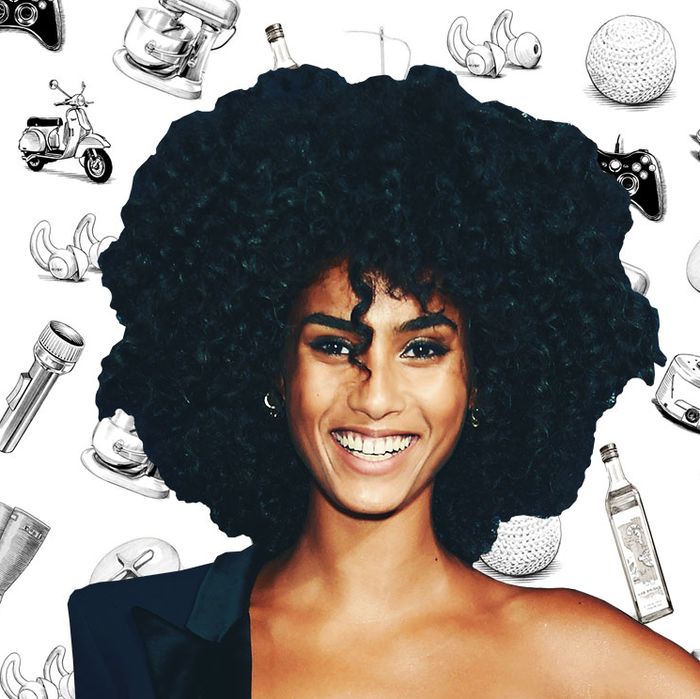 Photo: Angela Weiss/Getty Images
If you're like us, you've probably wondered what famous people add to their carts. Not the JAR brooch and Louis XV chair, but the hand sanitizer and the electric toothbrush. We asked model Imaan Hammam — who recently launched a collection with Frame — about the cereal, perfume, and sunscreen she can't live without.
I'm not really a coffee drinker; I'm more of a tea person. Arizona is something that I grew up with. Growing up in Amsterdam, you could get it everywhere: every supermarket, every deli. I remember that I loved the packaging with the flowers on it; I was just attracted to it when I was young. I drink maybe like five a day — are people going to think I'm crazy? Okay, maybe I drink two a day. The green tea gives me a little wake up if I need it.
I have a couple of perfumes, but Killian is definitely the one that I use the most. It's just a very refreshing smell. I was in Qatar and went to this mall and this woman was like, "Oh, try Killian," and I remember looking at the bottle and the packaging and thinking it is so beautiful. It comes in this white case with a snake on it, like a gold snake. The bottle looks nice enough to be décor. And then the smell is really good. So yeah, it was a perfect match. I also just love the name "Good Girl Gone Bad." When I'm going to have a fun night out with my girlfriends, that's when I put it on, because the smell is just very sexy, like, "Oh, I'm trying to be cute."
Something I've been using for years now, since I was 13, 14 years old. I always have lip balm. I can't leave my apartment without it, especially during winter. This is really moisturizing, and it doesn't really have color. I have it in every bag. It's easy to carry and apply, so I use it every day.