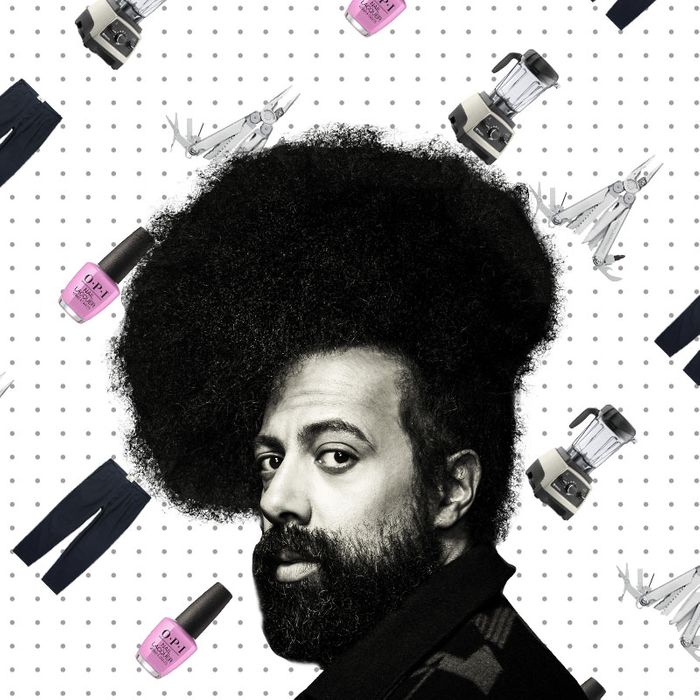 If you're like us, you've probably wondered what famous people add to their carts. Not the JAR brooch and Louis XV chair, but the hand sanitizer and the electric toothbrush. We asked comedian and musician Reggie Watts of IFC's Comedy Bang! Bang! and The Late Late Show With James Corden about the blender, multi-tool, tapered trousers, and holographic phone he can't live without.
I use my Vitamix all the time to make shakes; I don't really make smoothies. A smoothie generally has a bunch of yogurt and nut butter and fruit and it just ends up being this really high-calorie bomb with the illusion of being healthy. I make protein shakes instead. I just use ice, berries, protein powder, and some raw oatmeal. Then sometimes I'll put green powders like chlorella or spirulina or a mixture of both.
I usually have this thing on me. It's just nice to have a device that can help you open up a package, or if you need a screwdriver or a nail file or scissors, you just have a tool that's ready to go.
I take supplements on a daily basis and Digest Gold is an enzyme I use that helps break down more complicated foods. If someone invites me to a dinner and it's heavier food than I'm used to having that can be a problem. So I'll take it before and after a big meal like that.