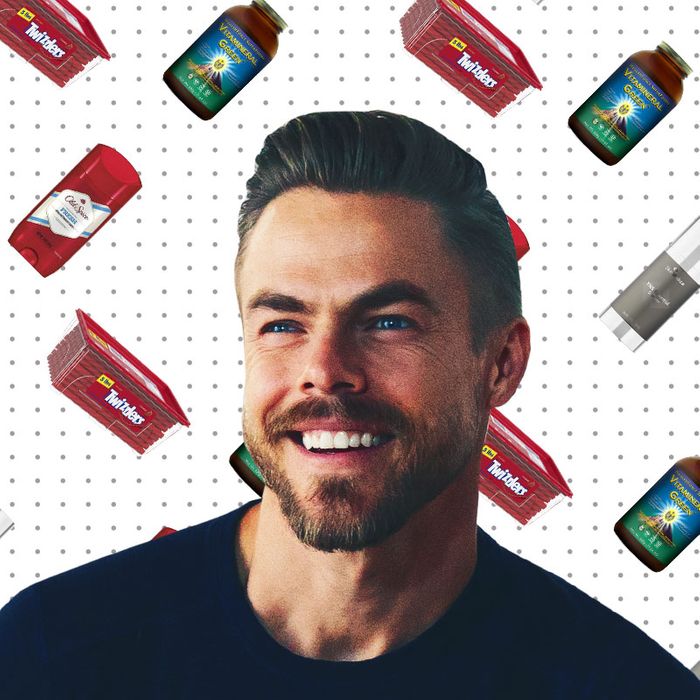 Photo: Courtesy of Molekule
If you're like us, you've probably wondered what famous people add to their carts. Not the JAR brooch and Louis XV chair, but the hand sanitizer and the electric toothbrush. We asked dancer Derek Hough — who has a partnership with air-purifier company Molekule — about the candy, serum, and jeans he can't live without.
People used to laugh at me when I would wear these. "Are those sweatpant jeans?!" Yeah, they are, and they're awesome. Obviously being a dancer, I need to have flexibility, so I wear these all the time when I'm choreographing or dancing — or if I'm on a plane. I have them in every color; the second they came out I was wearing them. I actually got my dad a pair as a gift when he was going to Japan. He was like: "Oh, I won't wear these." And I said, "Dad, just put them on." Now he thinks they're a game-changer. A game-changer for traveling, and for dancing.
I've been a sparkling-water fan my entire life. Two years ago I tried Bubly, and it's all I drink now. I love it. My least favorite is grapefruit, but every other flavor is my jam. I love them all: orange, mango, cranberry. It just tastes fresh and delicious. I easily drink five cans a day. It's like a treat to me because I don't drink soda or other fizzy drinks.
I've worn this since I was a kid; I've never changed brands. It's kind of funny because when Old Spice came back, I was like: "Oh, I've been wearing that for years." It smells clean, fresh, and also a little bit nostalgic, too, because I remember smelling it the first time and being like: "Oh, that's my smell."
I'm actually drinking green juice made with this as we speak. It's the first thing I drink in the morning, and I mix in a preworkout powder. This stuff gives me all the vitamins and minerals straight away, to kickstart my day. Instead of coffee, this gets me ready to go. The preworkout powder helps with flavor, because if it's just the green, it's not the most palatable taste. I grew up in a house where we had a wheatgrass machine, so I was raised on drinking weird green things.
I grew up with terrible acne. I was very self conscious about it, and I tried every product you could possibly think about. I grew up with four girls, so I had a skin regimen early on in my life. I've used this serum for about seven years. It's outrageously expensive, but it's one of those things that if I don't use it, I notice a big difference. So, it got me hooked. It really helps my skin look even.
I'm not really a candy guy, but then I had Twizzlers, and was like: "Oh, these are good." They're always in the house now. Just a little indulgence.
I'm in rehearsals right now, so we're dancing intensely eight to ten hours a day, nonstop. We're just beaten up at the end of it, and at the end of the day, I chuck on these leg-compression sleeves. They get the circulation going and help me get fresh legs for the next day. I keep them on for about 20 minutes to make sure I feel like I got a good sesh.