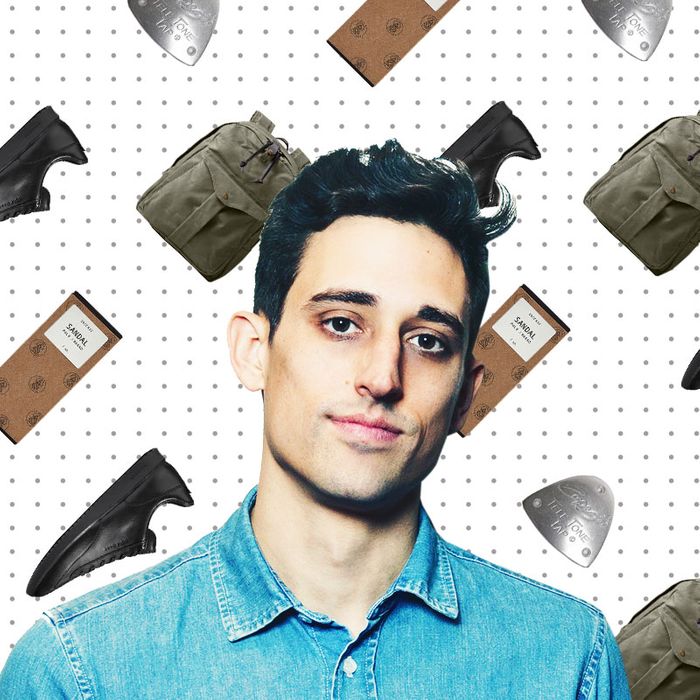 Photo: Erin Baiano/Courtesy of Justin Peck.
If you're like us, you've probably wondered what famous people add to their carts. Not the JAR brooch and Louis XV chair, but the hand sanitizer and the electric toothbrush. We asked New York City Ballet resident choreographer, artistic adviser, and soloist Justin Peck — whose new ballet Bright is being performed this May — about the incense, pour-over coffee maker, and sneakers he can't live without.
I use these way more than I ever thought I would. I juggle so many different projects — I often have to do a lot of phone conversations or meetings or interviews and calls with collaborators — and the headphones make it so much easier to hear someone and have a conversation. Especially in New York, you never know when you're going to be in a location that isn't quiet, so it just helps to isolate the sound. Also, obviously, I'm always listening to music because that's what I do. I choreograph dances to music, so I'm constantly listening to whatever it is I'm working on and music for future projects. It's a way of acquiring a sense of privacy in such a dense, busy city.
I really love this brand, Topo Designs. They do a lot of great stuff. I first went into one of their stores in San Francisco, and then I went into another one while I was in Denver. They're a company that's based out of Colorado, and I really like the fit of their hats, so I own a bunch of them, and I love that a lot of their hats have a symbol of the map on them because they're all about exploring and adventure and the journeys that we go on through life. I usually don't leave my house without one, especially when I travel.
I'm a really light traveler and I use this a ton. Like, I hate checking a bag. I just like to be agile and fast-moving so I don't have to waste too much time at airports. The Filson backpacks are great because they have so many compartments and they're set up so you can pack a computer really safely, but they're not ugly. I find that a lot of computer backpacks can be pretty hideous. So they're a slightly more stylish bag. My wife actually bought me this one — a splurge, I think, for my birthday — and I love it. I use it every day in New York, too, so not just for traveling.
This is another thing that my wife got me really into, burning incense. This particular kind was given to us as a housewarming gift from two very close friends of ours who live in San Francisco. They came to visit and stayed with us and gave us this incense. I just loved it. It's a more substantial incense to burn and creates a very zen, peaceful atmosphere wherever you are. It's also something that I've started traveling with because, you know, staying in hotels and staying in apartments that don't feel like home, it just creates a sense of familiarity and relaxation and balance and peace in whatever space I'm in. That's something I've gotten into lately and I really love this brand. It's a little expensive to be honest, but it's turned into my splurge.