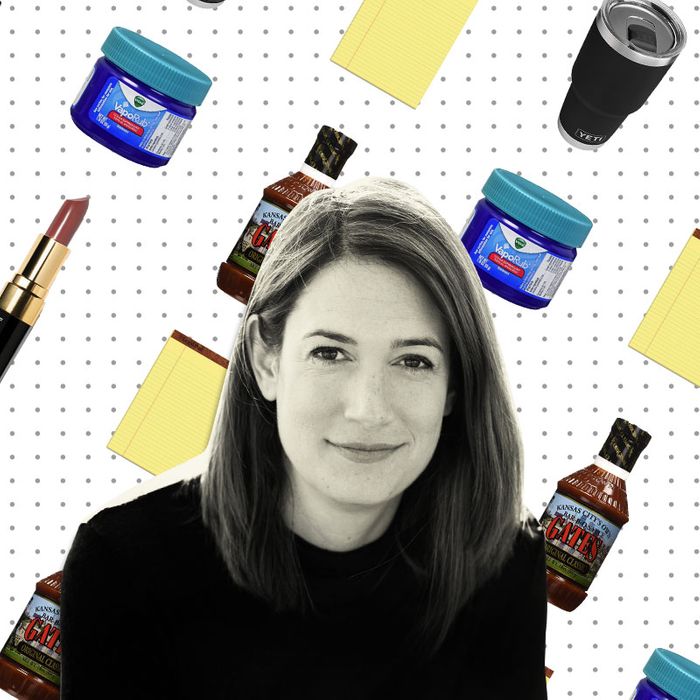 If you're like us, you've probably wondered what famous people add to their carts. Not the JAR brooch and Louis XV chair, but the hand sanitizer and the electric toothbrush. We asked Gillian Flynn, author of Gone Girl and Sharp Objects (which is also now a show on HBO), about the barbecue sauce, T-shirts, and metal straws she can't live without.
I drink Cherry Coke Zero from morning to night. I get this creepy Cabbage Patch Kid smile as soon as it hits my blood stream. It has to be on ice, thus the Yeti bottle, which is sorcery. Whoever invented it should be burned as a witch, which is an unkind way to thank her or him for providing me with all the long, long hours of cold beveragery, but I didn't make the witch rules.
I hate makeup, but I love lipstick, and I have an extensive Bobbi Brown collection. I work from home, and my one nod to civilization is putting on lipstick each morning. My everyday choice is Blondie Pink, but if I'm writing a really nasty scene, it's Burnt Red.
Their tees are ecofriendly and so soft, it's like a million puppies wore them for a million days and then sent them to me care of a pink cloud in the shape of a kitten.