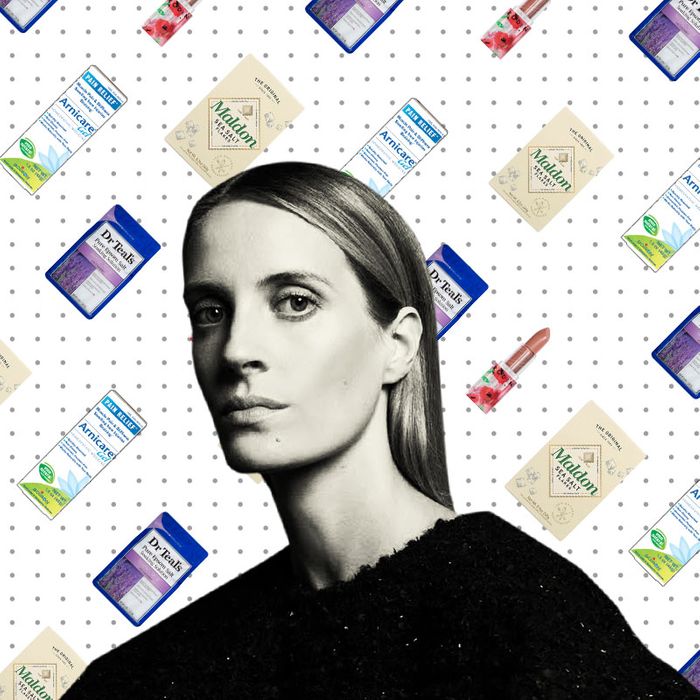 Photo: Courtesy of Vanessa Traina
If you're like us, you've probably wondered what famous people add to their carts. Not the JAR brooch and Louis XV chair, but the hand sanitizer and the electric toothbrush. We asked stylist and executive creative director of the Line Vanessa Traina, whose Rodin x Vanessa Traina collection just debuted, about the dry shampoo, gardenia candle, and arnica gel she can't live without.
These Epsom salts are the base of any good bath. I take the time to unwind and do something for myself at the end of each day, especially now that I have two children, so I like the bath as a moment of Zen to myself. I'd like to think it does something to the skin by drawing everything out, but really it's just the best way to get the day off of you and get ready for the next one.
I use this on my son anytime he falls or gets bumped because as soon as it happens, you rub it on and it takes away any bruise. It's a very good trick. And with a 1-and-a-half-year-old, I can tell you that we go through a lot of it. The purple never appears if you get it in time.
I love Maldon salt, but I especially love it for a drink I have every morning. It was a hot tip from my trainer, who told me to start the day with a glass of water containing the juice of one lime, plus sea salt. It's good for the adrenals and jump-starting your body first thing in the morning. I use Maldon for it, not for the texture (because it completely dissolves!) but because of where it comes from.