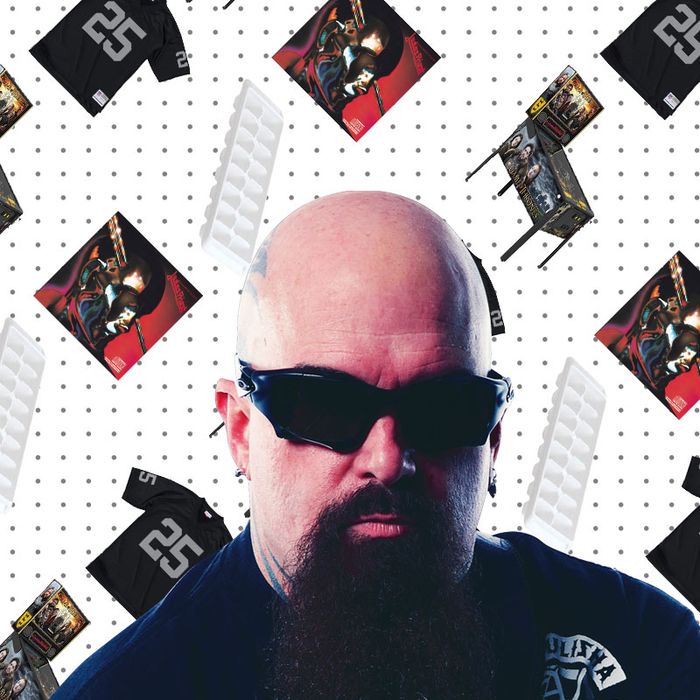 Photo: courtesy of Andrew Stuart
If you're like us, you've probably wondered what famous people add to their carts. Not the JAR brooch and Louis XV chair but the hand sanitizer and the electric toothbrush. We asked Kerry King — lead guitarist of the band Slayer, which is embarking on the North American leg of its farewell tour this fall — about the conditioner, pinball machine, and guitar he can't live without.
My team is the Raiders. I've already got my tickets for when they move to Las Vegas next year. Opening weekend this year, I'm going to fly into Oakland for that. I got a handful of jerseys, but generally my go-to is No. 25. I remember the year I got it — 1994, when the Raiders were still in L.A.
I think it's very difficult to pick one album. I was completely on the fence about putting Black Sabbath instead, or in addition to, because realistically Sabbath started it all. But in L.A., the radio would play Judas Priest's "Living After Midnight" and "Breaking the Law" — you know, the hits, so to speak. What I liked about it was they had two guitar players and, to this day, my favorite singer. So it was just natural for me to buy the record and find out that they are far more metal than "Living After Midnight" would ever suggest, and then buying the previous albums and doing my homework.
I head-bang all the time onstage, so yeah, conditioner finds its way into my beard; otherwise it would just be a big dread. For conditioner, it'll either be Pantene or Fructis — those are the ones I've found to detangle well. I'm sure there's other stuff that's awesome, probably even more awesome.