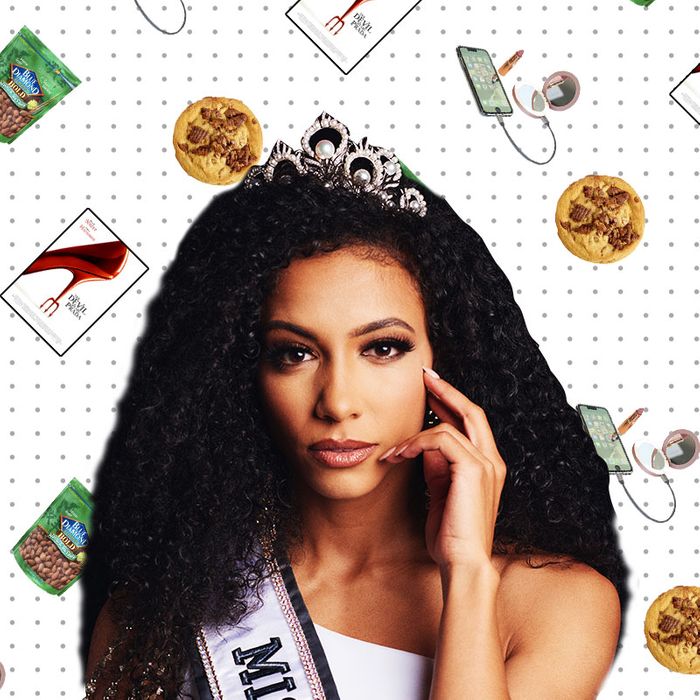 Photo: Photo-illustration.
If you're like us, you've probably wondered what famous people add to their carts. Not the JAR brooch and Louis XV chair, but the hand sanitizer and the electric toothbrush. We asked newly crowned Miss USA and full-time lawyer Cheslie Kryst, about the cookies, audiobooks, and shine spray she can't live without.
My mom got me hooked on these. She keeps almonds in her purse, so one day, I was starving, and we were traveling to Charleston for a race — we do a lot of races together — and she was like, if you're hungry, do you want some of these almonds? It was a last resort. Every time I pop that bag open — it's a very strong smell — but they're actually so good.
I'm in love with Insomnia Cookies. When I was an undergrad at the University of South Carolina, there was a local Insomnia Cookies. It's a national brand, but this one ran out of a food truck in Five Points in Columbia, South Carolina, where all the college kids hung out. I tried it at one point and fell in love with it. Then there was one a couple blocks from my law firm. The delivery person was able to bring them to our receptionist, who would then bring them to my desk. It was too easy. Deluxe Cookies are my favorite. Usually I'll get the chocolate peanut butter cup, which is a giant cookie with Reese's peanut butter cups in it. I usually get that plus a regular-sized Snickerdoodle. Those are my favorite.
My 28th birthday was on April 28, but I was already in Reno Tahoe [for the Miss USA competition] when that happened, so my boyfriend and I celebrated right before I left. He's a real gadget guy, and he got me these AirPods. I didn't know if I would use them very much, but I am obsessed. They connect so easily, and they're so convenient. I love them. I don't know how I lived without them before.
One of the books that Paula Shugart, the president of the Miss Universe Organization, recommends to each of the state title holders is The Confidence Code. So I listened to the audiobook back in November. It's a pretty long audiobook, it's maybe seven hours or so, but it's just chock full of information and studies about confidence — and it really had an impact on me. I was an athlete in undergrad, and I didn't have much confidence then; I think my performance suffered because of it. There's an interesting note in there about this one study: Women will seek a promotion when they have 100 percent of skills for a particular job, but men will seek it when they have 60 percent.