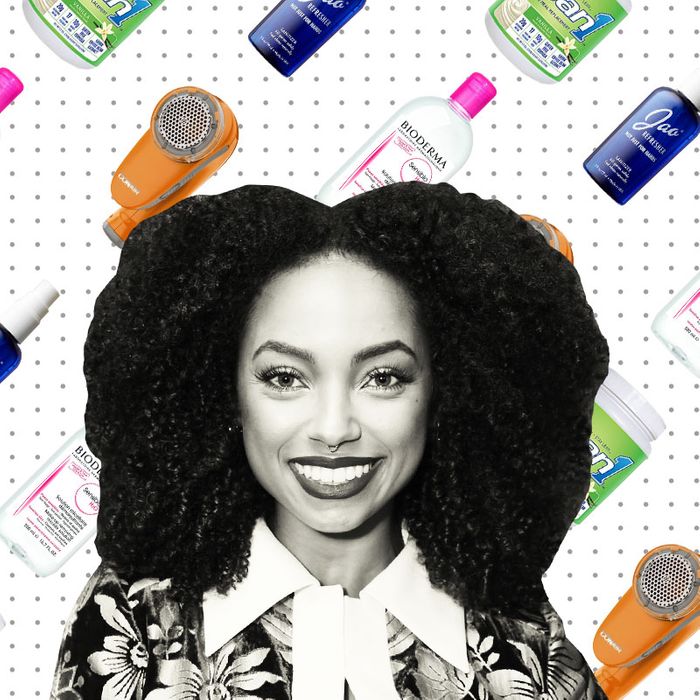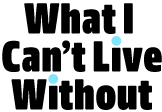 If you're like us, you've probably wondered what famous people add to their carts. Not the JAR brooch and Louis XV chair, but the hand sanitizerand the electric toothbrush. We asked Logan Browning of Netflix's Dear White People what she can't live without, and we got her answers, from the sweater shaver to the personal blender.
I've been working for this industry since I was 15, and every makeup artist I've known who's worth my time uses Jao Refresher on their hands and their brushes. It's like an all-encompassing sanitizer that smells way better than alcoholy Purell. [Editor's note: Aidy Bryant loves this sanitizer, too.] I don't feel obnoxious on the plane if I'm spraying it on my hands before eating a sandwich. It's like a eucalyptus-lavender kind of thing. I just went on a trip to the U.K. because I was studying Shakespeare over the summer, and when we would go out anywhere, I would say, "Hands!" and spray everyone's hands like a mom.
It's about to get cold soon, and with the cooler seasons approaching it will be time to pull out my favorite sweaters. With too much wash and wear, sweaters get fuzzy or start to pill. Having a fabric shaver is a game changer. It makes my sweaters look brand-new.
This is something used during facials that kills bacteria. For someone who's acne-prone, that's coming from the overproduction of sebum and bacteria, which will then cause inflammation. This machine can be used at home at night to kill bacteria, and I use it every day. I know not everyone can, but I've been loving it.
So I've had a Vitamix forever that I've never really used. I wanted to make smoothies with it, but the NutriBullet is just so much easier to leave on the counter because it's so compact and easy to just take on the go. I use it for convenience almost every day for my smoothies.
Multiple facialists recommended this to me — it's a face mask that stimulates blood flow in your face. Your face turns all red and gets really hot, but apparently that means it's regenerating new, fresh cells. I've found that it really helps with the texture of my skin and that the phyto greens help with hyperpigmentation, too. I do have to say, you don't want to put it on before going somewhere important. You put it on at night when you're home for the evening, because it will literally make your face red. It's got some kind of chili in it that makes your face start tingling. I definitely mistook what a facialist told me about how it would make my skin glow for a date once.
There are a million brands of micellar water, but the Bioderma was recommended to me by a makeup artist, and it really cleans your face when you're not able to wash it on the spot. Even if you're out of the country and being a tourist all day without any makeup on, it's a great thing to have to refresh your skin. They make smaller versions you can pop in your bag too.
I have really acne-prone skin, and unfortunately, my job requires a lot of makeup, so when I'm not working, I do my best to let my skin breathe. It's a real confidence boost to walk around without any acne scars, and this is the concelear I use on a scar or dark mark without having to walk around with a face full of makeup. It's really creamy and blends with the oils on the skin in a really natural way.
Disclaimer about this lotion: I love the fragrance and texture of Le Labo's Santal 33, but I don't actually buy it. My mom travels for a living, and she taught me to stock up on travel-size moisturizers when I go to my favorite hotels. I have a few favorite boutique hotels in New York (Edition and Refinery) that mix their own fragrances with Le Labo, which is how I first was introduced to the brand.
For the past two weeks, I have started every morning with a protein shake. I used to think people were crazy who said they had smoothies for breakfast, but now that I'm in the swing of it, I am terrified I'll upset my day if I do anything else. I mix bananas, spinach, frozen berries, chia seeds, almond milk, and Lean 1 Vanilla Protein in my NutriBullet. I've tasted a lot of protein powders, but Lean 1 is my favorite. I always come back to it.
Almost everything I have comes from being on set. I was on a set once where I was getting really sick, and you're just not allowed to get sick — the show must go on — and this hairstylist took some manuka honey out of her drawer and gave me a spoonful of it down my throat. [Beauty guru Linda Rodin loves this brand, too.] Apparently it has antibacterial properties, and you can even put it on your face as a mask or on a wound. It's a little bit, I wouldn't say granular, but it's definitely not as smooth as regular honey. You still have to have your regular honey because this is some expensive-ass honey.
I have curly hair, and the Denman is the only way I can manage to detangle my hair because of the grip I can get on it. It goes through so easily without breaking. It's become my go-to brush. I have probably bought seven of them at this point. I was coming home from Atlanta where my mom lives once, and I left it in the drawer, and she said, "I'll ship it to you." I said, "I already bought a new one." I learned about it from being a curly-haired queen and watching YouTube videos on curly hair.
This line of curly-hair products is probably the 20th I've used. I've tried everything on the market in the past decade because I've found that everyone's curly hair takes to product differently. I've learned over time that if you find a product that works for you, use every product in that line because they're meant to work with each other. There was a time I mixed Ouidad with Shea Moisture and a bunch of others, but now, I just use DevaCurl. A lot of curly-hair products with shea butter will coat your hair so real moisture doesn't get to the follicle. DevaCurl isn't like that — I can style my hair still and it's not crunchy and still manageable.
These ponytail hooks are basically bungee hair ties, and as someone who has a lot of hair, I know that when you have a regular hair tie, you're really having to stretch and pull your hair to try to get it around. The bungee hair tie is so easy, though, because you just hook it on part of your hair and wrap it around — it's just the most magical thing. I don't know why more people don't use them because it gives you way more control and prevents tangles. Tangles are impossible!
The Strategist is designed to surface the most useful, expert recommendations for things to buy across the vast e-commerce landscape. Some of our latest conquests include the favorite shopping items of Lena Dunham, Olivia Wilde, Carole Radziwill, Plum Sykes, John Cameron Mitchell, Aubrey Plaza, and Linda Rodin. We update links when possible, but note that deals can expire and all prices are subject to change.
Every editorial product is independently selected. If you buy something through our links, New York may earn an affiliate commission.