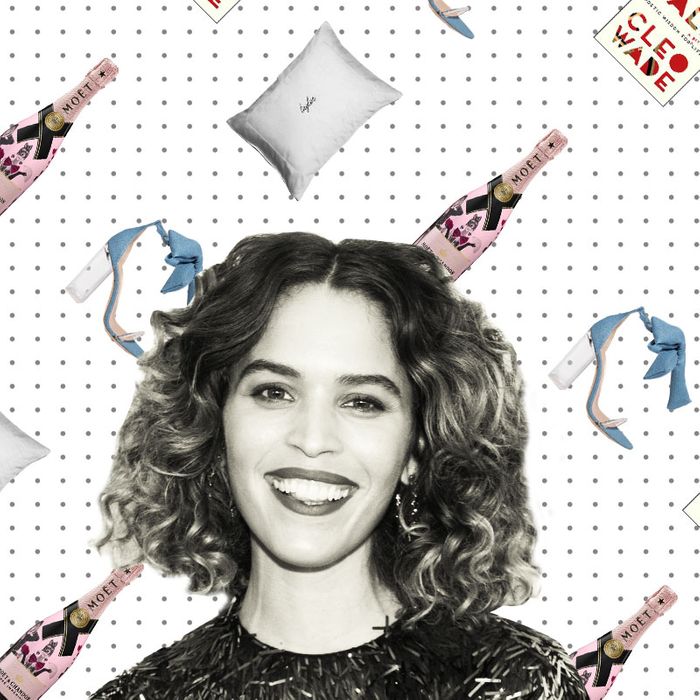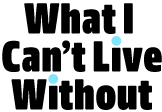 &If you're like us, you've probably wondered what famous people add to their carts. Not the JAR brooch and Louis XV chair, but the hand sanitizer and the electric toothbrush. We asked Cleo Wade, poet, activist, and author, who recently collaborated with French Champagne house Moët & Chandon on a Snapchat poem generator and is currently touring the country with her book Heart Talk, about the sweater, mini-pillows, and women-owned small businesses she can't live without.
I own this sweater in four colors, and it's kind of a joke on my Instagram because I wear this every single day. For a period of time, I wore the one that was gray with rainbow stripes every single day until my mom literally wrote to me on Instagram and was like, "You need to wash this sweater." So I ordered another one to put into rotation, but then I wore that one into the ground. Now I have it in white with blue stripes. I have it in blue with white stripes. I have it in maroon. It doesn't pill the way 100 percent cashmere sweaters would, it's so warm; it's so cozy. I'm always either on a flight or writing in my home, so when I am in my space of work or getting from one place to the other, it's crucial for me to feel really comfortable and cozy. It's like my safe sweater. You know how some people have a support animal? I actually feel like I have a support sweater.
My friend Eileen makes this line. She's also my facialist, and she only uses oils. She hugely changed her own skin by doing that, and I'm a convert. I don't ever wear makeup in my day-to-day at all, but when I'm on the road so much, I have been. My skin is kind of rejecting having makeup on it, and her oils are able to calm it and really bring this glow, so when you are back to your day-to-day of running around, you look alive. I put it on in the morning, in the evening, and sometimes, I'll throw it on in the middle of the day.
Great for the days I don't wear makeup.
I met [designer Melody Ehsani] recently, and I was so in love with her. It's so amazing the way she is able to design and create these items that speak to social consciousness in a really creative way. She's like Patricia Fields, if Patricia Fields would've been an anti-racism activist. It's actually not that hard to decide to participate with your business in your own way, and obviously that doesn't mean everyone needs to have an item that says "Fuck Racism," but she's such a great example of a creative that is socially conscious.
I'm obsessed with everything Aurora makes. She's a really good girlfriend of mine, and she's another amazing example of someone being able to create incredible social impact with their creativity and what they're passionate about. I have a few pairs of her denim ones because they go with anything. They're like a jean jacket for your foot. It's kind of that shoe where it's like, "What does it really not go with?" I'm on the road so much, and that's just my destiny for the rest of the year, so you're really conscious about what shoes do you pack because you want a shoe that can go with as much as possible.
The vitamins C and B [in these] keep me from getting sick when I am on the road.
I'm actually obsessed with everything from Hill House Home. All of my bedding is from Hill House Home. My pillows are also from Hill House Home. These mini-pillows, I love them because they're the ultimate gift. Any last-minute thing you ever need for anyone. They come in the cutest box. I have one on my bed that says "Cleo." Sometimes I'll give them as gifts with little poems on them. So I'll get two and have one half of the poem on one, and one half on the other, so they go on the bed together.