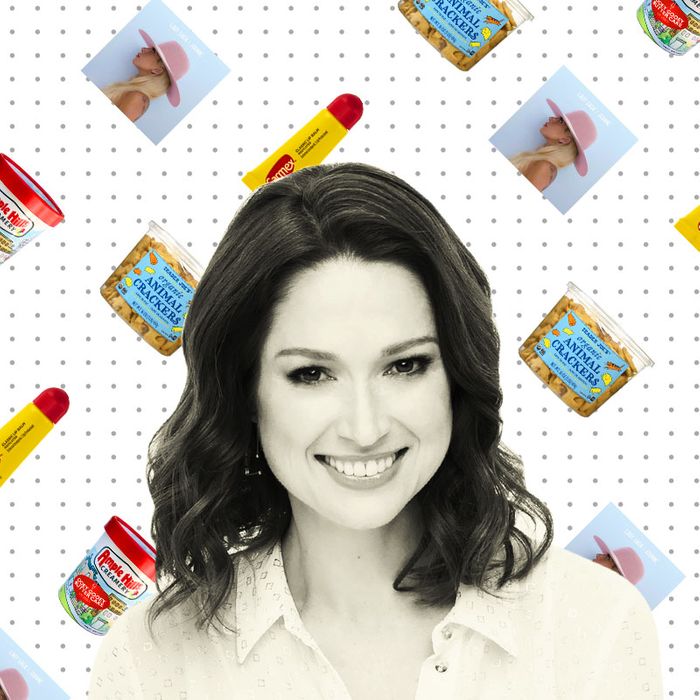 If you're like us, you've probably wondered what famous people add to their carts. Not the JAR brooch and Louis XV chair, but the hand sanitizer and the electric toothbrush. We asked Ellie Kemper of Unbreakable Kimmy Schmidt and author of the upcoming My Squirrel Days about the shampoo, wireless headphones, and lip balm she can't live without.
I found a shampoo that works!!!!! Most shampoos leave my dry hair feeling even drier. This shampoo actually thickens my hair. I don't know what's in it. I try not to think too much about what could possibly be making my hair this thick. I use the Hinoki fragrance for my hair, and then I finish my shower experience with Bergamote 22 body lotion. Nobody smells better than me during these eight to ten minutes.
I go through a container of these every four or five days. And we are kidding ourselves if we consider them to be crackers. They are cookies. They are Trader Joe's animal-shaped, organically floured cookies. And they are delicious.
Not to brag, but I run a lot. It's not a big deal. I'm athletic and I like running. These headphones rule. Not only do they keep the sweat out of my tiny ears, but they are noise-canceling, so I can focus on my beats. They also don't fall out of my tiny ears like so many other in-ear headphones do.
This girl has got it down. Her designs are whimsical and clever. I feel like a lady when I write thank-you notes on her paper. And her paper actually inspires me to write thank-you notes in the first place.
I have the CD of this album and I play it on my DVD player because who has a CD player anymore? Or, for that matter, CDs? I dance with my son to "A-Yo" and "Come to Mama." I sob during "Joanne." And I listen in awe to the wonder that is Lady Gaga's voice. She will get us through it, guys.
My neurotic husband finally succeeded in convincing me that antiperspirants will slowly kill me, so I started using only deodorant a few years ago. Then, one day, I was hugging him and something smelled really good. It turns out it was this deodorant. I believe it to be unisex, though some users have described it as a men's deodorant. It doesn't matter. I can't always find it at CVS or Rite Aid, so we usually order a three-pack online.