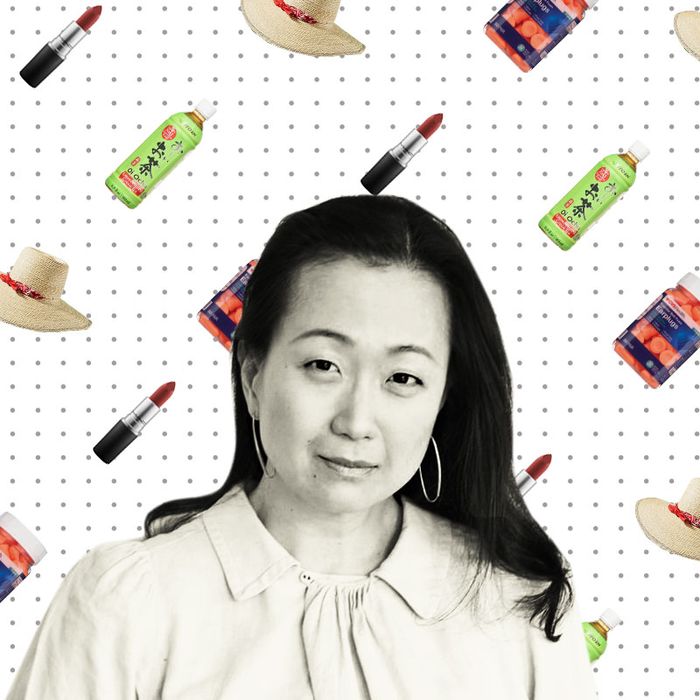 If you're like us, you've probably wondered what famous people add to their carts. Not the JAR brooch and Louis XV chair, but the hand sanitizer and the electric toothbrush. We asked Min Jin Lee, author of National Book Award finalist Pachinko, about the red lipstick, greens supplement, and sun hat she can't live without.
I drink both coffee and tea, but I prefer unsweetened green tea. In Japan, there are vending machines everywhere to get tea, but in the States, you find them more often in Japanese takeout shops and Asian markets like H-Mart. I buy Ito En instant-tea powder packets in Japan, which are very convenient for travel but are unavailable here. You can drink Oi Ocha either hot or iced. Iced is delicious and will make you alert but not anxious.
I carry a lot of things. If you need a Band-Aid for a heel blister because you're wearing new shoes, I'm that person who can hand you one in a flash. With me at all times are safety pins, paperback novel(s), blank notepad, six to seven pens and Sharpies, hairbrush and comb, aspirin, AirPods, cough drops for everyone seated in my row, wallet with change for the meter even though I don't have a car, two Kind bars (one for me and another hungry person), dry-roasted almonds, and enough extra battery charge for my phone and my friends and family. Immigrants are more neurotic than Eagle Scouts. When I tore the tote bag to shreds from overuse, Filson repaired it, so now I have a vintage-y bag cool enough for Brooklyn.
Not long ago, I was told that the M.A.C lipstick in my favorite color, "Spice It Up," was discontinued, so I went to a fancy place in Soho where I could get the same shade custom-blended. It cost 40 bucks, but I figured it was worth it because of how attached I was to this color. Then the next day, I happened upon a M.A.C store that carried "Spice It Up," so I bought three tubes. I'm hoping that M.A.C will not let this one go. I find change difficult.
I toured for my recent book for almost two years, and my BFF Elizabeth sent me a box of these because she was worried about me catching colds. [Editor's note: Brooke Shields and Molly Sims both love these, too.] It's a fizzy tablet made of greens that you drop in a glass of water. It tastes good. I took one every single day, and thankfully, I did not get sick on the road. Thank you, Elizabeth.
Since college, I have accumulated a dozen of these poplin shirts in white and another dozen in assorted patterns and colors. I think they used to be called "Perfect" shirts, and lately, it's called the "Boy" shirt. I think the difference is the addition of a pocket. Charlotte Perkins Gilman, the 19th-century author of Women and Economics, argued that women needed pockets on our clothing for our stuff (the feminine line be damned). Maybe Gilman is the reason J.Crew went and messed around with my shirt. Although I love fashion and beautiful clothes, when I work, I wear white shirts and jeans or a variation of a sacklike dress.
I have skin like a mood ring. I'm prone to allergies and break out in hives when I have certain kinds of shellfish and nightshades. I won't bore you here with the details. If I get any sun, I get splotches, too, so rather than sunscreen, which does not agree with me, I wear a hat throughout the year. I buy one or two canvas hats per annum, but in the summer, I wear straw ones that can be folded and put away in my tote bag. My favorite milliner is Lola, and her summer hats are very smart.