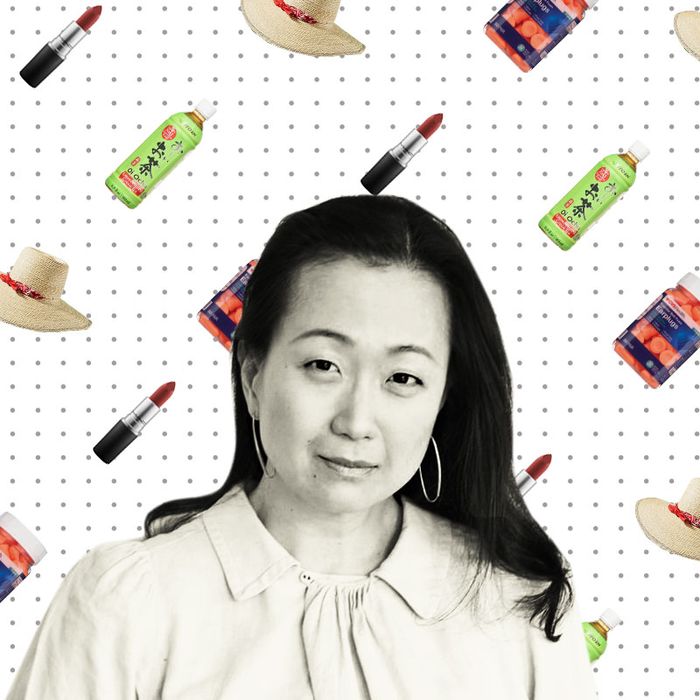 If you're like us, you've probably wondered what famous people add to their carts. Not the JAR brooch and Louis XV chair, but the hand sanitizer and the electric toothbrush. We asked Min Jin Lee, author of National Book Award finalist Pachinko, about the red lipstick, greens supplement, and sun hat she can't live without.
I drink both coffee and tea, but I prefer unsweetened green tea. In Japan, there are vending machines everywhere to get tea, but in the States, you find them more often in Japanese takeout shops and Asian markets like H-Mart. I buy Ito En instant-tea powder packets in Japan, which are very convenient for travel but are unavailable here. You can drink Oi Ocha either hot or iced. Iced is delicious and will make you alert but not anxious.
I carry a lot of things. If you need a Band-Aid for a heel blister because you're wearing new shoes, I'm that person who can hand you one in a flash. With me at all times are safety pins, paperback novel(s), blank notepad, six to seven pens and Sharpies, hairbrush and comb, aspirin, AirPods, cough drops for everyone seated in my row, wallet with change for the meter even though I don't have a car, two Kind bars (one for me and another hungry person), dry-roasted almonds, and enough extra battery charge for my phone and my friends and family. Immigrants are more neurotic than Eagle Scouts. When I tore the tote bag to shreds from overuse, Filson repaired it, so now I have a vintage-y bag cool enough for Brooklyn.