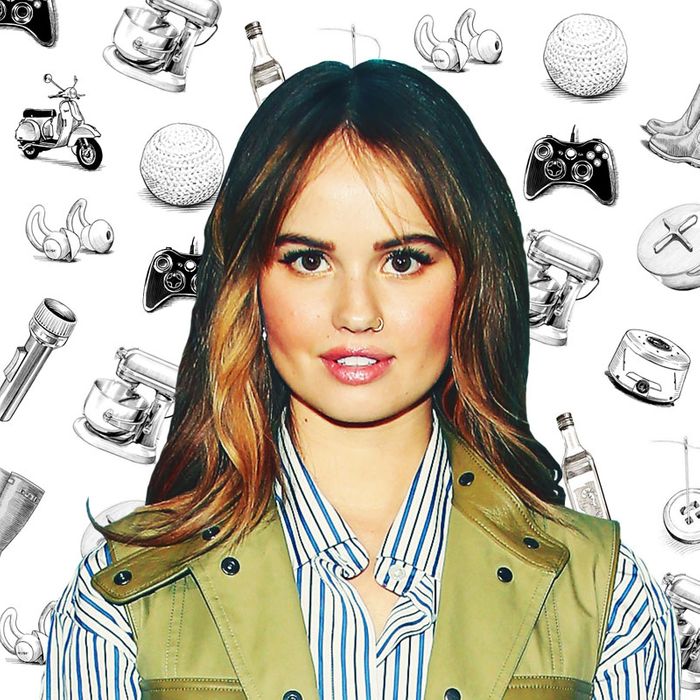 Photo: Jean Baptiste Lacroix/Getty Images
If you're like us, you've probably wondered what famous people add to their carts. Not the JAR brooch and Louis XV chair, but the hand sanitizer and the electric toothbrush. We asked actress Debby Ryan — who partnered with Swarovski for the launch of its Nice and Naughty collection — about the floss picks, black boots, and luggage she can't live without.
I use these for so many things — more things than one would think a floss pick is capable of. I use them to floss because they really get in there. I always have them on me — I can tuck them in my pocket or put them in my bag — so they also remind me that I need to floss. (I'm trying to be better.) I like chewing on stuff, too, and these are much better to chew on than regular toothpicks. I chew pretty hard and the wooden ones wreck my lips and break down when chewed on for too long. A makeup artist also once used the floss on a pick to separate my lashes and make them really fluffy, so now I use them for that, too. They also keep clumps out and wake up my eyes. They just do so much. I go through maybe four a day.
I got this journal as a gift and blew it off for a while, then I woke up and was suddenly 26. The older I get and the more life that I live, the more important it is to have snapshots of my perspective as it has grown and evolved. The journal gives you a quote first, which is nice first thing in the morning. Instead of forming your outlook for the day with "Oh crap, I'm late" or "It's too cold to get out of bed," it brings you positivity. Then you move onto what you're grateful for that day, then it asks what would make that day great, so you set intentions and make them happen. Then there are daily affirmations like "I'm worth investing in" or "I am worth sacrificing for" or "I am a daughter and a sister before I am someone's employee." And that really has been huge for keeping a positive mindset. At the end of the day, you circle back for another five minutes with three amazing things that happened that day. And then you note how you could make those things better, which again allows you to set intentions. The journal has helped me navigate out of shame and imposter syndrome, and turn those feelings into productivity and positivity along with pride and confidence. I look at photos from times when I was not happy or grateful or in a good place mentally and you can see it on face, on my body, on my hair, on my skin and on my nails. It shows. Now, people tell me I'm glowing. I really do think that beauty comes from the inside.
I'm a big believer in emergency chocolate. Even if I have a clutch, I'll throw a peanut butter cup in there. I'm always in the mood for chocolate, especially dark chocolate — sometimes as a snack to tide me over, other times I just want a little spike in happiness. But I can never be sure if there are snacks and treats where I'm going, or if there will be options I like. When I started paying attention to my mental health, I started realizing the effect that sugar has on basically everything that you do. I became more mindful of my glycemic index throughout the day, noticing any changes in my energy and stamina. Sugar really affects that. But chocolate does create a meaningful spike in serotonin, too. I like these peanut butter cups because they let me have chocolate without the crash from sugar. They're basically all of the things that I like with none of the things that do me dirty.