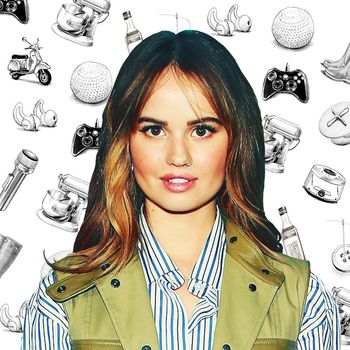 Photo: Jean Baptiste Lacroix/Getty Images
If you're like us, you've probably wondered what famous people add to their carts. Not the JAR brooch and Louis XV chair, but the hand sanitizer and the electric toothbrush. We asked actress Debby Ryan — who partnered with Swarovski for the launch of its Nice and Naughty collection — about the floss picks, black boots, and luggage she can't live without.
I use these for so many things — more things than one would think a floss pick is capable of. I use them to floss because they really get in there. I always have them on me — I can tuck them in my pocket or put them in my bag — so they also remind me that I need to floss. (I'm trying to be better.) I like chewing on stuff, too, and these are much better to chew on than regular toothpicks. I chew pretty hard and the wooden ones wreck my lips and break down when chewed on for too long. A makeup artist also once used the floss on a pick to separate my lashes and make them really fluffy, so now I use them for that, too. They also keep clumps out and wake up my eyes. They just do so much. I go through maybe four a day.
I got this journal as a gift and blew it off for a while, then I woke up and was suddenly 26. The older I get and the more life that I live, the more important it is to have snapshots of my perspective as it has grown and evolved. The journal gives you a quote first, which is nice first thing in the morning. Instead of forming your outlook for the day with "Oh crap, I'm late" or "It's too cold to get out of bed," it brings you positivity. Then you move onto what you're grateful for that day, then it asks what would make that day great, so you set intentions and make them happen. Then there are daily affirmations like "I'm worth investing in" or "I am worth sacrificing for" or "I am a daughter and a sister before I am someone's employee." And that really has been huge for keeping a positive mindset. At the end of the day, you circle back for another five minutes with three amazing things that happened that day. And then you note how you could make those things better, which again allows you to set intentions. The journal has helped me navigate out of shame and imposter syndrome, and turn those feelings into productivity and positivity along with pride and confidence. I look at photos from times when I was not happy or grateful or in a good place mentally and you can see it on face, on my body, on my hair, on my skin and on my nails. It shows. Now, people tell me I'm glowing. I really do think that beauty comes from the inside.
I'm a big believer in emergency chocolate. Even if I have a clutch, I'll throw a peanut butter cup in there. I'm always in the mood for chocolate, especially dark chocolate — sometimes as a snack to tide me over, other times I just want a little spike in happiness. But I can never be sure if there are snacks and treats where I'm going, or if there will be options I like. When I started paying attention to my mental health, I started realizing the effect that sugar has on basically everything that you do. I became more mindful of my glycemic index throughout the day, noticing any changes in my energy and stamina. Sugar really affects that. But chocolate does create a meaningful spike in serotonin, too. I like these peanut butter cups because they let me have chocolate without the crash from sugar. They're basically all of the things that I like with none of the things that do me dirty.
I'm very tactile. I love to shake hands and grab the railing on the stairs and feel the texture of wallpaper or fabric or the fur of whatever animal is in proximity. But I'm also aware of how many germs there may be on my hand at any given moment. This Byredo hand sanitizer is really chic. One of the brand's fragrances is in my normal rotation, so I know that the hand sanitizer will be cohesive with that smell. I don't really love the alcohol smell that most hand sanitizers have — this one is much more pleasant and just subtly refreshes everything.
I wash my hair once a week and try to only heat-style it if I have to. The rest of the time, one of these babies is on my wrist ready to sweep my hair into a low bun. Maybe I'm imagining it, but I really think these scrunchies keep my hair shiny. With one of these, there is also way less of a chance of leaving a scrunchie kink, and the satin fabric keeps my hair from tangling around the scrunchie. It looks really elevated, too — the scrunchies have a fun, nostalgic, youthful element and this kind-of-'90s vibe while still looking upscale. You can wear one to a dinner party if you put your hair in a ponytail or twist it up to a little bun.
My hair is really thick and I heat-style it for work, but as I said, I don't do much with it if I don't have to. Ideally, I just want to wash my hair, squeeze the excess water out, then go for days. My lifestyle changed when Kristin Ess, my hairstylist stylist since I was 17, gave me a shag haircut and this product. The cream keeps my hair silky and kind of magically forms its natural air-dry texture into cool-girl undone waves. I haven't traveled with hot tools in a year — just a wide-tooth comb, a satin scrunchie, and a bottle of this. It gives effortless style that's actually effortless.
I seriously couldn't live without black boots. I have a bunch that I'm obsessed with, but I probably wear my stacked Docs the most: They're super easy and go with everything. I feel the most like myself in black boots. I can climb a tree or skateboard in them, or run to a train, or defend myself. They make me stand a little bit taller if I'm walking to my car on a dark street or whatever. I like to replace the shoelaces with ribbons to soften the boots and give them a masculine but still cute and chic look. I think that really describes me all-around: A black military boot with a feminine satin ribbon is very much my aesthetic.
I travel so much, probably upward of 100 flights a year. I thought I traveled a lot on my own, then I started going on tour with my fiancé, who's the drummer for Twenty-One Pilots. They travel a lot, so I needed the sturdiest, most efficient bag for touring. I looked at a bunch of different luggage and have given a lot of things a shot, but these just are the most intuitive. Victorinox makes Swiss army knives; I like a multi-tool, so when I found out the brand makes luggage, I was sold. There are so many different compartments. They're expandable, which is great, because I often show up places with a lot of gifts or acquire souvenirs along the way. There are also zippable compartments for my technology and things like that. This suitcase in particular is top-loading, which I'm still adjusting to. It has changed the way I pack, but I like it so far. I love the color, too — you can easily spot it on the luggage belt. It also rolls very smoothly, which is important. A lot of time the problem I run into with luggage is if you pack the heavier things at the top of the bag, it will not roll, but tumble over. This rolls really smoothly and if you have to grab it by the handle quickly and run it up some stairs, it can do that. It's the best thing for travel.
I'm constantly putting stuff in water. I throw essential oils in, or cut up some citrus and throw it in there. When I was younger and living in Germany, I had a SodaStream. They were pretty commonplace there, but when I moved back to the states, they weren't around. I missed being able to turn water into a fun beverage, so I started throwing things in to create my own. Then my friend Mark sent me this article about how drinking water won't hydrate you as much as drinking things with electrolytes will. He told me about these Drip Drop packets and I ordered them immediately. They've been really helpful in keeping me hydrated when I'm traveling or working out. The watermelon ones are the best, but to be honest, I have a pretty garbage palate: I can zest a lemon peel into my water and also drink a Crystal Light and think both are amazing. Maybe the watermelon flavor tastes like a Jolly Rancher and that's what I like about it? I'll fill a water bottle, use three quarters of a packet, drink half the bottle, refill it, and then dump the rest of the packet in. I like for the flavor to last a long time, so it's never at full potency.
Not to be dramatic, but seeing light catch a crystal on a piece of jewelry to me feels like seeing city lights against rolling hills from an airplane window. This necklace dresses up casual wear, softens my more traditionally masculine style, adds a little glam to gym clothes — it gives me that duality in style that I feel very attached to. Plus, if I need to take my engagement ring off to box, I can put it onto this chain and it's sturdy enough to hold it. And when you put this necklace on with a gown, you look like you stepped out of a Brinks truck.
The Strategist is designed to surface the most useful, expert recommendations for things to buy across the vast e-commerce landscape. Some of our latest conquests include the best acne treatments, rolling luggage, pillows for side sleepers, natural anxiety remedies, and bath towels. We update links when possible, but note that deals can expire and all prices are subject to change.