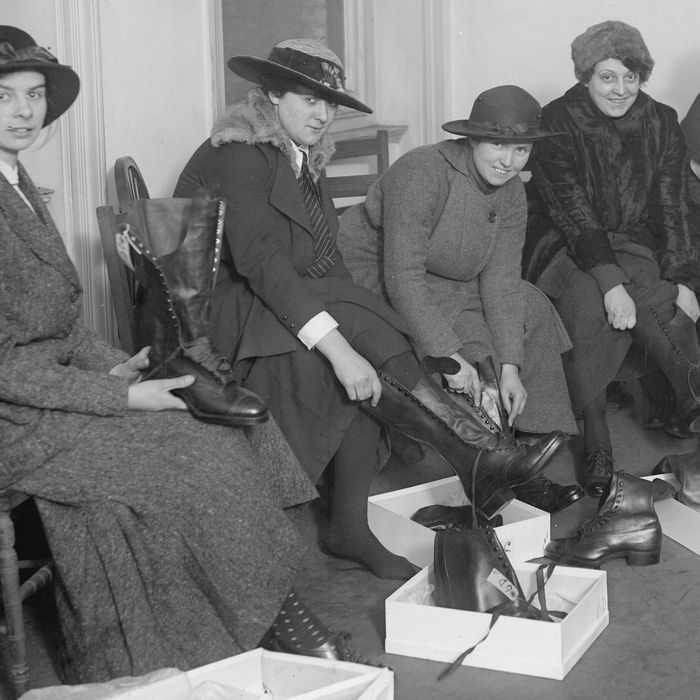 Photo: A. R. Coster/Getty Images
In our advice column, Ask the Strategist, we take your most burning shopping questions and survey friends, call up experts, and draw on our own personal experience to answer them. As always, please comment with any questions of your own — we're here to help.
I'm looking for black winter weatherproof boots that lace up (no zipper on the side), and are not a duck boot/Sorel type. Ideally, I could run around the city in the boots and handle several inches of snow upstate, and would spend around $200 or less. Sleek would be great — I love Aquatalia lace up styles, but they're cost prohibitive and all the other boots I've seen are either very expensive or very fugly.
I love that you provided Aquatalia as a reference. The two weatherproof styles that popped up when I did a quick search for the brand's boots really are sleek-looking. (I agree that clunky Sorels and duck boots aren't great for everyday wear; they're definitely more of an "occasional" boot — the occasion being inclement weather.) While the two Aquatalias I found are expensive, they both have pretty classic shapes — combat boot and hiking-inspired — that thankfully aren't too hard to find at a lower price point. Below is a selection of lace-up boots in both shapes that are, at the very least, waterproof and in your price range. Many of them also happen to be pretty sleek, if I do say so myself.
Lace-up black winter boots
When I think of Merrell, "sleek" is the last word I'd use to describe the brand. But I actually kind of love these boots. They look like a combat-hiking hybrid and have a couple of hooked eyelets at the top and a woolen cuff that adds a nice touch, even if it means the boots are not all black. Plus, the leather shaft can be folded down Peter-Pan style if you want to show more of the cuff. They're waterproof with a breathable plaid lining and a grippy rubber sole, yet still manage to have a rather slim silhouette. I might have to get these myself.
Here's a more straightforward hiking style from Kodiak, which calls itself "Canada's boot maker." (Hey, if they're good enough for our neighbors up north, then I bet they're good enough for us New Yorkers.) They're waterproof, lined with Thinsulate and high-pile fleece to keep your feet toasty, and have a treaded rubber sole for traction. The two-tone leather upper makes them a bit more interesting (and reminds of the Aquatalia styles above). They're not as dressy — the metal eyelets make them feel more utilitarian — but I think they still look pretty nice for being winter boots, and could easily be dressed up, too, without looking like you just trekked through a blizzard.
If you prefer a simpler pair without the plush lining, try Kodiak's all-season boot, which is lined in microfiber and also waterproof.