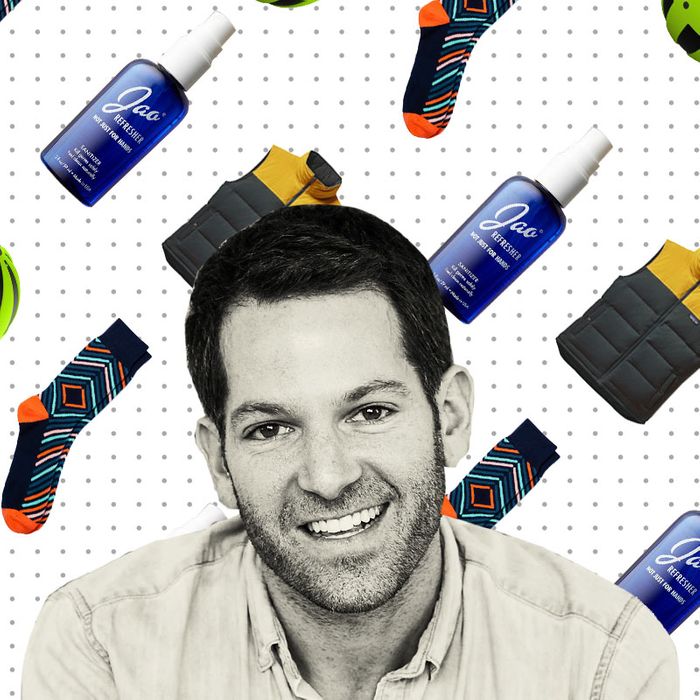 If you're like us, you've probably wondered what famous people add to their carts. Not the JAR brooch and Louis XV chair, but the hand sanitizer and the electric toothbrush. We asked Pressed Juicery CEO Hayden Slater to tell us about the things he can't live without.
I was introduced to this by my dentist a while back, and now I can't use any other type of floss. It's made me weirdly obsessed with flossing. Sometimes, I'll make a trip to Whole Foods just to restock on it.
Superga did a limited-edition collaboration with Steven Alan, and I bought a pair in white. Of course, the collaboration ended, but they came out with a similar style, and I currently have eight pairs of them in my closet. They're pretty much what you'll see me rocking about 95 percent of the time.
Unfortunately these are sold out, but here is another classic pair.
If you work out, travel, walk, move, or do just about anything, you should have this. It literally has changed my life. It's a little vibrating therapy ball for relieving sore muscles. Buy it today, thank me tomorrow.
I've been using this for probably the last 15 years, if not longer. [Editor's note: This is Aidy Bryant's favorite, too.] I like that it's a disinfectant and aromatherapy — it keeps me clean and calm all in one bottle. I have one in my desk, at home, when I travel, in my car … you get it.
One of my all-time favorite purchases. Not only is it down and crazy warm, but it's also light and easy to travel with. Sometimes, I'll even bring it places to use as a pillow.
This is a vitamin-C pack that I take quite frequently. Here's a warning — it's not meant to taste good. It's meant to do the trick. I'll triple up on these when I travel or the second I feel a cold coming on, and it's just great for preventing it.