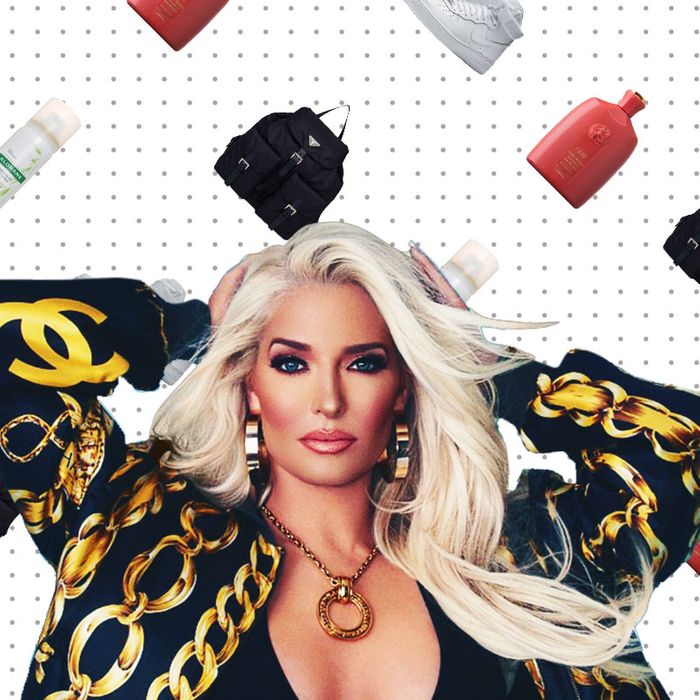 Photo: Jonathan Clay Harris
If you're like us, you've probably wondered what famous people add to their carts. Not the JAR brooch and Louis XV chair, but the hand sanitizer and the electric toothbrush. We asked Real Housewives of Beverly Hills star Erika Jayne, whose Erika Jayne x Erika Girardi collection is now available at Shoedazzle, about the track jacket, lip balm, and backpack she can't live without.
If I'm on the plane, I insist on being comfortable. I don't believe in getting dressed up to fly. There's no reason for that, especially when it's 16 hours to fly internationally. I'm usually in Air Force Ones and an Adidas tracksuit. I don't even know how many I have. I have them in grey and burgundy and black and mint and white and all-black and floral. I have track shorts. I have them in different weights. Usually, I like to wear the jacket and pants together so it's a matching suit, though if it's a floral, I might break that up.
If you have long hair that gets styled all the time, or if you're dancing and working out, dry shampoo is essential because you don't want to wash your hair every day. On the second or third day after you shampoo, your hair can get a bit grimy from going to the gym or just from life in general, but I've tried every dry shampoo around the block, and Klorane is the best. It'll lighten my roots a little bit, plus it smells good and brushes out easily, too.
Wolford is obviously one of the best lingerie brands, and though I do have a baby pink bra I like sometimes, mostly I'm in my black Wolford bra. It creates a lot of support, and it's well-made so you don't have to worry about wearing it out. How long does it last? Well, I wouldn't know because I have a lot of lingerie, and I'm always cycling through all of them, but this would be my one go-to bra.